Ed Bowes
Posted: April 26, 2021 3:55:00 PM ADT
---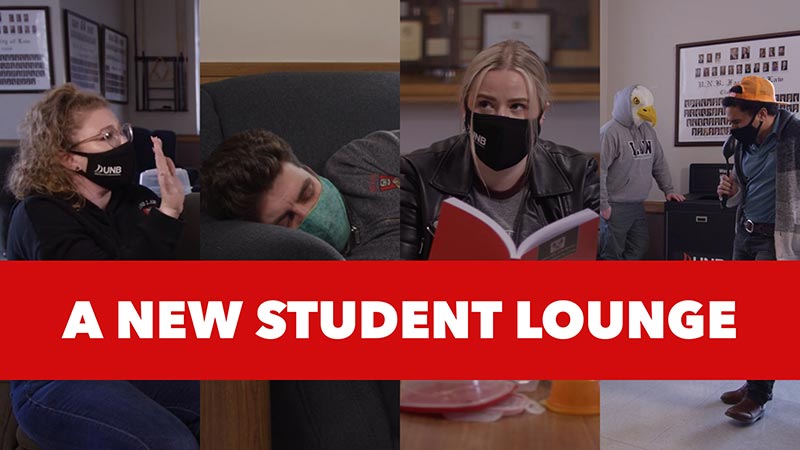 ---
Over the last year, COVID-19 has presented UNB Law with many challenges. For the first time in our history, we were forced to close our doors and teach virtually. Despite being away from their peers and professors, our students have shown great resilience—they have not only carried on with their studies, but also excelled in competitive moots, secured articles and judicial clerkships, and devoted their time to pro bono work. As we prepare to reopen the doors to the law school, we are...
---
Ed Bowes
Posted: April 22, 2021 8:56:00 AM ADT
Category: Students
---
---
Third-year UNB Law student Erik Arsenault has been selected to clerk for The Hon. Justice Andromache Karakatsanis at the Supreme Court of Canada. Erik will begin his one-year term in August of 2022 following the completion of a clerkship at the Ontario Court of Appeal. This marks the second year in a row that a UNB Law student has secured a clerkship at Canada's top court. These coveted positions are highly competitive, requiring academic excellence and a robust application process;...
---
Ed Bowes
Posted: March 4, 2021 2:00:00 PM AST
Category: Students
---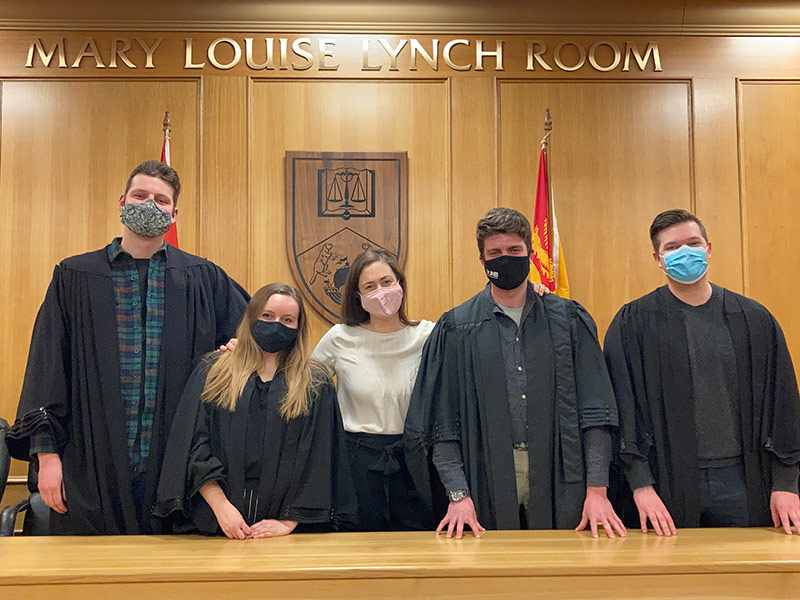 ---
Congratulations to team UNB Law who took home 6 of 8 awards at the 20th annual McKelvey Cup Moot. The McKelvey Cup is a trial-level moot which sees mooters deliver direct and cross-examinations of witnesses (played by professional actors) as well as an opening or closing statement. The defense team of Erik Arsenault (3L) and James Pinchak (2L) won second place overall, while the Crown representatives Navy Vezina (3L) and Chris Arisz (3L) placed third. Individually, Erik won best closing,...
---
Ed Bowes
Posted: September 11, 2020 8:25:00 AM ADT
Category: Students
---
---
The 58th edition of UNB Law's in-house moot will be like no other in the law school's history. In addition to the Chief Justice of the Court of Queen's Bench, The Hon. Tracey DeWare (LLB '94) and The Hon. Madame Justice Kathleen Quigg (LLB '89) of the New Brunswick Court of Appeal, former Supreme Court Justice Thomas Cromwell has agreed to help judge this year's competition. "It is always such a pleasure to see talented young lawyers at work and to...
---
Ed Bowes
Posted: August 31, 2020 4:00:00 PM ADT
---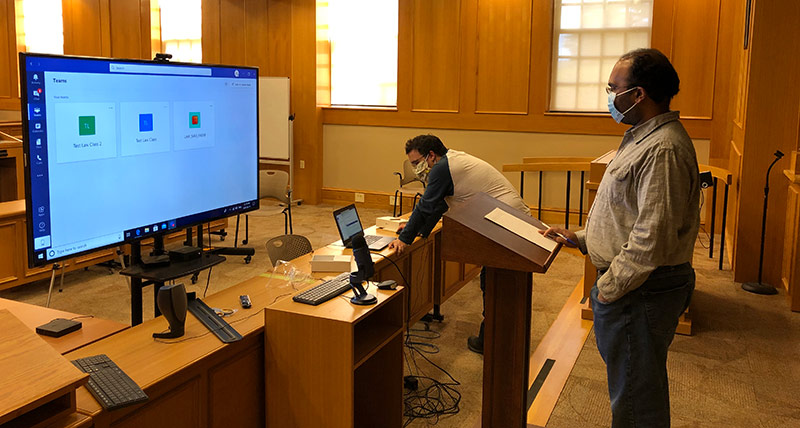 ---
Program Support officer David Anderson (left) and Professor Basil Alexander (right) test new virtual classroom equipment in the Mary Louise Lynch. The UNB Faculty of Law is committed to ensuring a safe, positive, and academically challenging atmosphere for our students during the COVID-19 pandemic. The law school is following all health and safety directions provided by the Province of New Brunswick as well as the University of New Brunswick's own COVID-19 safety plan. Our faculty and...
---
Ed Bowes
Posted: March 30, 2020 3:45:00 PM ADT
Category: Students
---
---
"It is a tremendous opportunity to learn from some of the brightest students, lawyers, and judges in the country, while turning my mind to important legal problems and doing work that is helpful to the Court." In the summer of 2021, third-year student Curtis Doyle will be heading to Ottawa, where he will be clerking for the Honourable Justice Moldaver at the Supreme Court of Canada. As a member of a four-person clerkship team, Curtis will provide legal support to Justice Moldaver...
---
Ed Bowes
Posted: February 18, 2020 12:00:00 PM AST
Category: Students
---
The UNB Faculty of Law is proud to host the fourth annual Canadian National Negotiation Competition (CNNC) at the Wu Conference Centre, Feb. 21-22, 2020. Founded in 2017, the CNNC promotes consensual dispute resolution and builds networks among Canadian law schools and their students. The event also serves as a qualifier for the annual International Negotiation Competition, which will be held in July at the Alexander Blewett III School of Law, University of Montana. The CNNC sees teams of...
---
Ed Bowes
Posted: February 12, 2020 9:00:00 AM AST
Category: Faculty , Students , Research
---
Dr. Allan C. Hutchinson, professor of law at York University's Osgoode Hall Law School, delivered the forty-first edition of the Viscount Bennett Memorial Lecture on January 30. Nearly 100 were in attendance as Hutchinson explored the regulatory challenges of cryptocurrency in his talk, The New Crypto World: Governance on The Margins. What is cryptocurrency? Dr. Hutchinson describes cryptocurrency as a borderless, decentralized/distributed digital currency. It is self-regulating...
---
Ed Bowes
Posted: December 6, 2019 3:00:00 PM AST
Category: Students , Faculty , Alumni
---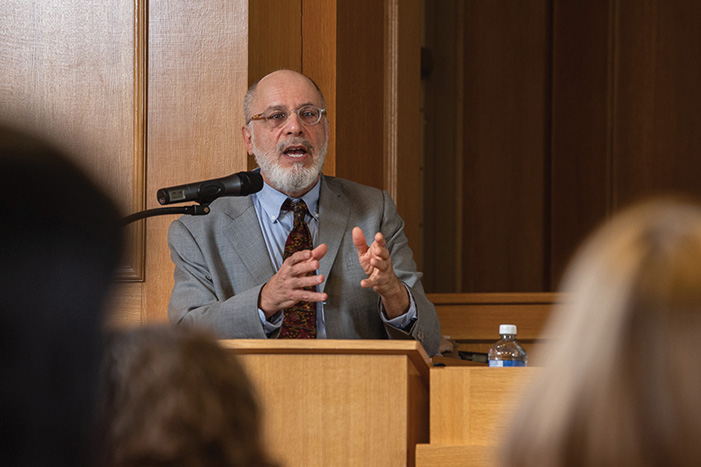 ---
The Mary Louise Lynch Room was at capacity as Professor Bruce Ziff of the University of Alberta Faculty of Law presented the twenty-fifth installment of the Ivan C. Rand Memorial Lecture Series. Professor Ziff's lecture, Environmental Protection and the Abject Failures of the Common Law, focused on the state of legal protections for the environment prior to the extensive legislative reforms that emerged in the late 1960s and early 1970s. Environmental Protection and the Abject Failures...
---
Ed Bowes
Posted: October 1, 2019 3:00:00 PM ADT
Category: Students
---
The University of New Brunswick Faculty of Law will be the first in Canada to have a student chapter of Legal Hackers. Created in 2012 at NYU BLIP Clinic, Legal Hackers is a global grassroots movement of designers, entrepreneurs, lawyers, policy advocates, researchers, students, teachers and technologists who explore and develop creative solutions at the intersection of law and technology. After countless hours discussing the intersections of STEM and the law, UNB Legal Hackers was co-founded...
---
Ed Bowes
Posted: June 3, 2019 3:28:00 PM ADT
Category: Students
---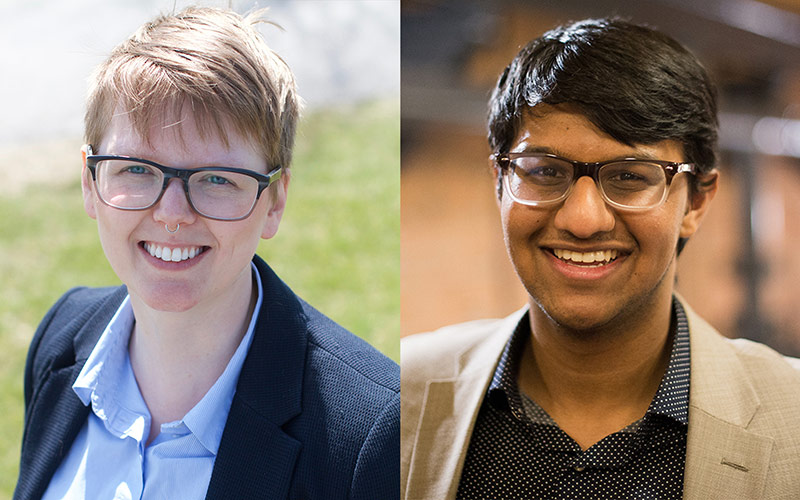 ---
Ashley Wilson (left) and Fahim Rahman (right), two of thirteen UNB law students to secure clerkships. The UNB Faculty of Law would like to congratulate thirteen law students who have secured judicial clerkships for 2019 and 2020. These students will spend up to one year working for judges in provincial and federal courthouses across the country. Legal clerkships offer valuable professional experience for recent graduates, giving them an insider's perspective on how court cases are...
---
UNB Law
Posted: February 27, 2018 12:00:00 AM AST
Category: Students
---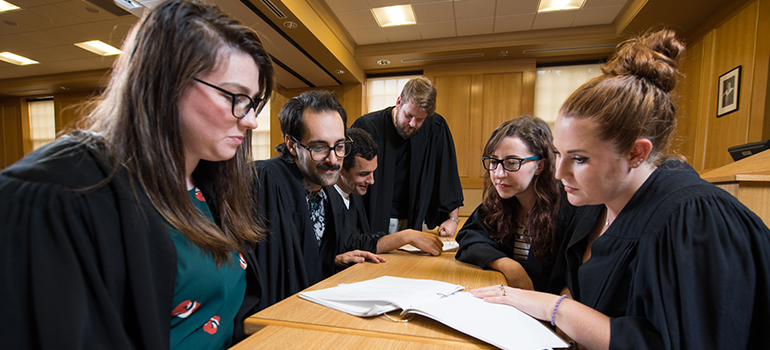 ---
Law students from University of New Brunswick took part in three highly competitive moot law competitions last weekend. In Fredericton, from February 22-24, Andrew Kinley, Hilary Perry, Nicole Sample and Chad Thaincompeted in the Philip C. Jessup International Law Moot Court Competition under the supervision of their coach, Professor Michael Marin. The Jessup Moot is the oldest and largest international moot in the world, and is based on a...
---
Matt Poirier
Posted: December 12, 2017 12:00:00 AM AST
---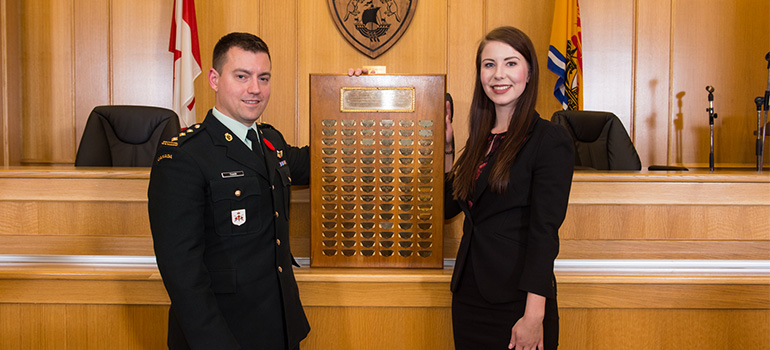 ---
On November 8th, the top four oral advocates from the previous year's Legal Research and Advocacy class paired off against each other in the William Henry Harrison Moot, arguing a criminal appeal concerning that most Canadian of topics: hockey fights. Both groups put in a lot of work to prepare for the moot and argued their cases valiantly before the bench of 3 judges, but in the end the team of Tanisha Connelly and Chad Thain won their appeal over Christopher Goodridge and Michael...
---
Matt Poirier
Posted: November 27, 2017 12:00:00 AM AST
---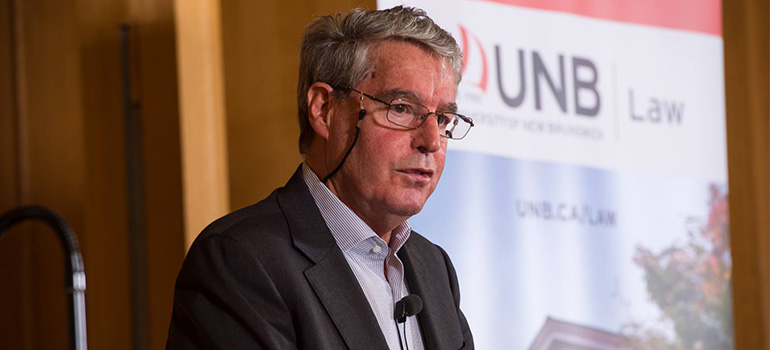 ---
Since 1975, UNB Faculty of Law has been proud to bring some of the nation's brightest legal minds to Fredericton to give a lecture on a topic that is close to them. On October 26 of this year, Dennis Edney QC came to the give the 2017 Viscount Bennett Memorial Lecture, titled "The Rule of Law in an Age of Fear". As its title would suggest, his lecture focused on the growing support for anti-democratic and intolerant ideologies of fear around the world and the threat that...
---
Matt Poirier
Posted: November 20, 2017 12:00:00 AM AST
---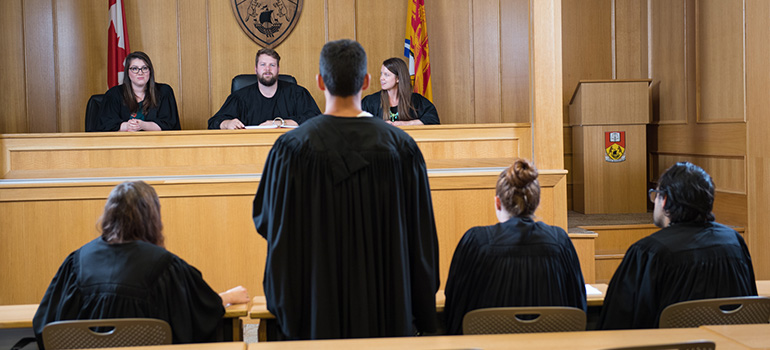 ---
In the fictional Odasarra Region, on the sparkling shores of the Kumatqesh Ocean, an international catastrophe is looming. The People's Democratic Republic of Anduchenca has captured a Rukarukan autonomous submarine within their territorial waters. While the international community attempts to deal with this conflict, a news report reveals that Anduchenca, run by a military dictatorship since a 1967 coup d'état, has developed a nuclear submarine. Acting under authorization by...
---
UNB Law
Posted: April 3, 2017 5:00:00 AM ADT
Category: Students
---
 UNB Law is looking forward to hosting next year's Canadian Qualifying round and students are encouraged to get involved in this prestigious event, coinciding with UNB Law celebrating it's 125th anniversary. The Jessup Competition  is the world's largest most prestigious moot court competition and the oldest moot court competition dedicated to international law. The Jessup is open to law schools all over the world with participants from over 550 law schools in more than 87 countries. The...
---
UNB Law
Posted: November 8, 2016 4:00:00 AM AST
Category: Students
---
Law Students' Society President attends Q&A with Supreme Court Justice Malcolm Rowe On Oct. 25 Law Students' Society President, Veronica Medon, attended a moderated question and answer session with Supreme Court Justice (then nominee) Malcolm Rowe at the University of Ottawa.   As part of their pursuit for greater openness and transparency, the Office of the Minister of Justice and Attorney General of Canada asked Canadian law school deans to send students to the question and answer...
---