Orientation programming to promote equity, diversity and inclusion
Author: Ed Bowes
Posted on Oct 28, 2022
Category: Alumni , Faculty , Students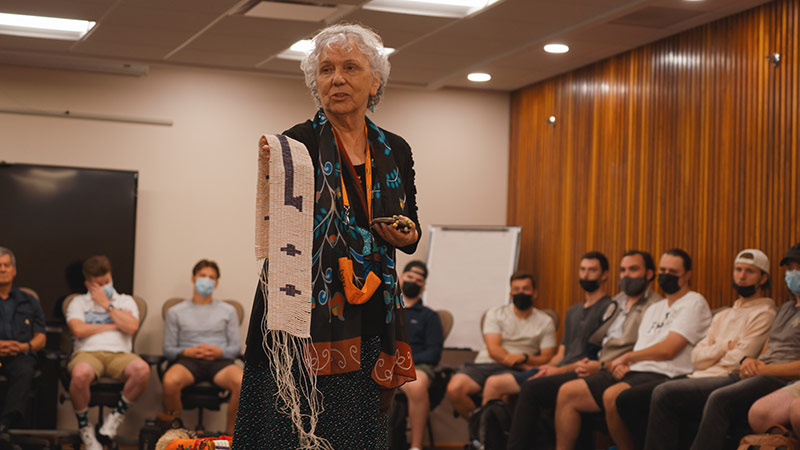 ---
In 2021, UNB Law introduced two important new orientation sessions for first-year students: an Indigenous pipe ceremony and anti-racism training. The purpose of these sessions is to incorporate Indigenous traditions and knowledge into our orientation programming and to provide students with the opportunity to improve intercultural competencies, both of which will help foster an atmosphere of inclusivity among our student body.
Sharing in a sacred tradition
This September, all first-year law students participated in an Indigenous Pipe Ceremony to welcome them to the Wolastoqey (WOOL-US-TOOK-WAY) lands and to celebrate friendship and education between nations. The ceremony was led by Wolastoqi Elder and Pipe Carrier, Dr. Imelda Perley, C.M., of the Tobique First Nation, St. Mary's First Nation and Houlton Band of Maliseets (United States). The group was joined by Hon. Graydon Nicholas, C.M., O.N.B., LL.D. (LLB '71), Wihkwatacamit (week-ah-dutch-mid), who offered insight and support throughout the session.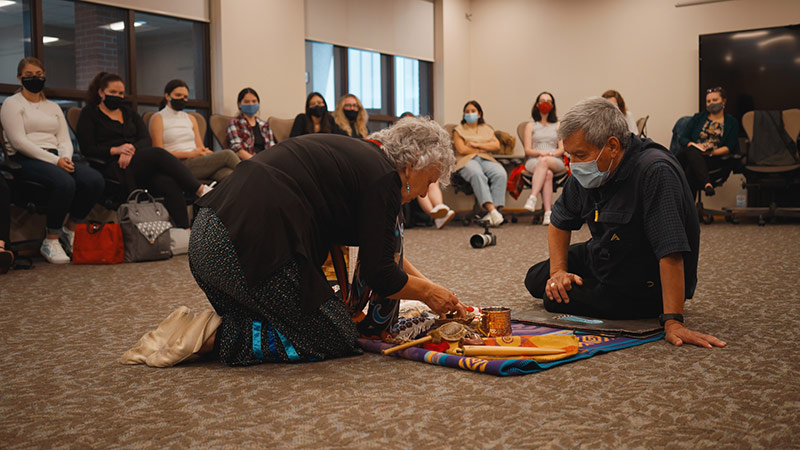 Imelda began by welcoming and introducing each student to the unsurrendered and unceded traditional Wolastoqey territory. She then shared the story of her name, Opolahsomuwehs (ah-BLOSSOM-wess). This name, meaning Moon of the Whirling Wind, was given to her by her grandmother when she was a child. It wasn't until she attended Catholic school that she was given the name Imelda Mary.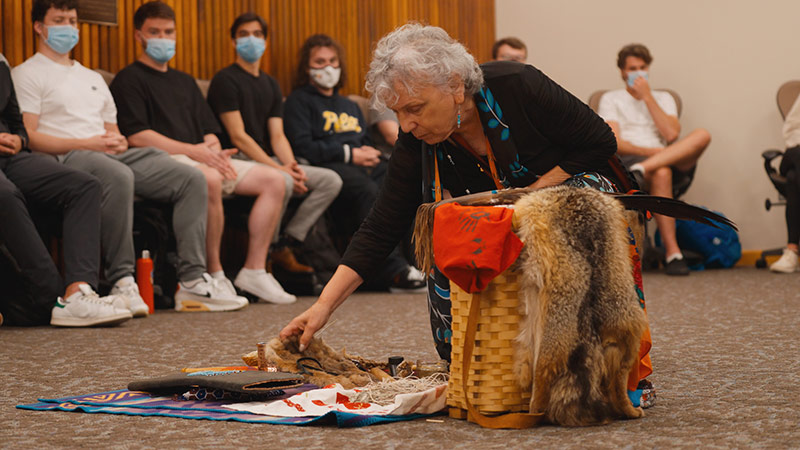 Imelda and Graydon discussed the history and ongoing legacy of Canadian residential schools. They shared stories about their communities and traditions, including the cultural significance of the pipe ceremony, a gathering meant to open negotiations between different nations and encourage open, respectful, and truthful discussion and agreement. Imelda then passed sacred items around the circle for students to touch and examine. These items included a Wampum Belt, made of intricate beading used to carry the history of significant events between generations. Students smelled dried sweet grass and traditional medicines; they examined the pipes that had been gifted to Imelda, each with its own significance and meaning.
For the ceremony, Imelda chose a pipe in the form of a bear. She explained to the group that the pipe was gifted to her during her recent battle with cancer, the intricate stone carvings represent stamina and strength.
Imelda lit the hand-cut tobacco, giving thanks to those who prepared the leaves for the occasion. The pipe tobacco is free of modern chemicals and toxins, instead using only raw plant materials. Imelda and Graydon circled the room, offering blessings and smudging each student, who drew in the smoke with their hands, symbolizing mind, body and spirit.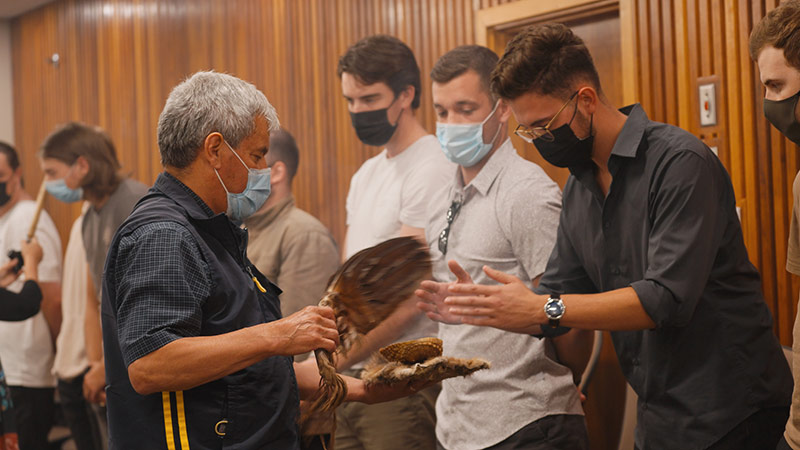 For Graydon, the inclusion of a pipe ceremony in first-year orientation enriches the law school experience and is a positive step in Reconciliation.
The spirituality of Indigenous peoples was one of the casualties that the Government and Churches enacted by legislation and agreements in the colonization process. The revival of these sacred ceremonies is significant and important to Indigenous peoples and communities. Law Schools in TRC Calls to Action 28 are to have the students study the rights of Indigenous peoples which includes the spiritual basis of indigenous laws and responsibilities."
Diversity and Inclusion: A Paradigm Shift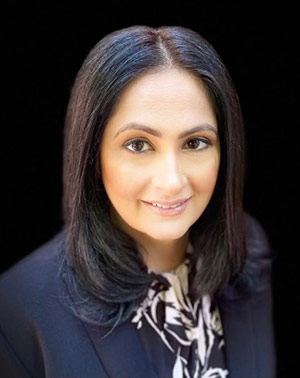 On Day two of this specialized orientation, first-year law students participated in an intensive training session titled Diversity and Inclusion: A Paradigm Shift. This was taught by Rinku Deswal (LLB '03), a litigation lawyer and the owner of RD Law Professional Corporation with offices located in downtown Toronto and Mississauga.
In addition to significant professional experience in the legal field, Rinku holds a Master's Degree in Counselling Psychology. Rinku is also a renowned speaker, having presented locally and internationally on topics addressing women's leadership, women on boards, as well as on the subject of equity, diversity and inclusion.
Rinku's interactive 1L session covered key topics such as the principles of unconscious bias, subtle racism, cancel culture vs. critical culture, imposter syndrome, the importance of mental health and self-care, the value of mentorship, and the responsibility of the profession in promoting diversity to reflect the community it serves.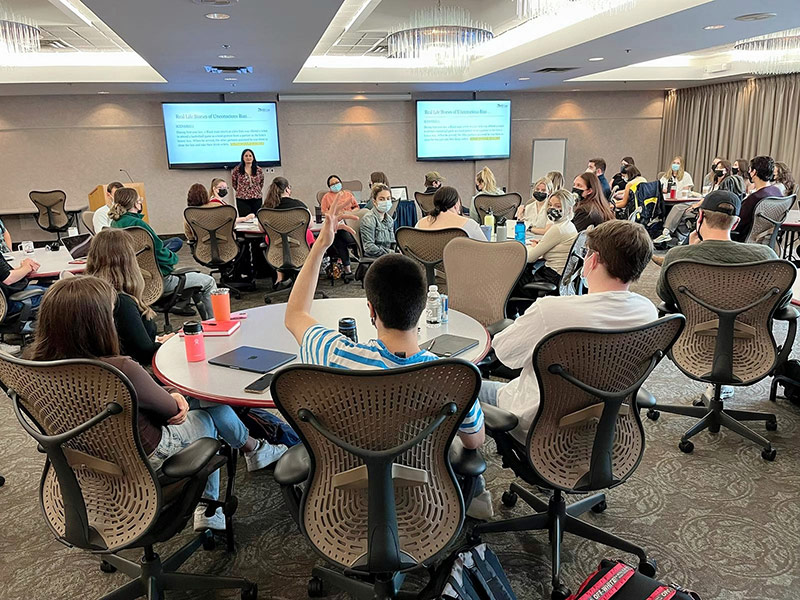 Students were challenged to navigate several "what would you do?" scenarios, spanning a wide range of ethical issues they could potentially face in their future careers. Students worked in small groups, discussing the situation before sharing their answers with the collective group, and discussing the various decisions, reactions and concerns of their peers with Rinku's guidance. This activity sparked thoughtful debate amongst the group, allowing students to practice facing ethical dilemmas with their peers in a safe and supportive environment while considering differing perspectives.
"Rinku shared personal experiences of racism she had experienced in her career," said Paige Chisholm (1L). "We were able to discuss how we wish an ally would have acted in these scenarios to combat the blatant racism that occurred. This exercise allowed us to consider how we can call out racism and not stand idly by. Rinku also gave us helpful advice for managing our mental health and burn-out."
As part of the session, Rinku also incorporated a number of videos featuring colleagues at various stages of their careers, who spoke of their own lived experiences on the various topics of discussion and provided practical advice to consider in the practice of law.
"The idea behind this type of session was to really challenge these students by bringing key concepts to life so that they understand the importance of their role as part of the profession in their responses," said Deswal. "Equally important was for them to understand that it is essential to self-check, seek guidance through mentorship and understand the importance of reputation. The focus was to teach these kids to be the best version of themselves and to do good work out there in the profession."
Deswal believes that it is vital for students entering the first year of law school to begin healthy work habits early in their career.
"It is essential for students and professionals to value mental health, have a sustainable work-life balance, and a civilized, positive reputation amongst peers."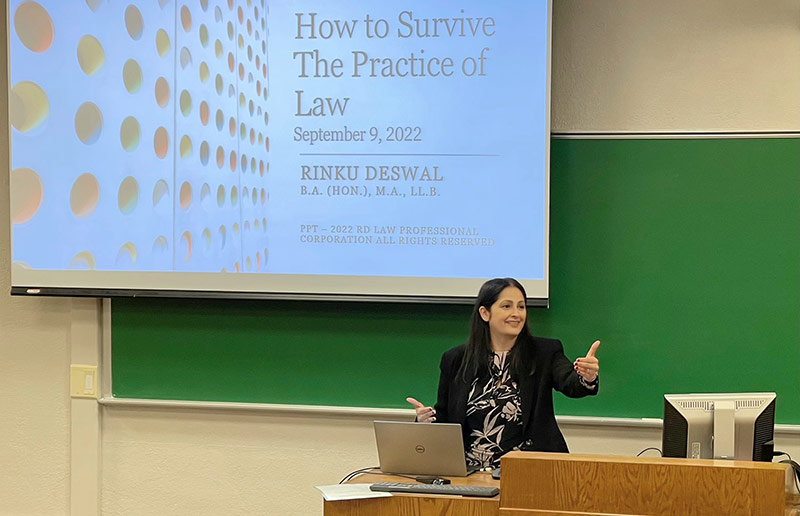 In addition to this first-year programming, Rinku also offered a session to the upper-year law students on How to Survive the Practice of Law. This session focused on the business of law, specifically the practicality of running a business and what it means to be a licensed lawyer, to run and work in a law firm (big or small). It was a genuine discussion on processes, expectations, obligations and self-care as one transitions from law school to the legal profession. The focus was on how to address challenges and transform them into opportunities.
First-year student Dahlia Chahine found both the Pipe Ceremony and Anti-Racism training to be invaluable learning opportunities for not just incoming law students, but everyone in the legal profession.
"The Pipe Ceremony was a moving and educational experience that allowed students to embrace and learn about the Indigenous culture. This teaches the next wave of lawyers to be cognizant of Indigenous practices and the importance of preserving and uplifting their culture. The Anti-Racism training provided us with valuable insight into tackling subtle racism in the workplace and how we can become allies to our colleagues in the multicultural reality of Canada. As a future leader in law, I found these programs to be insightful and extremely important to orientation."