UNB Law student Curtis Doyle secures Supreme Court of Canada clerkship
Author: Ed Bowes
Posted on Mar 30, 2020
Category: Students
---
"It is a tremendous opportunity to learn from some of the brightest students, lawyers, and judges in the country, while turning my mind to important legal problems and doing work that is helpful to the Court."
In the summer of 2021, third-year student Curtis Doyle will be heading to Ottawa, where he will be clerking for the Honourable Justice Moldaver at the Supreme Court of Canada.
As a member of a four-person clerkship team, Curtis will provide legal support to Justice Moldaver as he researches the law and writes his decisions.
"I'm most looking forward to learning how judges think about cases. It will also be a privilege to read the writing and to hear the arguments of some of Canada's best litigators."
The application process for a Supreme Court clerkship is exhaustive but UNB's Clerkship Program aims to assist students through this process and provide additional support to those fortunate enough to receive clerkship interviews.
"Professors Marin and Thomson provided me (and the other interviewees) with a great deal of help in preparing for the interview," said Curtis. "They put us in touch with lawyers who gave tips on how best to conduct a Skype interview, and on what to expect during the interview itself. Their help was invaluable."
Curtis found out that he received the clerkship on the final day of the March Reading Week, just as he returned to Fredericton from his home province of Prince Edward Island.
"I expected that I would, on that day, receive an email thanking me for my application but informing me that I had not been selected. Having checked my email probably five-hundred times that morning, I promised myself that I would not check again until the next day. Then the phone rang, and Justice Moldaver was on the other end."
"As soon as I found out, I immediately told my professors and my family. Then I began to worry that I had imagined the whole thing. I remained worried until I received a letter in the mail confirming my offer. It is still hard to believe. I am very lucky."
UNB Law students heading to provincial and federal courts, including the Ontario Court of Appeal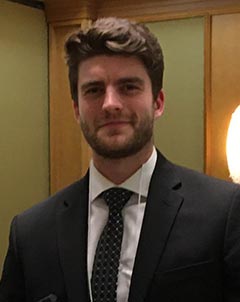 For the second year in a row, UNB law is sending a student to the Ontario Court of Appeal (ONCA). Erik Arsenault (2L) is set to complete his articles as a clerk to the ONCA, where he will be assigned to two judges in a bilingual clerkship role.
Erik believes this clerkship will be of tremendous benefit to his future legal career. "This clerkship is incredibly important. It presents an incomparable chance to learn about how the law works with some of the greatest Canadian judicial scholars in real-time."
Graduating student Shayna Levine-Poch is off to the nation's capital where she will be clerking with the Federal Court of Canada.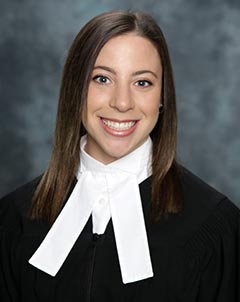 "I feel privileged to be chosen for a federal clerkship. I'm very excited to work one-on-one with Justice Heneghan performing legal research, drafting memos, and writing headnotes for her cases."
Second-year student Dominque Goguen will be clerking with the Ontario Superior Court of Justice in Toronto as the sole bilingual clerk hired at the busy, downtown Court. Dominique is most looking forward to the opportunity to discuss observations with judges—the unique freedom afforded to clerks.
"This is what I am most excited about because it will allow me to gain invaluable insight into judicial reasoning and the decision-making process. I will get to see how they determine what the law means."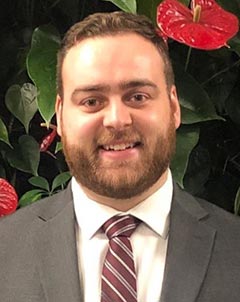 Fellow second-year student and Ontario Superior Court clerk Charles White echoes his classmates' enthusiasm.
"Clerkships offer a once-in-a lifetime opportunity to work in a position that is unique and presents different challenges than a traditional articling position. I am grateful for the support of other students and professors in the UNB Law community who helped me prepare my application materials and for interviews. This was not a one-person effort and they played no small part in it."
The UNB Faculty of Law congratulates seven law students who have secured judicial clerkships for 2021.
2021 Clerkship Recipients
Erik Arsenault, Ontario Court of Appeal
Curtis Doyle, Supreme Court of Canada
Caitlin Gallant, Ontario Superior Court of Justice
Dominque Goguen, Ontario Superior Court of Justice
Shayna Levine-Poch, Federal Court of Canada
Charles White, Ontario Superior Court of Justice
Sonny Xue, Tax Court of Canada