UNB Law students win big at McKelvey Cup
Author: Ed Bowes
Posted on Mar 4, 2021
Category: Students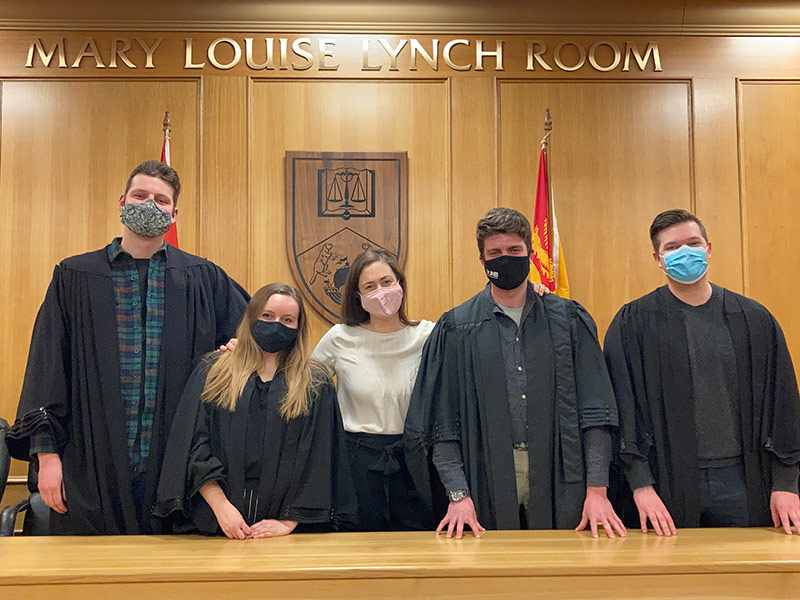 ---
Congratulations to team UNB Law who took home 6 of 8 awards at the 20th annual McKelvey Cup Moot. The McKelvey Cup is a trial-level moot which sees mooters deliver direct and cross-examinations of witnesses (played by professional actors) as well as an opening or closing statement.
The defense team of Erik Arsenault (3L) and James Pinchak (2L) won second place overall, while the Crown representatives Navy Vezina (3L) and Chris Arisz (3L) placed third. Individually, Erik won best closing, James won best opening, and Chris won best direct and best overall advocate.
The group met weekly for practice sessions running between 3 and 5 hours, doubling their efforts as the moot drew closer.
"The preparation for the moot was rigorous," noted Pinchak. "Our preparation began in the Fall but it really picked up in the weeks leading up to the competition as we were running full trials every week."
Arsenault worked on 12 versions of his closing, averaging one a day in the weeks leading up to the competition.
"I was pretty far afield at first but, thanks to Prof. Thomson's patience and devotion, we finally got the closing where it needed to be. Of course, there were some days where I was pretty frustrated with it and thought about just doing Atticus Finch's speech. But every draft got a little better, and getting the chance to do it at practice and feel like the fate of the accused was tied to this closing made it worth it. And then I won best closing. That made it so much more worthwhile!"
Navy Vezina considers the McKelvey Cup to be one of the most interesting and rewarding experiences of her time in law school.
"It is so unique from the other Moots offered. Preparing was tricky because trials are all about presenting evidence and testimony in the most clear and obvious way. The reality is that your case is never clear or obvious and you want to hit your head against the wall over the things your client has done. I made timeline charts of when the events happened to create a thread that I communicated to the jury. I feel confident about my ability to conduct a trial from start to finish; leaving law school with that feeling is invaluable."
"This is a huge accomplishment and I am so proud of them," said coach Jane Thomson. "These students practiced extremely hard. Some of them even getting up in the middle of the night and practicing their openings, closings, or crosses. They never complained and took criticism really well. Whatever the guest judges asked of them they did. On the day of the moot all of them demonstrated how an effective trial advocate represents their clients."
Thanking our army of supporters
Alumnus Jim Lockyer (LLB '75) assisted the team in the fall with intensive sessions in trial advocacy. Lockyer is a former politician, law professor and renowned trial advocacy lawyer. Prof. Lockyer drove to Fredericton every Friday to teach UNB's McKelvey team a condensed trial advocacy course.
"Working with Jim was a real treat," said Arisz. "It's clear that his wisdom put us all years ahead of where we would have been without it. This kind of mooting did not always come naturally so it really made the difference having an examination-toolbelt to rely upon."
Prof. Thomson and her mooters would like to thank their all-star team of volunteer witnesses—students Raylene MacKey (2L), Benjamin Roizes (2L), Abbey Smith (3L), and Nicholas Stewart (3L)—who acted as the trial witnesses and attended every practice leading up to the moot.
"Law school doesn't often give students the chance to examine or cross-examine witnesses," said Arsenault. "We got to practice real trial skills on witnesses brought to life by our colleagues. We got the chance to object to each other and run our respective theories of the case through the gauntlet."
Finally, the McKelvey team would like to thank the panel of guest judges who helped our students prepare for the competition, Judge Cameron Gunn (LLB '93), of the New Brunswick Provincial Court, Solomon Friedman, Criminal Lawyer and Partner at Friedman Mansour LLP in Ottawa, and Rebecca Law, Crown Counsel with the Crown Law Office in Toronto.
Stay tuned for more updates on our 2021 mooting season.