Delivering an outstanding legal education during a global pandemic
Author: Ed Bowes
Posted on Aug 31, 2020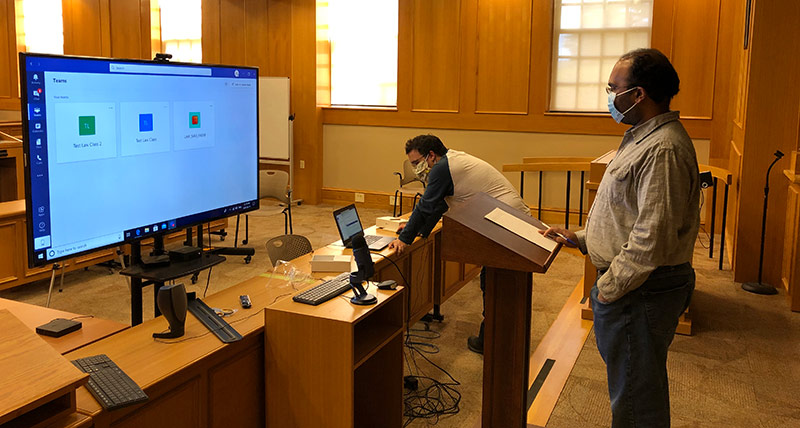 ---
Program Support officer David Anderson (left) and Professor Basil Alexander (right) test new virtual classroom equipment in the Mary Louise Lynch.
The UNB Faculty of Law is committed to ensuring a safe, positive, and academically challenging atmosphere for our students during the COVID-19 pandemic. The law school is following all health and safety directions provided by the Province of New Brunswick as well as the University of New Brunswick's own COVID-19 safety plan. Our faculty and staff have worked extremely hard this summer preparing coursework, reorganizing our facilities, and improving technology—all to ensure the UNB Law learning experience remains second to none.
Delivering certainty during uncertain times
All Faculty of Law fall 2020 courses will be delivered online only through MS Teams and Zoom. If the Province of New Brunswick eases restrictions on in-person instruction for the winter term, a hybrid delivery model will be implemented. This model would see local students attending sessions in-person (if they choose) with classmates joining those same sessions online.
If students cannot return to Fredericton or are unable to attend courses in person, they will be able to complete the entire 2020-21 academic year remotely. The goal is to provide certainty to our students for the whole year. The decision to offer a fully online academic year was communicated to students in early June to allow for ample planning. Decisions for UNB's winter term have not yet been made.
Upgrading the virtual learning experience
We have made significant upgrades to our classroom technology to ensure a high-quality online experience for both our faculty members and our students. We have set up three virtual classrooms featuring 60-inch monitors, webcams, and microphones to ensure an interactive experience between professor and student. Professors who prefer to teach from offsite have updated equipment and software to deliver classes effectively and trouble-free.
We have invested in five additional TA (teaching assistant) positions and one technology assistant position. These student positions will be crucial to providing students the academic and technical support needed to study in these unusual circumstances.
Our faculty members spent the summer attending training sessions offered by UNB and other organizations, including the Canadian Association of Law Teachers, to ensure their courses are optimized for remote delivery.
Same services, new format
We will continue to offer academic advising, career services, and access to professors. A blended model will allow students to access these important services both physically and remotely. There will also be limited use of classrooms and other spaces in the law school for quiet study. Scheduling software will be used to ensure these spaces conform to Public Health and University requirements.
The Gérard V. La Forest Law Library will remain an important tool for our students with many resources moving online. The library will offer scanning services for articles and book chapters, which will be sent directly to students. All course reserves will be accessible electronically, and eBooks made available as needed. Physical books will be picked up by students through a curbside pick-up model.
A flexible exam structure
All exams will be completed online and written in 24-hour windows. Once a student accesses their exam, they will have a set amount of time to complete it (in that 24-hour window) based on the individual professor's requirements. This model will ensure that our students have the flexibility to write their exams during the most opportune time.
Creating a sense of community
UNB Law is known for being a close-knit community. Ensuring our students continue to forge strong bonds with classmates may be the most challenging aspect of remote deliver—especially for our 1L's. Incoming students have been put into local peer groups made up of upper-year students and 1L's who are in the same geographical region. These groups will meet physically and remotely to provide each other with guidance and support. Each peer mentor group has also been assigned a local UNB Law alumni who will share their law school experience, answer questions, and offer guidance and moral support.
The UNB Law Podcast will launch this fall. The podcast will feature prominent alumni who will share stories about their time in law school, discuss their career path, and provide some inspiration for our 1L's.
Final thoughts
With all of this said, we know that this year will be one of the most challenging our law school has seen to date. We are committed to respecting accommodations and removing barriers for our students. We will work with all of our students to ensure their academic needs are met during these unprecedented times. This academic year will be a true test of our mission as a law school. We look forward to the challenge.