UNB Law hosts the 2020 Canadian National Negotiation Competition
Author: Ed Bowes
Posted on Feb 18, 2020
Category: Students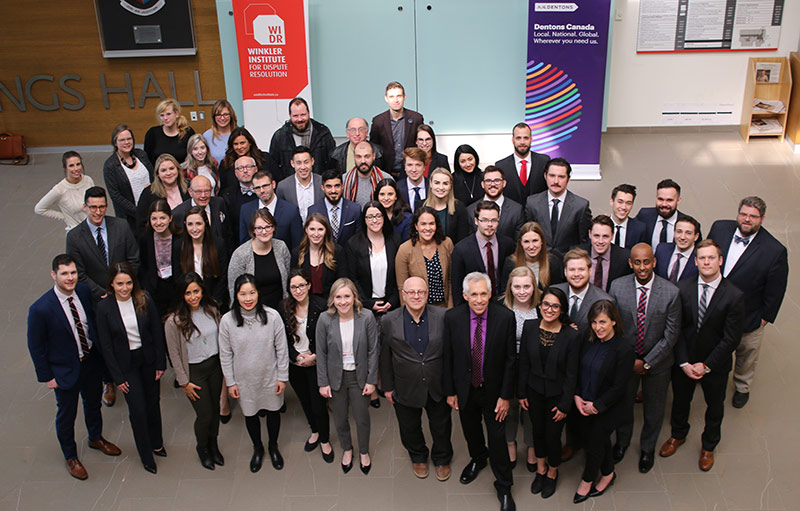 The UNB Faculty of Law is proud to host the fourth annual Canadian National Negotiation Competition (CNNC) at the Wu Conference Centre, Feb. 21-22, 2020.
Founded in 2017, the CNNC promotes consensual dispute resolution and builds networks among Canadian law schools and their students. The event also serves as a qualifier for the annual International Negotiation Competition, which will be held in July at the Alexander Blewett III School of Law, University of Montana.
The CNNC sees teams of two from law schools across the country compete, showcasing their negotiation skills in a simulated setting. These law students, acting as lawyers, negotiate a series of legal problems representing parties in a range of scenarios. The problems consist of a common set of facts known by all participants and confidential information known only to the participants representing a particular side. The competition has three rounds, with the negotiation scenario varying in each. Rounds one and two are two-party rounds; the third is a multi-party round.
Over the course of the two-day competition, approximately 30 volunteer judges from the local legal community will evaluate the negotiations. Teams are evaluated not only on the result they secure for their client but also on a range of criteria designed to reflect good lawyering skills.
An event organized by law schools for law schools
The organization of the CNNC is a collaborative effort. The event rotates annually among Canadian law schools and is run by an organizing committee comprising representatives from the host school and previous hosts.
The 2020 competition administrator is third-year UNB Law student, Renna Eliakis, who has spent the last six months organizing the ambitious event. Eliakis, a CNNC 2019 participant, has found her role in managing the logistics of the event both challenging and rewarding.
"There are so many moving parts going on behind the scenes," said Eliakis. "From securing a suitable space to hold the competition, to attracting enough participation from various law schools across the country, reviewing and revising rules to ensure a better and more efficient competition, drafting negotiation scenarios, to securing funding and everything in between. I am proud to have been a part of it."
The 2020 competition will see teams from UNB, McGill University, University of Alberta, York University (Osgoode Hall), University of Saskatchewan, University of Windsor, University of Ottawa, University of Toronto, Western University and University of Manitoba compete for a spot at the International Negotiation Competition.
Good luck to all competitors!