2017 Viscount Bennett Lecture
Author: Matt Poirier
Posted on Nov 27, 2017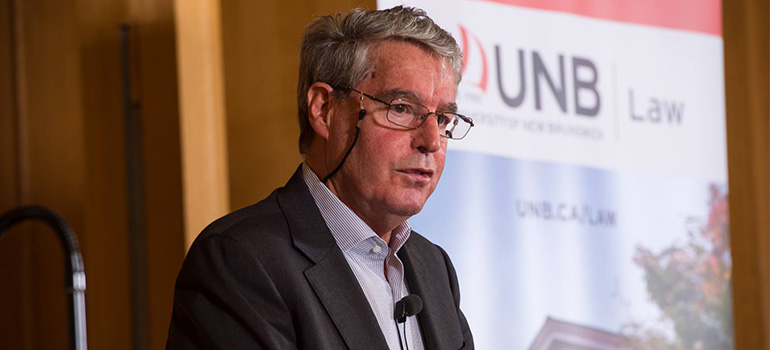 ---
Since 1975, UNB Faculty of Law has been proud to bring some of the nation's brightest legal minds to Fredericton to give a lecture on a topic that is close to them. On October 26 of this year, Dennis Edney QC came to the give the 2017 Viscount Bennett Memorial Lecture, titled "The Rule of Law in an Age of Fear". As its title would suggest, his lecture focused on the growing support for anti-democratic and intolerant ideologies of fear around the world and the threat that this poses to the rule of law, now and in the future.
Since his start as a criminal defence attorney in Edmonton, Mr. Edney has made a career out of taking tough cases. He has received numerous awards and distinctions for his contributions to human rights, access to justice and the fight to uphold the Rule of Law. From Syria to Guantanamo Bay, his work has taken him to some of the most desperate places on earth, where he has witnessed firsthand the deprivations and abuses still perpetrated by governments around the world. Never one to mince words, referring to current times as "the bad old days", Mr. Edney presented a planet in conflict, but imparted upon the overflow crowd of students, faculty, legal professionals and interested community members a duty to take control of the world.
Special thanks to everyone who made the event a success.