William Henry Harrison Moot Court a great success.
Author: Matt Poirier
Posted on Dec 12, 2017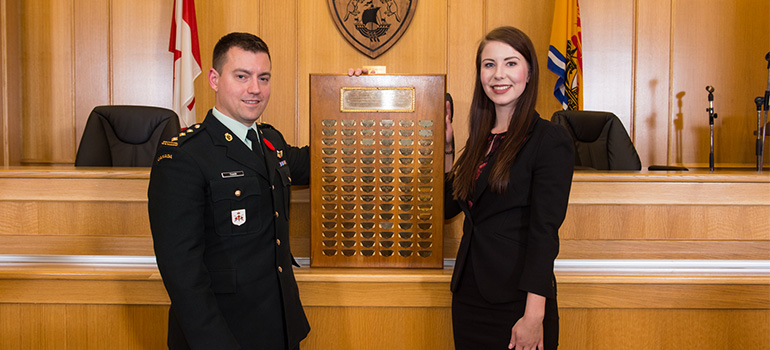 ---
On November 8th, the top four oral advocates from the previous year's Legal Research and Advocacy class paired off against each other in the William Henry Harrison Moot, arguing a criminal appeal concerning that most Canadian of topics: hockey fights. Both groups put in a lot of work to prepare for the moot and argued their cases valiantly before the bench of 3 judges, but in the end the team of Tanisha Connelly and Chad Thain won their appeal over Christopher Goodridge and Michael Gooding.
The event was copiously attended, with a near standing room only crowd of students, faculty, alumni and interested community members coming to hear some quality oral advocacy. To hear Tanisha tell it, nearly all of Ludlow's first years were in attendance, no doubt anxious to see what awaits them with their own impending moots in the upcoming term.
The competition was established in 1962 to commemorate the distinguished legal and military career of William Henry Harrison, dean of the Faculty (1947-55) and judge of the New Brunswick Supreme Court (1935-1958). The prize of $1000, funded by his grandson, William Teed, QC ('78) was distributed to all four participants, with Chad and Tanisha taking home the Harrison Shield Award for 2017.