UNB Law students secure high-profile clerkships
Author: Ed Bowes
Posted on Jun 3, 2019
Category: Students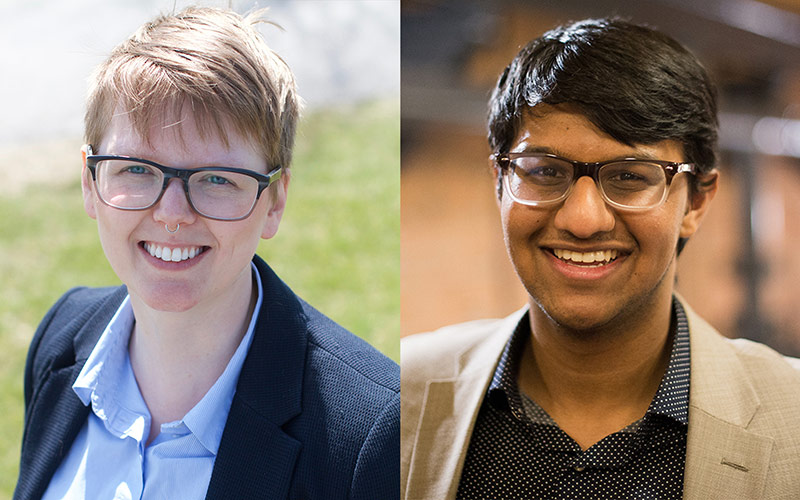 ---
Ashley Wilson (left) and Fahim Rahman (right), two of thirteen UNB law students to secure clerkships.
The UNB Faculty of Law would like to congratulate thirteen law students who have secured judicial clerkships for 2019 and 2020. These students will spend up to one year working for judges in provincial and federal courthouses across the country.
Legal clerkships offer valuable professional experience for recent graduates, giving them an insider's perspective on how court cases are presented and decided. As law clerks, graduates assist judges in preparing for hearings and writing judgments by performing background research and drafting legal analyses of the issues in dispute.
Second-year student Ashley Wilson is looking forward to continuing her legal education through a 2020 clerkship at the Ontario Court of Appeal. "The rotation system at the Ontario Court of Appeal will give me a chance to learn from several great legal minds throughout the year. In addition to my regular clerkship duties, I'll attend inmate appeals, participate in a moot judged by justices of the OCA, and attend lectures from leading scholars and practitioners."
Classmate Fahim Rahman is anxious to return to the courtroom, clerking with the Alberta Court of Queen's Bench in Calgary next year. "My education at UNB has exposed me to several fields of law, and I am glad I will be able to apply what I have learned to help with the resolution of legal disputes."
Acquiring a clerkship is no small feat. These positions are highly competitive, with strict selection criteria. Applicants are expected to hold superior academic standing with advanced research, writing, and communication skills.
UNB Law Professor Jane Thomson is the faculty coordinator of UNB Law's clerkship process, which connects students who wish to clerk with a faculty mentor for guidance and support throughout the application process.
"There are few greater ways to expand your legal education than clerking. Apart from the opportunity to work closely with a judge and experience the law from a unique perspective, clerking can help students decide the direction of their legal careers. It also provides access to unparalleled mentors and often serves a catalyst for life-long friendships. I am so pleased that many of our students will have this amazing experience."
Join us in congratulating these hard-working law students!
2019 Clerkship Recipients
Adrian Forsythe, New Brunswick Court of Appeal
Scott Linstead, Newfoundland & Labrador Court of Appeal
Kelcie White, Nova Scotia Court of Appeal
Colleen Thrasher, Federal Court
Rida Amol, Ontario Superior Court
Lukasz Wojakowski, Provincial Court of Alberta
2020 Clerkship Recipients
Ashley Wilson, Ontario Court of Appeal
Mark Heighton, New Brunswick Court of Appeal
Matthew Orrell, Tax Court of Canada
Kelsey Bennett, Federal Court
Nicholas Di Piano, Federal Court
Mitch McGowan, Ontario Superior Court
Fahim, Rahman, Albert Court of Queen's Bench