2019 Ivan C. Rand Memorial Lecture discusses environmental protection and the law
Author: Ed Bowes
Posted on Dec 6, 2019
Category: Students , Faculty , Alumni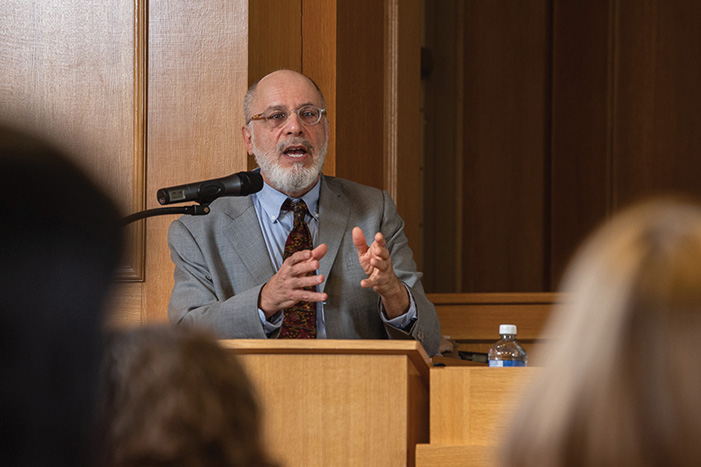 ---
The Mary Louise Lynch Room was at capacity as Professor Bruce Ziff of the University of Alberta Faculty of Law presented the twenty-fifth installment of the Ivan C. Rand Memorial Lecture Series.
Professor Ziff's lecture, Environmental Protection and the Abject Failures of the Common Law, focused on the state of legal protections for the environment prior to the extensive legislative reforms that emerged in the late 1960s and early 1970s.
Environmental Protection and the Abject Failures of the Common Law
Prior to the advent of those modern statutory instruments, the pertinent legal framework was furnished by the common law. In that regard, it is well understood that the law of torts played a prominent role. However, tort law was ill-suited to the task. While those limitations have been well understood and documented, less attention has been paid to the extent to which private property rights and doctrines also affected environmental matters.
As Professor Ziff noted, private property has been touted as a vehicle for environmental stewardship. The American scholar Robert Ellickson has offered that "[T]he preeminent advantage of an infinite land interest is that it is a low-transaction cost device for inducing a mortal landowner to conserve natural resources for future generations." However, Professor Ziff stressed the extent to which fundamental principles of private ownership can, and have, undermined environmental protection. Private owners have incentives to protect their holdings; but they are also—absent strong legislative guardrails—empowered to ruin their lands.
Professor Ziff argued that an examination of property law's shortcomings is important. In the last two second decades, a supposedly novel approach to environmental stewardship has been advanced—free market environmentalism. This mode of regulation is based on the harnessing of market forces, not top-down government regulation, as an effective way to protect environmental interests. However, as Professor Ziff sought to demonstrate, such a position is not in fact new. It is, at its core, based on a belief in the capacity of private owners to use resources prudently and efficiency. It was just such a belief that has contributed to our current predicament, and led to the introduction of legislative reforms some 50 years ago. The common law, including the law of property, has been an abject failure in protecting the environment.
Reflections on Fredericton and UNB Law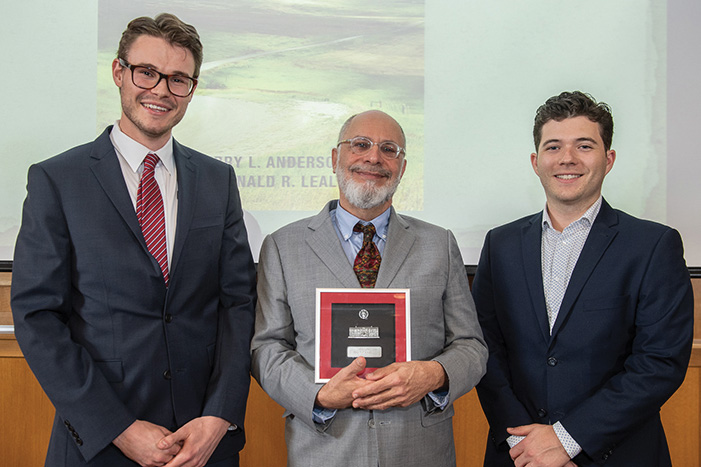 "I had a very enjoyable sojourn to the law school," remarked Professor Ziff. "The red carpet was rolled out. I had the pleasure of meeting a number of faculty members. And the students I met were stellar. It was all impressive!"
When asked about his impression of the City of Fredericton Professor Ziff recounted, "I was taken by its gentle beauty. The campus of UNB, and the law school within it, conveyed that same sense of understated charm."
Thank you, Professor Ziff, for your kind words and for delivering such an informative and entertaining lecture!
The Faculty of Law would also like to extend a special thank you to Professors Anne Warner La Forest and Jane Thomson, co-chairs of the UNB Law Speaker's Committee, for organizing such a successful event.