The dealings behind Canada's most controversial bankruptcy: UNB prof wins award for new book
Author: Faculty of Management
Posted on Nov 23, 2021
Category: Faculty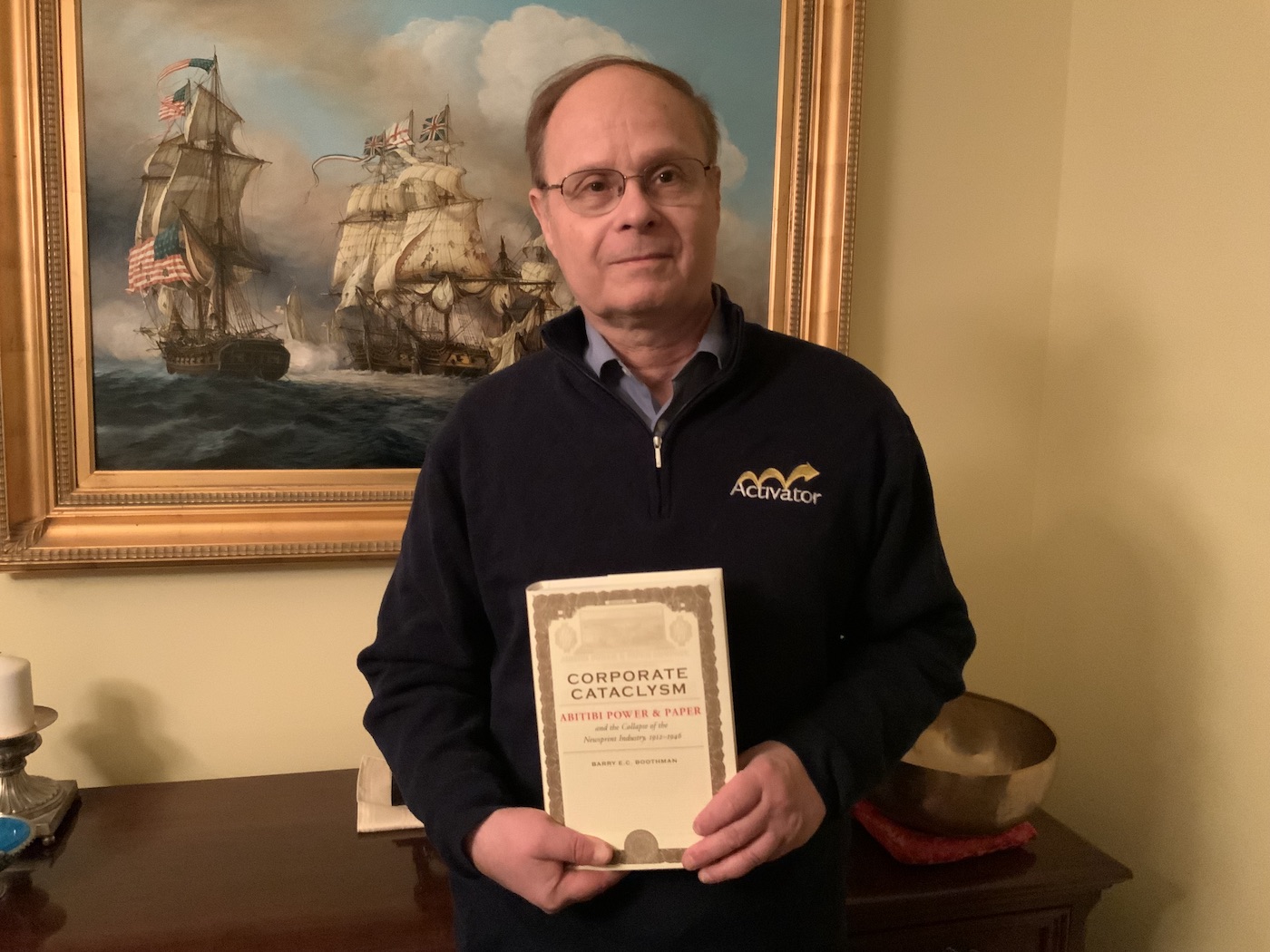 ---
To many scholars, research is an adventure of discovery, a journey with often unpredictable endings. When he began writing about the evolution of Canadian business,
Dr. Barry Boothman
, a management professor at UNB, had no idea where his work would take him. His adventure has spanned more than thirty-five years and led him into unexpected territory. In 2020 his 645-page
Corporate Cataclysm: Abitibi Power & Paper and the Collapse of the Newsprint Industry,1912-1946
was published by the University of Toronto Press and last month it won the prestigious
Ontario Historical Society's Fred Landon Award
for 2020-21.
Boothman joined UNB's
faculty of management
in 1986 and taught courses in business and society, international business, corporate governance and competitive strategy. He served as Associate Dean of Accreditation and Research between 2005 and 2010. In between his teaching and administrative roles, he published papers on business and marketing history, strategy, and economics.
His early work surveyed the traits of Canadian big business since 1916. "I was working on forest product companies when I first discovered materials about Abitibi at the Ontario Archives," said Boothman. "The pile grew and grew from many sources, allowing first a conference paper and then a journal article. Eventually I had umpteen boxes that included many confidential documents, which allowed a monograph to explore the dealings that often unfold during major insolvency cases in conferences and judicial hearings not accessible to public view."
After drafting about a third of a book, he set it aside when he became Associate Dean. In 2014, two years after retiring from UNB, he decided to re-write it entirely, benefiting from years of additional research and teaching corporate governance.
"I have told business students that one learns much more from studying failure than success," said Boothman in his acceptance speech. Corporate Cataclysm chronicles the longest and most controversial bankruptcy in Canadian history, Abitibi Power and Paper, a company many people at the time deemed too big to fail. The company's development was front-page headline news across three decades as people expected great things from the then 'new' industry of pulp and paper but later were shocked by a massive wave of corporate insolvencies.
The book is set in North-Eastern Ontario beginning with how the region was opened up for development over a century ago. From there, it examines the spectacular rise and subsequent collapse of Abitibi. "In many ways," Boothman notes, "the history is similar to the mega-mergers and corporate disasters of our own era."
It then reviews the plots and scandals that unfolded during Abitibi's fourteen-year receivership as different interests tried to revive the firm, profit from the ruin, or recoup their money – at the expense of others. It's a history with many twists and turns that encompasses a veritable Who's Who of Canadian business, politics and law.
Reading Corporate Cataclysm is like taking a crash course in business because we learn how the dreams and strategies of entrepreneurs, industrialists, politicians and lawyers can interact to create a successful enterprise or propel its demise. "I was determined to write a book anyone could understand," Boothman remarked, "even if they lack a background in finance or law: no jargon, no quadratic equations, no statistical manipulations."
The book is not a fast read, but it is an enlightening and entertaining one. Its attention to detail and generous references to film and literature will return former students and colleagues to his classroom lectures. His sense of humour also remains intact with in-jokes during the narrative for perceptive readers. These include Ferengi rules of acquisition such as "possession was eleven-tenths of the law," or "a businessman who believed a deal was a deal unless a better one came along."
Before coming to UNB, Boothman completed an honours degree in history at Brock University, and an MBA and PhD at York University. He was the first person to do a PhD in strategic management at what is now York's Schulich School of Business. Throughout his academic career, business history remained his primary research interest.
This journey doesn't end with Corporate Cataclysm. Boothman is preparing another study that he plans to complete during 2022. It deals with the emergence of business relations between Canada and the United States from 1783 to 1860, foreshadowing the continental economy they later became. He hopes to write a sequel that shows how that occurred.
The Fred Landon Award is presented by the Ontario Historical Society to honour the best book on local or regional history in Ontario, published in the past three years.
"I am humbled by this honour because, like most academics, I work privately on projects that I hope others may also find interesting or of value. Not like Indiana Jones with dreams of fortune and glory!"
Since retiring, Boothman resides in Fonthill, Ontario. He spends his time reading, listening to classical music, working on the next book, and fulfilling commands from his two cats, Julia and Natasha.
Photo: Dr. Barry Boothman's new book, Corporate Cataclysm: Abitibi Power & Paper and the Collapse of the Newsprint Industry, 1912-1946, won the Ontario Historical Society's Fred Landon Award for 2020-2021.
Learn more about UNB's
faculty of management
.
Media contact:
Liz Lemon-Mitchell
.