Faculty of Management
Posted: April 19, 2021 12:00:00 AM ADT
---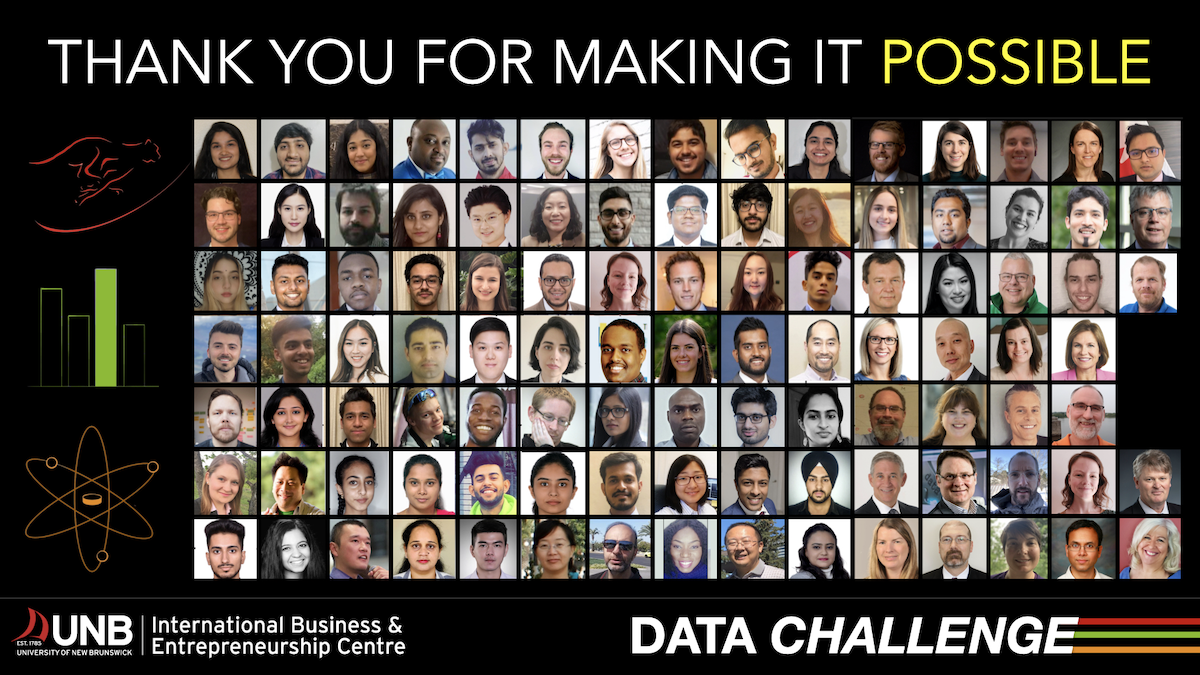 ---
Students around the world connected through UNB this term to delve into data sets related to pressing world challenges, shape them into stories, and deliver actionable recommendations. They were part of the 2021 Data Challenge coordinated by the International Business and Entrepreneurship Centre (IBEC) housed within the faculty of management. Team-building, testing their abilities and learning new skills were big take-aways for students over the two days of the...
---
Faculty of Management
Posted: February 2, 2021 12:00:00 AM AST
Category: Faculty Highlights , IBEC , Alumni
---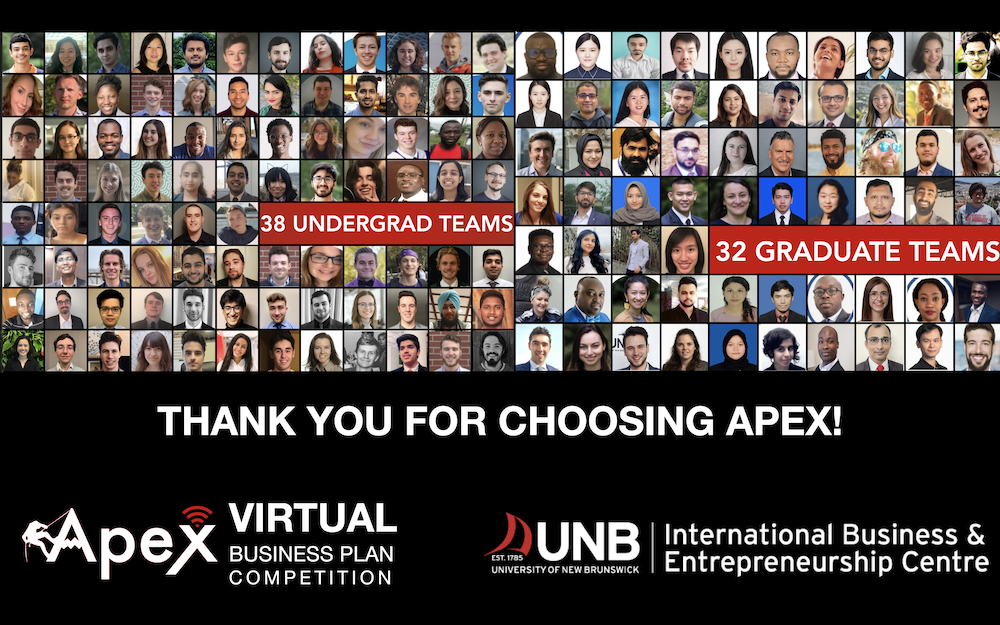 ---
"International and transformative." These two words are being used to sum up the 2021 APEX business plan competition hosted January 25-29, by the faculty of management's International Business and Entrepreneurship Centre (IBEC). This year APEX smashed all previous records by attracting 163 students in 70 teams, representing 45 universities from nine Canadian provinces and 15 other countries. While the COVID-19 pandemic forced the competition to go virtual, there turned out to be a...
---
Liz Lemon-Mitchell
Posted: February 7, 2020 12:00:00 AM AST
Category: Programs , Students , IBEC
---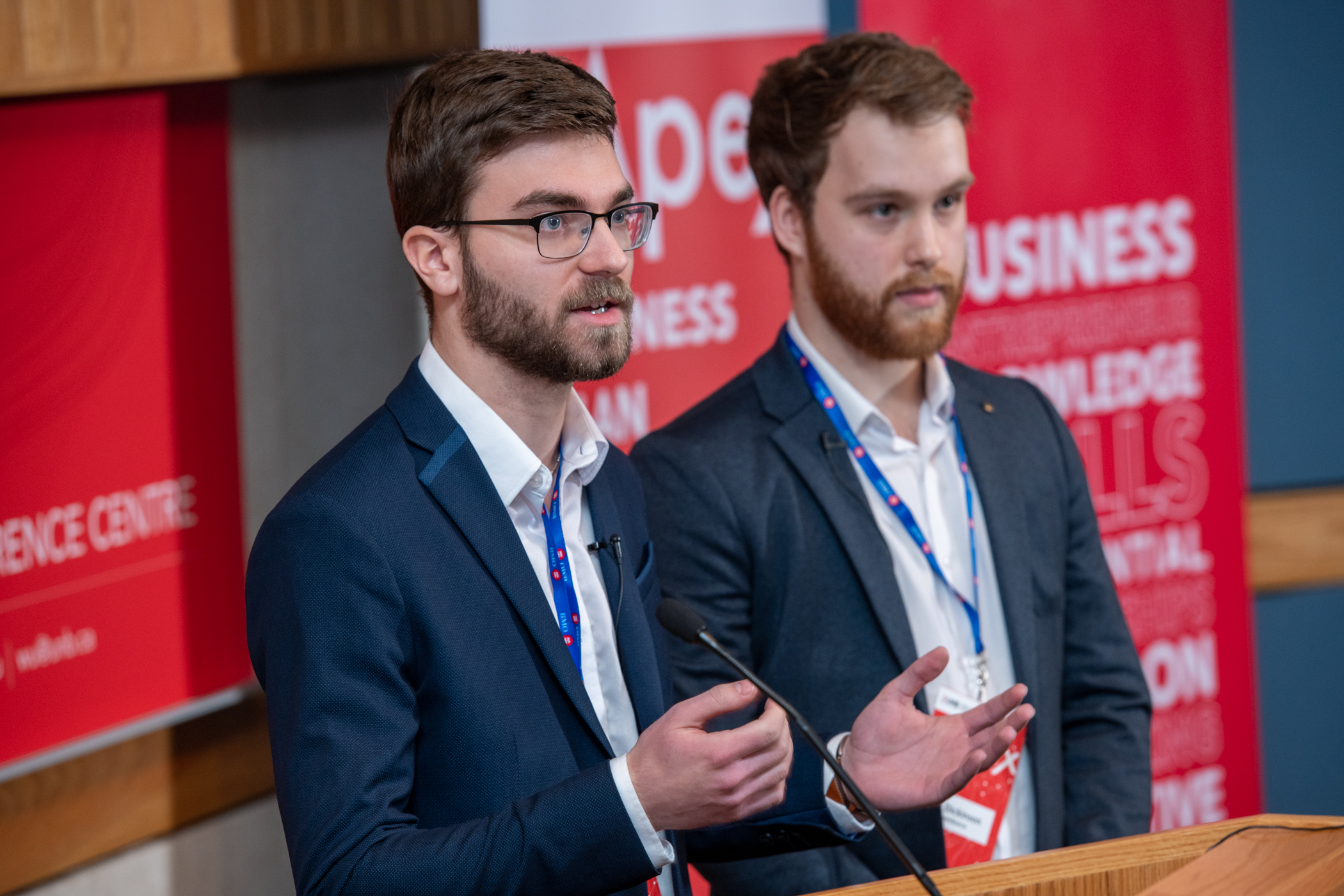 ---
What began over two decades ago as a small competition for the best business plan in an entrepreneurship course at UNB has become a national event for university students across Canada. In the early 2000's, the Faculty of Management moved the competition out of the classroom to create an Atlantic competition, and in the past ten years since BMO Financial Group began sponsoring, it has attracted student teams from one side of Canada to the other. This year the BMO Financial Group APEX Business...
---
Luke Saunders
Posted: February 26, 2019 12:00:00 AM AST
Category: Students , Programs , IBEC
---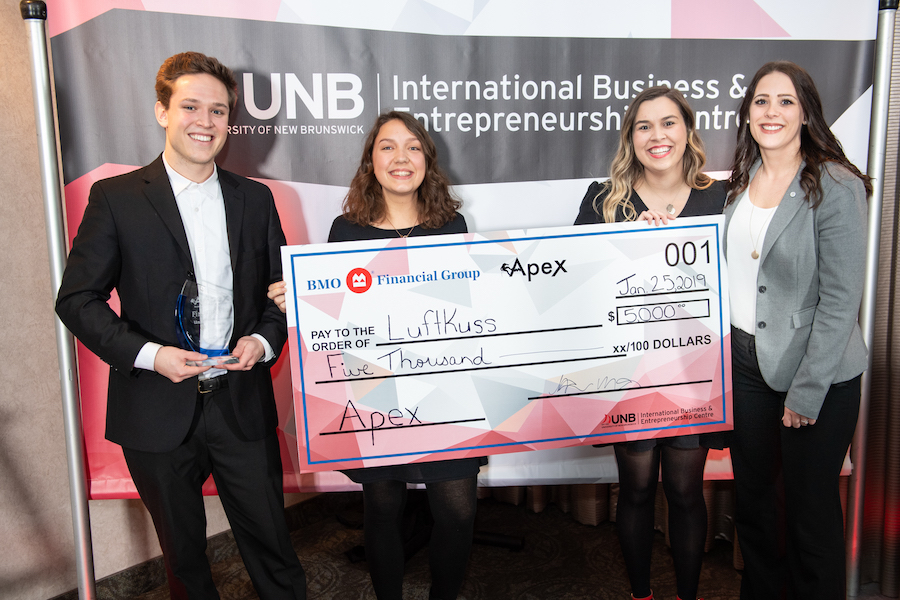 ---
Using drone technology to inspect infrastructural integrity of bridges, exoskeletal technology to help physically impaired people walk, and a chemical process to produce super alloy out of carbon: these were some of the ideas being pitched at the recent 2019 BMO Financial Group APEX Business Plan Competition. Over 26 teams of students from across the country participated in the competition January 24th and 25th to compete for $20,000 in prizes. "It was a very exciting place to...
---
Liz Lemon-Mitchell
Posted: July 12, 2011 5:00:00 AM ADT
Category: IBEC
---
Have you ever seen footage from a security camera? Usually it is pretty difficult to make anything out in great detail because the video has a grainy, low resolution picture due to the fact there is a trade off between image quality and data storage space. At least that's been the case until now. A team from the University of New Brunswick has found a solution to this problem, and their innovative idea won them top prize in the 2011 New Brunswick Innovation Foundation's (NBIF) Breakthru...
---
Liz Lemon-Mitchell
Posted: July 16, 2010 5:00:00 AM ADT
Category: IBEC
---
A UNB team impressed the crowd and judges alike to clinch top spot in the graduate track at the 7th annual CIBC Business Plan Competition, held November 25-27. Another UNB team also claimed second place in the undergraduate track. UNB BBA students, Robert Keleher and Simon Pearn took home the top prize for their business plan, ARC Technology. ARC Technology is a company in the process of patenting a piece of paving equipment capable of combining the three pieces of equipment currently being...
---
Liz Lemon-Mitchell
Posted: October 29, 2008 5:00:00 AM ADT
Category: IBEC
---
UNB's International Business and Entrepreneurship Centre (IBEC) combined National Small Business Week (October 19 - 24) with its visiting scholar series by bringing Dr. Reg Litz, from the I. H. Asper School of Business at the University of Manitoba. A professor of entrepreneurship with research and teaching interests in small business, family enterprise and business ethics, Dr. Litz facilitated two research sessions for UNB students and faculty. The first session was entitled "Kitty Hawk in...
---
Liz Lemon-Mitchell
Posted: May 1, 2008 5:00:00 AM ADT
Category: IBEC
---
Three Faculty of Business Administration students, Edgar Gallibois, Justin Murray and Matthew Corey, won the Enterprise 2008 Business Plan Competition run by the Business Development Bank of Canada. The competition is the largest business plan competition in Canada, and this is the second consecutive year that winners of the regional qualifying competition, Enterprise Atlantic, have claimed top spot in the nation. Gallibois, Murray, and Corey represented UNB as VerifyRX and defeated 11 other...
---
Liz Lemon-Mitchell
Posted: April 11, 2008 5:00:00 AM ADT
Category: IBEC
---
Dr. Nikhil Varaiya, the famed entrepreneurship professor from San Diego State University, made an appearance at UNB last week as part of the International Business and Entrepreneurship Centre's Visiting Scholar's Series. Chairman of the Department of Finance of San Diego State's College of Business Administration, Varaiya has won numerous awards for his research into corporate finance and was at UNB to present a lecture entitled 'Teaching Entrepreneurial Finance.' Focusing on such topics as...
---