2021 APEX: A global community of students and entrepreneurs
Author: Faculty of Management
Posted on Feb 2, 2021
Category: Faculty Highlights , IBEC , Alumni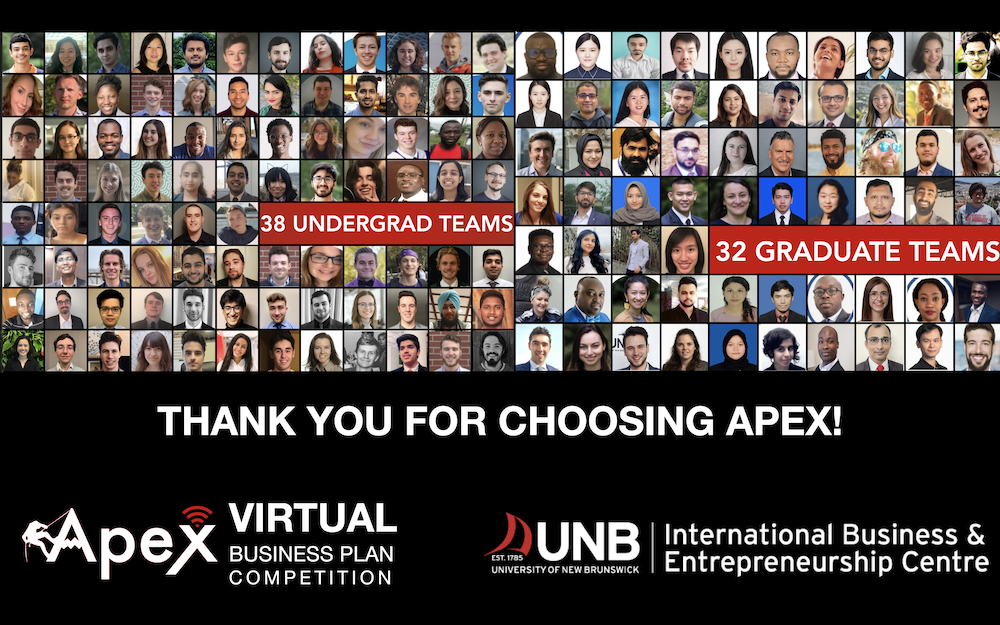 ---
"International and transformative." These two words are being used to sum up the 2021 APEX business plan competition hosted January 25-29, by the faculty of management's International Business and Entrepreneurship Centre (IBEC).
This year APEX smashed all previous records by attracting 163 students in 70 teams, representing 45 universities from nine Canadian provinces and 15 other countries. While the COVID-19 pandemic forced the competition to go virtual, there turned out to be a lot of perks by holding the event online. No requirements for travel, visas, or accommodations opened the competition to the world.
Hosted primarily on MS Teams, APEX included practice rounds, workshops and mentoring so students were able to get feedback and improve their business plans and pitches before facing the judges in the initial rounds. For those teams selected to compete in the final rounds, the feedback from judges helped them improve even more. With MS Teams, organizers were able to record these sessions so that students could review them later as often as they needed.
Seun Richards, a student with UNB Saint John's Team Door2Door Pickup Couriers (winner of the Viewer's Choice Best Elevator Pitch) said, "the competition was an intensive learning and idea-challenging experience for our team."
To qualify for the competition, teams had to submit a business plan. During the competition, they were able to refine these plans as a result of the feedback they got. So, while they entered the competition at one level of expertise, they left at a higher level, and in some instances at a level that brought their plans much closer to start-up.
Nandi Kaul, the program officer with IBEC said that 37 investors and business experts from "world class organizations across Atlantic Canada" volunteered to be judges. "Many of them were so impressed with calibre of the business plans and presentations, they wanted to connect with students outside the competition to continue mentoring them."
In previous years the APEX would include events for competitors to network with other student entrepreneurs and business experts. Providing similar opportunities this year was a challenge, but the organizers used different virtual platforms to continue the tradition by hosting livestream, interactive panel sessions, key notes and webinars on YouTube, MS Teams and REMO. Speakers included Adam Peabody, Director of Planet Hatch; Krista Ross, CEO of the Fredericton Chamber of Commerce; Stephanie Fox, Vice President of Saint John Regional Hospital Foundation; and Adrienne O'Pray, Vice President of Client Success with MESH/diversity, among several others.
Participation in these extra events was high throughout the week, despite the different time zones. Richards said, "We made connections with the facilitators, mentors and speakers, as well as other participating teams, that will go a long way in strengthening our networks across Canada and around the world."
Dawson Baker, a member of Team Koble with the University of Saskatchewan (winner of the Entrepreneurial Powerhouse Award), said, "Remo was used for one event and was a great tool for jumping from table to table and meeting new people – it was arguably easier to meet more people than a standard networking event around tables."
"It certainly would have been nice to have held the competition in person," commented Kaul. "Nevertheless, offering APEX virtually transitioned the competition to a global event. Connections were made; everyone signed off with a list of new friends and professional contacts who are now just an email away, no matter how big the physical distance between them. Going forward, we will include a virtual component to APEX every year so that participants can network with entrepreneurs all over the world and benefit from the variety of ideas and perspectives."
According to one of the judges, Ori Cordido with Naveco Power, APEX was "… a great way of bringing the student community and the entrepreneurial community together." 
First prize in the undergraduate track went to Team Picketa Systems from UNB Fredericton; and in the graduate track to Team NANOSentinel from Kwantlen Polytechnic University & Simon Fraser University. First prize for the Elevator Pitch Round went to Team Tutor on Time from UNB Fredericton.
The major event sponsors included Planet Hatch, the New Brunswick Innovation Foundation, CBDC Southwest, and the Fredericton Chamber of Commerce. Additionally, several organizations from the region supported APEX through panel sessions and networking events, including the Saint John Regional Hospital Foundation, Planet Hatch, Fredericton Chamber of Commerce, Pragmatic Solutions, Mesh Diversity, Planet Hatch, Vertiball, Educated Beards, and Creativ Realty to name a few. You can watch these events on the IBEC YouTube page.
PHOTO: A record breaking 163 students from around the world participated in UNB's virtual 2021 APEX business plan competition.
View the 2021 virtual APEX Gala Awards Ceremony.
Learn more about UNB's International Business and Entrepreneurship Centre.

For more information about this story, contact Liz Lemon-Mitchell.