Creating data driven solutions to world challenges – UNB's 2021 Data Challenge
Author: Faculty of Management
Posted on Apr 19, 2021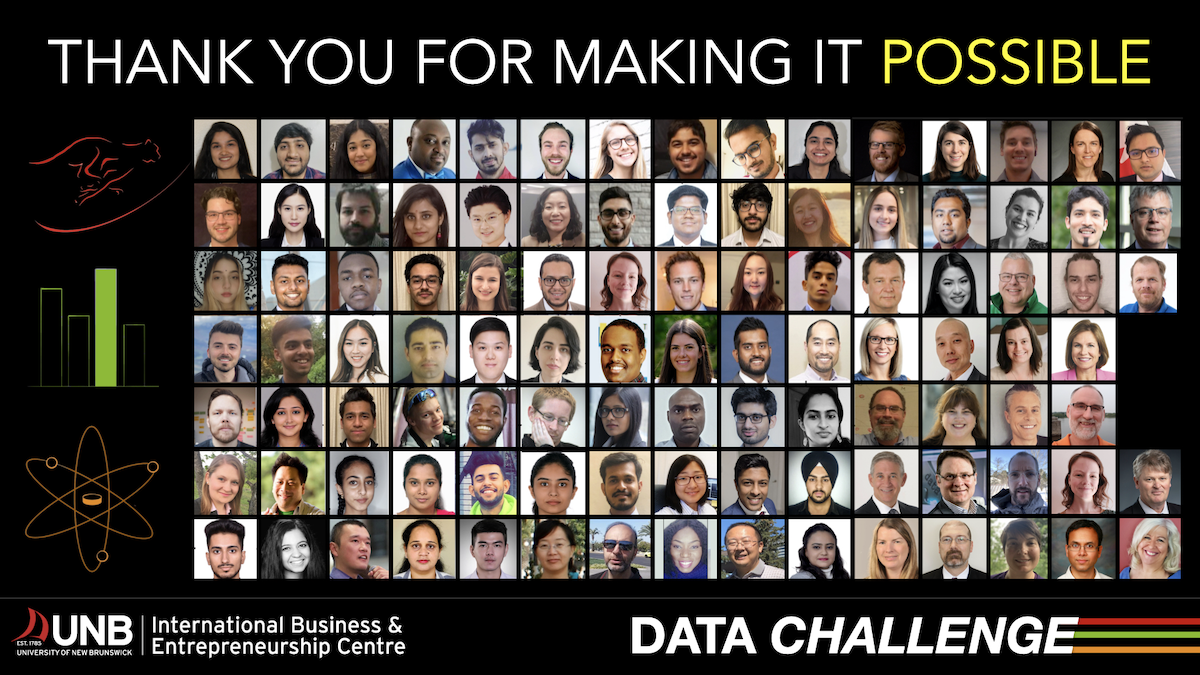 ---
Students around the world connected through UNB this term to delve into data sets related to pressing world challenges, shape them into stories, and deliver actionable recommendations. They were part of the 2021 Data Challenge coordinated by the International Business and Entrepreneurship Centre (IBEC) housed within the faculty of management. 

Team-building, testing their abilities and learning new skills were big take-aways for students over the two days of the competition. 

In the Data Visualization track, they developed data-driven solutions from open-data sets related to Canada's sustainable development agenda. Valay Shah, a master of science in business analytics student with the University of Western Ontario team, noted, "Along the way, we were able to really come together as a team and put something together which we were proud of." 

He also said that, "It was a tremendous learning opportunity for not only cultivating technical and soft skills but also for raising our awareness towards the plethora of issues Canada is facing today".

Teammate Apery Kira, a digital management (MSc) student at Ivey Business School, added that, "While it was our team's first time using Tableau, this competition helped us gain experience in developing a dashboard in Tableau to help us communicate a story and develop recommendations using data visualization."

Each team competing in the Data Challenge track chose one out of 13 curated StatCan Covid-19 data sets to discover insights and present recommendations. "Our team really enjoyed the challenge of testing our skills by analyzing the effects of the pandemic on Canada's post-secondary students and by developing a predictive model to mitigate the impact of future disturbances," said Robert Davis, who is pursuing a master of management in artificial intelligence from the Smith School of Business (at Queen's University). He and his team won first place in the Data Challenge Round, which was sponsored by TechImpact.

The Data Sprint was a New Brunswick-themed hackathon hosted on WikiData. Jan Ainali, whose team won the NBIF Innovative Data Award, noted "We were excited to see Wikidata being used in such a wide range of applications and enjoyed showing its capabilities for expanding access to knowledge."

This event began five years ago as an in-class competition when the faculty first piloted a data visualization course. The Data Vis Challenge has been a stand-alone competition attracting students from across Atlantic Canada since 2018.

This year, IBEC split the event into three tracks to include a Data Challenge and a Data Sprint, in addition to the Data Visualization Competition. Because of the pandemic, the event was virtual, but this resulted in a much higher participation rate, especially among students outside Canada. In total, 93 registered for the event, representing 30 teams from eight countries, including five Canadian provinces.

This year students were inspired to discover how they can use their data analytic skills to have a real impact on important world challenges.

Ainali and his teammates won first place in the Data Sprint and donated their prize money to Wikimedia Canada. "They are doing great work with indigenous peoples and First Nations, and we hope that this will come in handy."
From around the world, 35 business experts from 20 organizations volunteered to serve as judges, mentors and speakers. These included Cathy Simpson, CEO TechImpact and Gerry Fairweather, CIO with the Province, here in New Brunswick, and Lea Lacroix, Community Engagement Coordinator of Wikimedia Deutschland and Lydia Pintscher, Product Management for Wikidata, Wikimedia Deutschland.
Key sponsors of the event who contributed to the prizes included the New Brunswick Innovation Foundation (NBIF) and TechImpact. Simpson said, "TechImpact was happy to sponsor the event and moderate the data panel. Opportunities like these events provide opportunities for leaders in the private sector to share how data is being used, why it's more important than ever and to discuss the incredible paths available to a data-driven career."

Check out the full list of the 2021 Data Challenge Prize Winners.

Learn more about our International Business and Entrepreneurship Centre (IBEC).

For more information about this story, contact Nandi Kaul

Photo: Faces of the participants from around the world who competed in UNB's 2021 Data Challenge, along with the experts who joined them as guest speakers, mentors and judges.