Continued Success for UNB teams at the CIBC Business Plan Competition
Author: Liz Lemon-Mitchell
Posted on Jul 16, 2010
Category: IBEC
A UNB team impressed the crowd and judges alike to clinch top spot in the graduate track at the 7th annual CIBC Business Plan Competition, held November 25-27. Another UNB team also claimed second place in the undergraduate track.
UNB BBA students, Robert Keleher and Simon Pearn took home the top prize for their business plan, ARC Technology.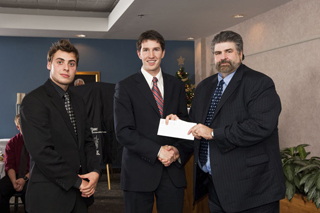 ARC Technology is a company in the process of patenting a piece of paving equipment capable of combining the three pieces of equipment currently being used for asphalt resurfacing, into a single 40 foot long Asphalt Resurfacer.  Simon comments, "The physical size of the Asphalt Resurfacer will allow us to dominate the Urban (City Streets) Market."
The CIBC Business Plan Competition is organized through the Faculty's International Business and Entrepreneurship Centre (IBEC). This year ten teams from across Atlantic Canada competed for prizes. The winners were as follows:
Graduate Track
1st Prize                $5,000   ARC Technology (UNB)
2nd Prize               $2,500   Cuts4Cancer (Dalhousie University)
3rd Prize                $1,000   GenLink (UNB)
Undergraduate Track
1st Prize             $5,000   Educard (Crandall University)
2nd Prize               $2,500   Kipedal (UNB)
3rd Prize                $1,000   E-ceipts (UNB)