Making connections to last a lifetime: BMO APEX Business Plan Competition
Author: Luke Saunders
Posted on Feb 26, 2019
Category: Students , Programs , IBEC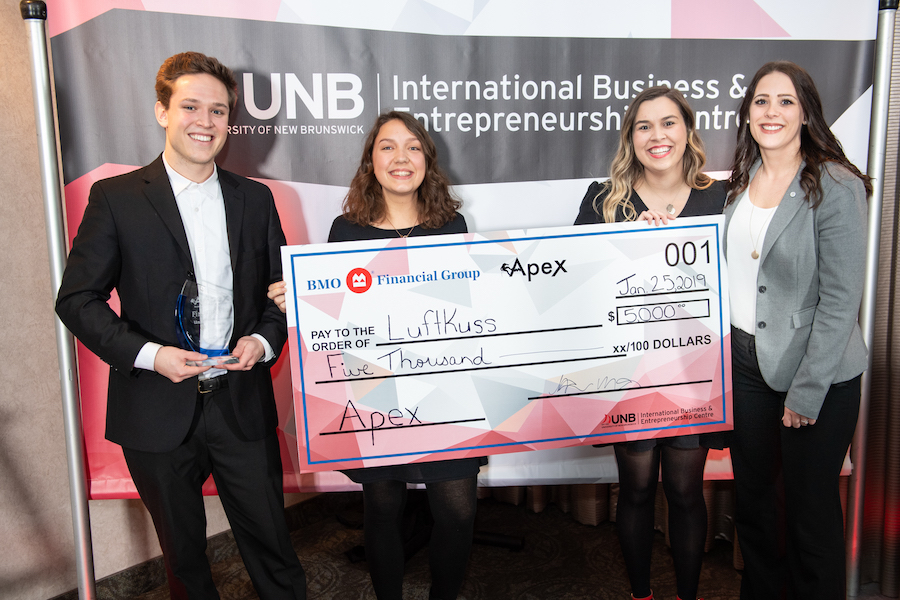 ---
Using drone technology to inspect infrastructural integrity of bridges, exoskeletal technology to help physically impaired people walk, and a chemical process to produce super alloy out of carbon: these were some of the ideas being pitched at the recent 2019 BMO Financial Group APEX Business Plan Competition. Over 26 teams of students from across the country participated in the competition January 24th and 25th to compete for $20,000 in prizes.

"It was a very exciting place to be," said Dr. Devashis Mitra, dean of the Faculty of Business Administration. "There were so many different ideas being generated. Year after year, one of the most exciting aspects of this event is to hear students' ideas and learn how they were able to collaborate on these ideas and turn them into business plans."

"There is an interesting story behind every plan," said Andrew Lockhart, Programs Officer for the International Business and Entrepreneurship Centre (IBEC) which organized the competition. Jenna Evans, Aric Johnson and Elena Ascher won the top prize for their business plan "Luftkuss", which offers high quality custom lip products made with organic, vegan ingredients. The three UNB BBA students were excited about their product when they formed their team, but knew that it would meet tough competition in the Canadian and US markets, where similar products were already being offered.

It just so happened that Ascher is an exchange student from Germany where no such products exist, so here was a perfect market for Luftkuss. "Customizable lip products already exist, and are quite popular within the Western market, so when we realized that there was nothing like this available in Germany we immediately saw potential," said Evans. As the plan came together, the team even developed a prototype of the product to share with the judges. Their marketing plan and prototype set them apart from all the other great plans in the competition.

Winning was certainly a big highlight of the competition, said Evans, but what also made the whole experience valuable, was the "networking opportunities, which provided me with many contacts in the business field."

Students competing in APEX have many opportunities to network with seasoned business people and entrepreneurs, as well as with venture capitalists and angel investors. Sharing their ideas with this group and getting feedback that will help them improve their business plans is a benefit for all of the competitors. This year students heard from Marcel LeBrun, Venture Partner with Real Ventures, who talked about "5 keys to scaling your Startup from $1M-$10M" on the first day of the competition. On the second day they heard from a panel of entrepreneurs and venture capitalists - David Alston, Entrepreneur in Residence for the Province of New Brunswick; Jeff White, CEO of the New Brunswick Innovation Foundation; and Peter Clark, Director of Pelorus Venture Capital Limited  - who shared candid advice to students on how to pitch their start-ups to investors.

In an interview with CTV news, Lockhart said that from an organizer's perspective, seeing students build confidence in themselves is one of the best things about the competition. Until now, he said, "… some of these students haven't had this opportunity."

When asked if she had any advice for students who may be interested in APEX in the future, Evans echoed students from previous years by saying, "Do not hesitate, join the APEX competition! You will not regret joining. There is so much more to the APEX competition than money. I have fostered connections that will last for a lifetime."

Photo: Jenna Evans, Aric Johnson and Elena Ascher won top prize in the 2019 BMO Financial Group APEX Business Plan Competition for a customizable lip product called Luftkuss which they plan to introduce to the German market.
For more information, contact Liz Lemon-Mitchell.

Learn more about our BMO Financial Group APEX Business Plan Competition and our International Business and Entrepreneurship Centre (IBEC).