APEX - Just Do It
Author: Ideas with Impact
Posted on Mar 25, 2015
The BMO Financial Group APEX Business Plan Competition is a very special time of year at UNB Fredericton. When the event took place this year January 21 – 23, the air was filled with energy as the most entrepreneurial minds from universities across the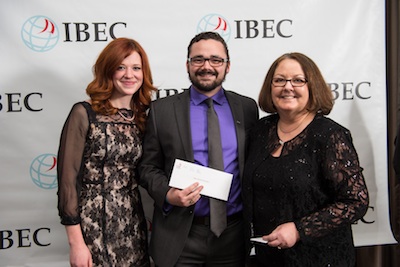 country came together to compete head to head.  After completing a practice round with feedback from the judges and filming an elevator pitch, the teams took the stage with their final presentations.
Approximately $19,000 was awarded in prizes this year. In the undergraduate track, first place went to 'Scout' of the University of Alberta, second place to 'Cookery' of Saint Mary's University and third to 'SAVR' from McGill University. In the graduate track, the University of New Brunswick took first place with 'Doctors Orders'; second place went to 'Hart Surf Co.' from Dalhousie University and third place to 'Aquasol' of Saint Mary's University.
In addition to nabbing first place in the graduate track, UNB's 'Doctors Orders' also took home two additional awards. Their crowd-pleasing pitch won them 'Viewer's Choice: Best Elevator Pitch' and 'Viewer's Choice: Best Overall' awards.
Although each team was at the competition to win, participants found that either way it was a priceless experience; the camaraderie and support from fellow competitors and judges was unmatched. Andrew Vaughan, a participant from St. Francis Xavier University said: "It's been an excellent competition; exceeding every expectation… The competition is very tough, but you're also meeting a lot of great people and the networking opportunities are simply amazing."
Paul Hornibrook (BBA '90), a 7-year veteran Judge at APEX, said that he gets excited for the competition every single year. The mix of pitches that come through, and the eagerness of students to take advice from the judges always impresses him. Having graduated from UNB, he loves giving back to the university and staying connected with the sharp minds of the students.
Twenty teams from eleven universities (including UNB) participated in the competition this year. We asked almost every team if they had any advice for future competitors, or anyone thinking about competing and the overwhelming response was to just do it. Natujwa Maliondo, a UNB MBA student who participated in this year's competition advised students to "come and compete, it's a once in a lifetime opportunity, you'll never regret it".
For more information contact Liz Lemon-Mitchell.