UNB business students work with Peterbilt Atlantic to meet new industry challengesost Title
Author: Matthew MacLong
Posted on Jul 30, 2021
Category: Alumni , Programs , Students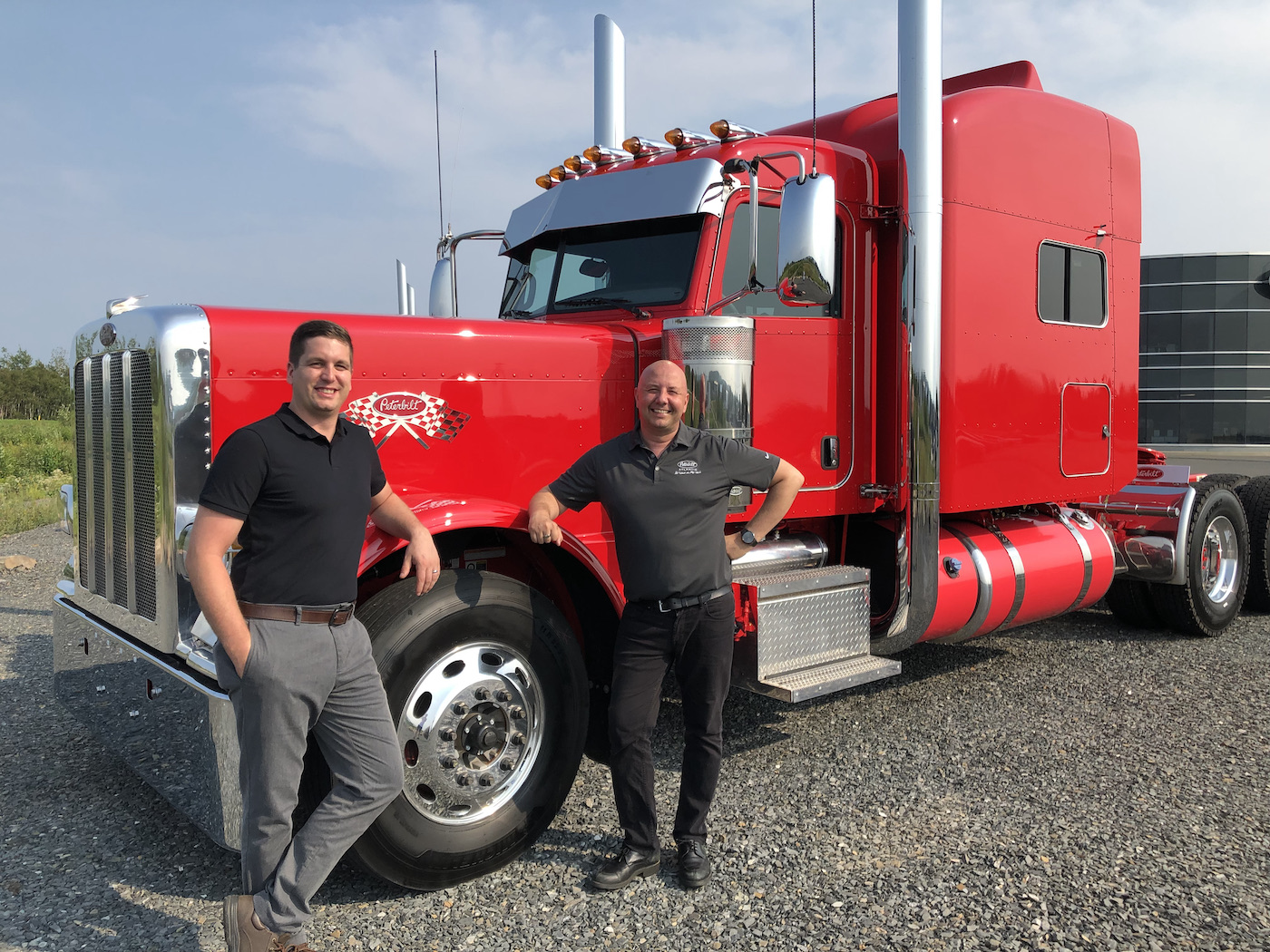 ---
After decades of dominating the traditional truck market, Peterbilt Atlantic, Atlantic Canada's largest heavy-duty truck dealer, is adapting to a changing industry.

To help them face this challenge, Peterbilt recently consulted with faculty of management students completing the Strategic Management course. The students conducted an industry analysis to consider opportunities that might help the company increase market penetration of Peterbilt electric trucks in Eastern Canada. These trucks are brand new to the market, so students were able to participate in important primary and secondary research in the emerging field.

Fourth-year student Hugh Watson is working full-time as an Automotive Service Technician while he completes the BBA degree. He had the advantage of being able to apply his technical understanding of electric vehicles to the project.

"This experiential learning project allowed me to apply not only the course materials I have learned but also my work experience in order to help conquer Peterbilt Atlantic's predicament".

Fourth year accounting student, Marcia Wilson, created and distributed surveys to potential consumers to gain insight into their preferences and concerns regarding the use of electric trucks.

A key concern of the respondents was the higher upfront cost associated with purchasing an electric truck compared to diesel. Respondents unanimously this cost would rule out owner-operators and that focus should be placed on fleet operators (a group of trucks owned by an organization).

Using UNB's library resources, the group discovered one of the largest fleets in Canada (12,300 trucks) operates out of New Brunswick through Day & Ross, a subsidiary of McCain Foods.

Through this link, the group discovered McCain Food's sustainability report outlining the companies' environmental goals which include cutting emissions from factories and transportation by 50% by 2030. The students reached out to McCain Food about the potential purchase of a Peterbilt electric truck and suggested several initiatives to Peterbilt that could attract the attention of McCain Foods.

Of note, the group discovered savings from avoiding fuel and maintenance items like oil changes, air filters, and engine tune-ups over the useful life of a class 8 truck make the electric truck less expensive to operate than a diesel. In addition to this, many provinces have pledged to reach net-zero greenhouse gas emissions by 2050.

A challenge that respondents suggested Peterbilt must overcome are price differences between their line of electric trucks and a competitor. However, it was identified that the competitor with the cheaper products lacked a suitable dealer network and service facilities. All respondents agreed the lack of service and potential downtime of the truck should repairs be required would outweigh the cost savings between brands.
Craig Allen (BA '98), the Director of Sales and Marketing at Peterbilt Atlantic says he and CEO Tim Hawkins (BBA '91), UNB alumni themselves, were proud to partner with UNB students to help lead the charge in this new endeavour.

"It was very evident that the students took their projects seriously and we were very impressed with the quality of their work and recommendations.  It was great to see the students embrace the challenge of researching a new sector and fledging product with such enthusiasm "says Allen.

When asked what the greatest takeaway from the project was, Wilson said it was feeling a sense of accomplishment. "School projects are typically hypothetical but with this project, it felt as if our research and hard work would be useful in furthering this exciting new product".

Having this chance to apply what they have learned from their degree towards solving real world problems gives faculty of management students a huge amount of self-confidence as they graduate and enter the workforce.

Watson said, "I now know what I am capable of given current time constraints and am now curious what is possible in the future with a career change. Consulting with businesses and tackling large problems and challenges in this project brought me great enjoyment."

Photo: Hugh Watson (L) is one of a group of strategic management students who worked with Craig Allen (R), Director of Sales and Marketing at Peterbilt Atlantic on a project.

Learn more about UNB's faculty of management.

Companies interested in partnering with our students on a work-integrated learning project should contact our Experiential Learning Coordinator, Darcy Crowe.