Experiential learning kept this international student working in New Brunswick
Author: Faculty of Management
Posted on Apr 22, 2021
Category: Alumni Highlights , Alumni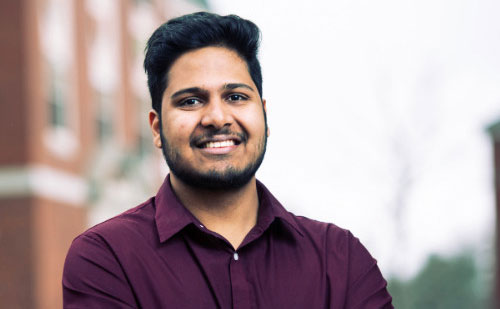 ---
Kiran Mampilly (MBA'19) came to UNB to study in the MBA program as part of a dual degree program with Jindal Global Business School in India. His final year of study was in the Faculty of Management on the Fredericton campus and he graduated in 2019 with multiple job prospects in hand. He says this was due to the experiential nature of the program and the business network he was able to grow in New Brunswick throughout his studies.
Kiran chose to work with Sedin Technologies in Fredericton, an IT consulting, system integrator and software services company that delivers business solutions to clients ranging from startups to enterprise. He now brings Sedin projects into the classroom at UNB, volunteering his time to mentor first-year students who are tasked with building innovative solutions for local companies.
We asked him about his experience at UNB and in New Brunswick.
Q: Why did you want to go abroad to study?
"I wanted to experience a change in culture and travel somewhere new in the world. JGBS gave me the opportunity to pursue an additional degree at an international institution from a list of renowned colleges around the world. I chose UNB and Canada because the cost of living was reasonable, the immigration policies were fair and it was a place I would want to stay on and work after my degree."
Q: What was the best part of the MBA at UNB?
"Definitely the experiential learning. In many of our courses, including marketing, strategic management and entrepreneurship, we worked with real start-ups. That practical experience really helped me apply my learning and grow my skills. And it helped me make connections in the business community much faster. Coming from abroad, sometimes there's an apprehension on the part of companies to hire from away, but the connections I built through the program allowed me to get to know the people at local companies and for them to get to know me. I built credibility with the contributions I was making. And I was able to build a solid network."
Q: Why do you think experiential learning is so important?
"It allows students to gain practical skills and build a network very quickly. It's much harder to do that after graduation when you're looking for a job. I had job prospects before graduating because of the experiential opportunities I had. For example, I participated in the Data Visualization Competition and during the event two business people came up to me and asked me to call them. It was a great opportunity to show my skills and meet the right people. I also worked on projects with companies throughout the year where I had to reach out to CEOs and CIOs for their opinions. It helped me learn to network effectively and build connections I never would have had otherwise."  
Q: Why did you choose to stay in N.B. to work after graduating?
"I had the opportunity to work with Sedin, doing the exact kind of client relationship work that I wanted to do in the IT field. I also love New Brunswick and the Maritime provinces. I don't know of anywhere else where you can have your own backyard and take a walk in the woods anytime you want. Coming from a country and cities with high populations, this quieter living is beautiful to me. I love the Canadian culture. And I can also travel from here to places close by like Toronto and New York. It's amazing."
Q: You've been giving back your time to UNB and students: why is this important to you?
"I had a great experience working with local companies as part of my education, so I want to support other students learning that way as well. My education experiences in both India and at UNB taught me what works best and what doesn't, and I want to help be part of growing experiential education at UNB. It's a win-win: Sedin gets what we need for market research and problem-solving, I get to spend time mentoring students and the students get real-life experience."
Q: What inspires and drives you?
"I owe so much to UNB for getting me to where I am right now. The support and guidance of faculty members meant a lot to me, so I want to do my best. Right now, I can contribute my time and experience and it's inspiring to do so."
Q: Are you planning on staying in NB for the foreseeable future?
"Oh yeah, for sure! I want to stay in Fredericton or at least the Maritimes for as long as possible. The community here is amazing."
Q: What advice do you give to current students?
"Networking is so important. Make sure to ask good questions and reach out for mentorship. Connect back with people once you've had the opportunity to work with them on a project. Get yourself out of your comfort zone. And also, build a brand for yourself."
To volunteer with the Faculty of Management or anywhere at UNB, fill out our online form.