Prescience and Optimism – a winning combination in these times
Author: Faculty of Management
Posted on Apr 16, 2021
Category: Student Investment Fund , Students , Alumni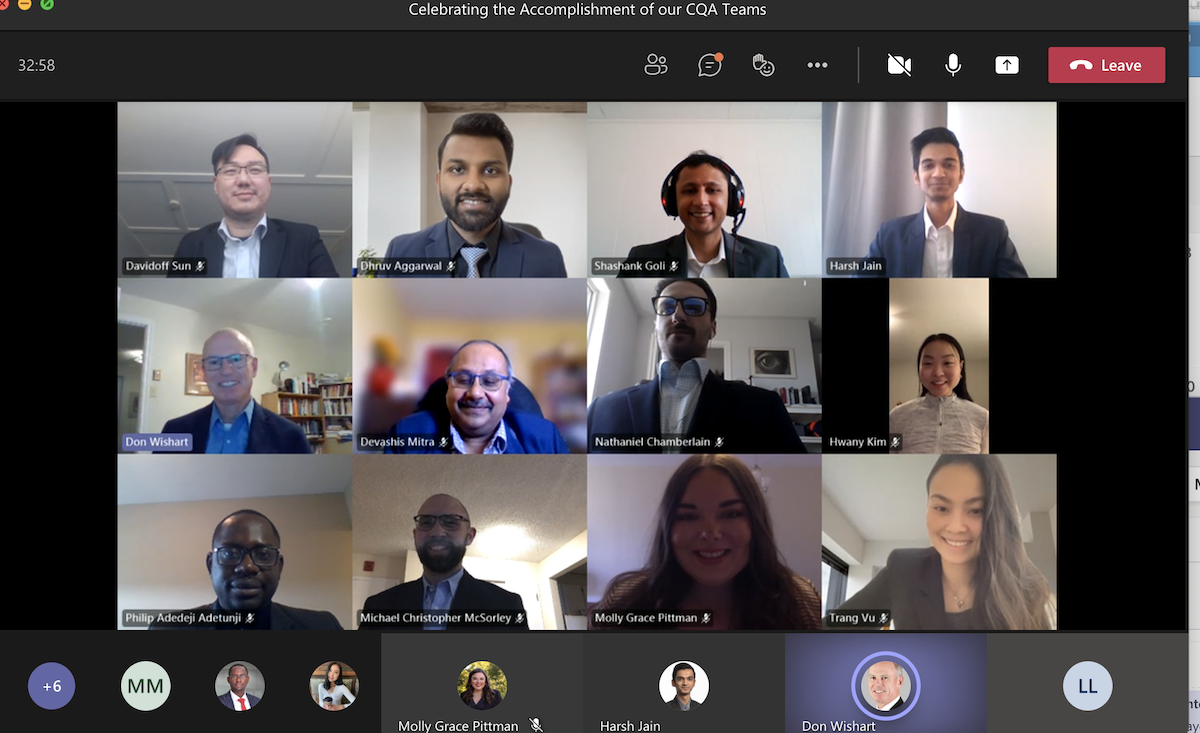 ---
Students enrolled in UNB's Student Investment Fund are wearing big smiles on their faces. On their last day of classes, they learned that one of their teams placed first in the global Chicago Quantitative Alliance (CQA) Challenge, beating out teams from high-ranking universities like Carnegie Mellon, University of Michigan Ann Arbor and Chinese University of Hong Kong. A second SIF team placed fourth!

The CQA is a professional investment organization comprised of leading quantitative investment practitioners including investment managers, academics, plan sponsors, consultants, and other investment professionals.  

The CQA Investment Challenge is an annual equity portfolio management competition that offers students the opportunity to learn and apply stock selection and portfolio management skills in a simulated, real life hedge fund experience.

"The CQA Challenge proved to be exactly that, a challenge," said Nathaniel Chamberlain, a member of the UNB FinaStuds team that earned fourth place. "The creation and management of a factor portfolio was a great learning experience. Having to keep up with portfolio compliance taught us punctuality and discipline, and although difficult at times, we managed to keep our portfolio in check throughout all the rounds."
 
Shashanka Goli, a member of the winning team, The Fa-bull-ous Five, said, "Our greatest challenge in this competition was trying to understand and react to the movement of the capital markets amidst the COVID-19 pandemic." He noted their "buy and hold" strategy was successful.

The unexpected risks associated with the pandemic made the CQA Challenge especially tricky for students when they were deciding where they should invest. "A combination of prescience and optimism is what helped the students perform so successfully," said the course instructor, Don Wishart, president of SEAMARK Investment Management Ltd. and director of UNB's Centre for Financial Studies. "While it was tempting to get bogged down in the current environment, our students were able to look past COVID-19 to what the markets would normally look like in the future, in other words at the real economy."

The students started the competition in November by selecting stocks for their portfolio and then applied their research and investment knowledge throughout the year to manage the portfolio and mitigate risks. Harsh Jain, acting program officer with the Centre for Financial Studies, worked with Wishart to mentor the students throughout the year. Jain competed in the CQA last year when he was enrolled in UNB's master in quantitative investment management program, so was able to provide some practical guidance to keep the students on track.
Students worked with a third mentor, Jon Spinney, an adjunt professor with the faculty of management. Spinney is the chief investment officer and vice president of quantitative investing at Vestcor and a member of the CQA.
Members of the winning team, The Fa-bull-ous Five, are Dhruv Aggarwal, Molly Grace Pittman, Davidoff Sun, Shashanka Goli and Michael McSorley. Members in the team that placed fourth are Nathaniel Chamberlain, Paarth Paaras Verma, Trang Vu and Hwany Kim.

Launched in 1998, UNB's Student Investment Fund is offered in partnership with Vestcor and SEAMARK. The course combines finance theory with hands-on investment learning by allowing students to manage a portion of Vestcor's pension fund together with the portion of UNB's endowment fund managed by SEAMARK. Altogether, students are managing a fund that is currently worth over $9 million. Students also follow the recommended study path by the CFA Institute so that at the end of school year they are prepared to write the Level One exam leading to the Chartered Financial Analyst designation.

Learn more about our Student Investment Fund.

For more information about this story, contact Liz Lemon-Mitchell.

PHOTO: A virtual gathering to celebrate UNB's Student Investment Fund teams winning first and fourth place in the global CQA Challenge.