At UNB entrepreneurship is fun in more ways than one
Author: Faculty of Management
Posted on Mar 30, 2021
Category: Programs , Students , Student Highlights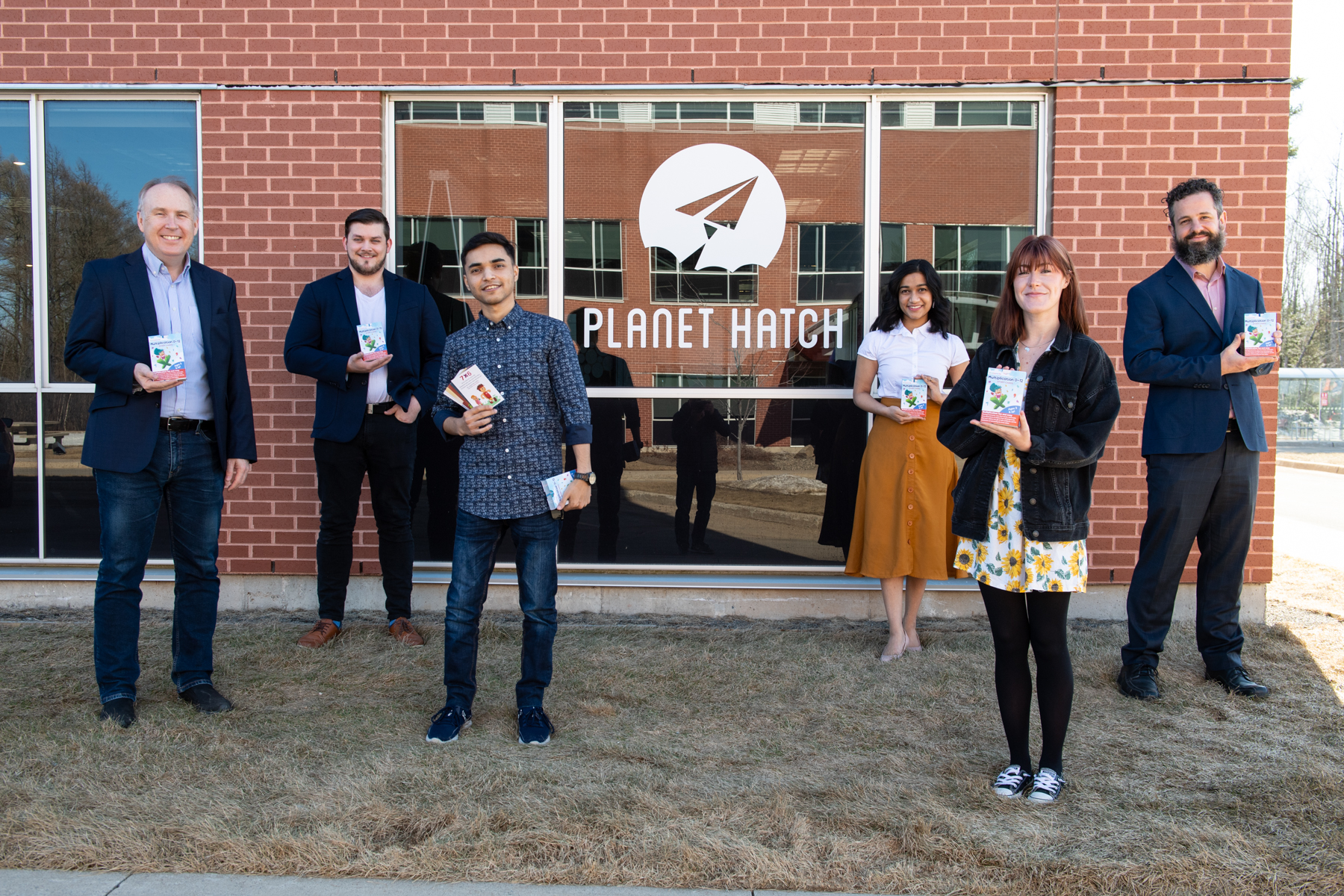 ---
Remember what it was like trying to memorize the times table? This might be easy for some children, but for others it is a struggle that can lead to frustration. This year, a group of MBA students with UNB's faculty of management used their business knowledge and skills to help a Fredericton based educational publishing company - threetwoone.fun - commercialize a multiplication story deck that is helping children learn math and have fun while they're doing it.

Ben McFarlane (BA'94) developed the idea for a multiplication story deck that uses mnemonics, stories and colourful images to help students remember multiplication facts when he was trying to help his daughter who was struggling with math. As someone who has had to cope with ADHD all his life, he remembered how difficult it was for him to memorize the multiplication table when he was her age. Together they came up with the idea to use stories and rhymes as an effective and fun way to learn.

McFarlane signed up for the Start-up Accelerator program offered by Planet Hatch, an entrepreneurship hub based in Fredericton that helps entrepreneurs commercialize their business ideas. Through the program he was paired up with MBA students Angelisa Daly, Marc Brown and Abdur Rahman Chowdhury who were enrolled in UNB's New Venture Creation and Entrepreneurship class taught by Dr. David Foord.
The course teaches students how to generate ideas, recognize opportunities and shape them into venture plans. The faculty of management and Planet Hatch have a partnership that pairs students with entrepreneurs so they can test their knowledge by solving real world problems.
"Students work in teams of three or four to evaluate the feasibility of venture ideas, pitch the merits and create a business plan," said Foord. "Working with a real entrepreneur and a real venture helps them understand first-hand how to make things work."
Daly, Brown and Chowdhury conducted market research for McFarlane's idea, interviewed potential customers, produced financial statements and designed a marketing plan.

When she was an undergraduate student in India, Daly volunteered to teach and work with autistic children, so McFarlane's venture idea spoke to her instantly.

"threetwoone.fun seeks to create a new system of materials and experiences that support children's emotional well-being and academic success by creating self-confidence and improving self-esteem, particularly for ADHD and autism spectrum students. So, this business idea was a cause close to my heart."
Daly and her team applied everything they learned to writing a business plan for McFarlance and creating a pitch deck that could be taken to potential investors.
Each week, teams shared their progress with the class, which included not only the students but the founders who were part of Plant Hatch's Accelerator Program.

"It was exciting and enlightening for us as students to be part of an experiential learning course. It definitely was a team effort and there was active participation along with feedback and suggestions from the class," says Daly.

The course challenging and rewarding, she says. "We are so proud of what we pulled off. Even though it was Ben's business all of us acted as equal stakeholders and we always referred to it as 'our' business. We made some great bonds and are still in touch with Ben who keeps us posted about the growth and achievements of the business."
Two versions of the multiplication story deck are available on the threetwoone.fun website: version 1.0 for purchase and version 2.0 for pre-order. Working with the students was very helpful, Macfarlane says. "Having a group with a passion for the product they were creating was helpful. They helped define the product, differentiate it and market it."
Hannahbelle Weaver, Programs Coordinator with Planet Hatch, said the MBA students were a strong addition to the Accelerator program. "They added their own unique perspectives to challenges and were able to deepen their understanding of what it means to achieve entrepreneurial success in New Brunswick."

"In the end," says Daly, "I was so proud that we were able to work with the founder's dream and find a means to make it happen! I was very happy and content that I played a part in making someone's dream a reality."

Learn more about the the faculty of management's MBA program.
For more information about this story, contact Liz Lemon-Mitchell.
PHOTO: The team, L-R: Dr. David Foord (professor); MBA students Marc Brown, Abdur Rahman Chowdhury and Angelisa Daly; Hannahbelle Weaver (Programs Coordinator with Planet Hatch); and Ben McFarlane (founder of threetwoone.fun).