Benefits and potential rivalry effects of sports sponsorship: practical insights from UNB researchers
Author: Faculty of Management
Posted on Jan 27, 2021
Category: Faculty , Faculty Highlights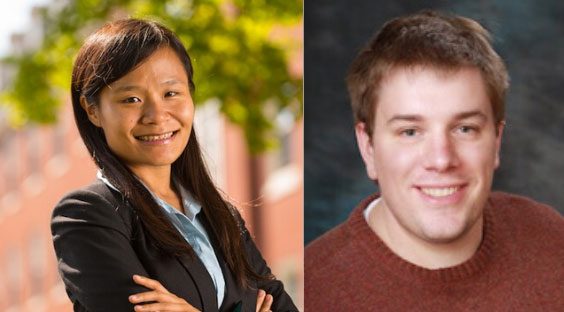 ---
Billions of dollars are spent each year in sports sponsorships. According to Statista, in 2017 alone, $16 bn (US) was spent on sport sponsorships in North America, $11 bn (US) in Europe and another $11 bn (US) in Asia. Sponsorships help teams and leagues support their players, operations and facilities, while companies are able to raise brand awareness and boost their public relations among targeted audiences. Yet, one might wonder whether there are negative impacts to companies who sponsor sports, especially among fans of rival teams. A recent study published by two professors with UNB's faculty of management, Drs. Hsin-Chen Lin and Patrick Bruning, in the European Journal of Marketing (March 2020) examines this question, and their conclusions provide some practical advice to companies that might be considering sports sponsorships.

Lin and Bruning's study, "Comparing consumers' in-group-favour and out-group-animosity processes within sports sponsorships," compared how consumers responded to companies who supported the teams they identified with to how they responded to companies who supported rival teams. It wasn't surprising to discover that fans had a more positive attitude toward companies who supported their team and had stronger intentions to purchase from them. Nor was it surprising to discover that fans of one team are less likely to recognize the sponsors of a rival team and to purchase from them.

Interestingly, fans' negative reactions to the sponsors of rival teams were weaker than their positive reactions to sponsors of their favourite teams. These negative responses were not as pronounced as the positive benefits organizations get from sponsoring teams. This discovery is valuable to companies thinking of sports sponsorships as a marketing strategy but might be uncomfortable with the potential negative impact of being identified with only one team.

Lin and Bruning believe their study should encourage companies to use sponsorships but advise them to be aware of potential rivalry effects, especially when these effects are expected to be unnaturally strong and prevalent. If this is the case, one suggestion is to consider sponsoring a league instead of a specific team. Alternatively, companies could consider sponsoring teams whose rival teams that are not associated with competing businesses through sponsorships. This second approach, however, could result in higher costs of sponsorship or hinder the intended benefits of the sponsorship initiative.

Overall, the negative implications of rivalry effects appear to be weaker and more superficial than the benefits of sports sponsorships. Companies could consider strategically placed cues to their sponsorship of a particular team to maximize their fan's knowledge about the sponsorship while minimizing the company's association with the team to the fans of rival teams. "Teams with a distinctly regional fan base might emphasize their advertising within regions that have the most loyal fans, while minimizing their association to the team in regions with numerous fans of competing teams," suggests Lin.

"In general, we suggest companies continue to embrace the comparatively stronger benefits of sports sponsorship and evaluate the true threat of negative rivalry effects before taking corrective action that might suppress the substantial benefits of sponsorships."

Both Lin and Bruning joined the faculty of management in 2014. Lin teaches courses in principals of marketing, social media marketing, and global marketing; and Bruning teaches courses in organization behaviour, leadership and motivation. Their research into the potential benefits and harm of sports sponsorship led to a second study and paper published in the journal of Marketing Intelligence and Planning (August 2020): "Sponsorship in focus: a typology of sponsorship contexts and research agenda."

This second paper formalizes their findings on the definition of sponsorship, types of sponsorships, and provides relevant topics that need to be studied further. "We outlined a multi-level typology (i.e., categorization) of different types of sponsorships, which included broad categories of sports, prosocial cause, culture and community, and media and programming content sponsorships," says Bruning. "This research program has led us to pay particular attention to studying the management decisions and processes that can make sponsorships more or less effective."

Lin and Bruning have recently received a five-year SSHRC grant (2020-2025) to further their research on sponsorship and sponsorship management.

Photo: UNB business professors Drs. Hsin-Chen Lin and Patrick Bruning recently published their research on sports sponsorhip in two top tier journals, European Journal of Marketing (March 2020) and Market Intelligence and Planning (August 2020).

For more information about this story, contact Liz Lemon-Mitchell.
Learn more about UNB's faculty of management.