Finding clients and keeping them: advice from an expert
Author: Liz Lemon-Mitchell
Posted on Oct 8, 2019
Category: Alumni Highlights , Programs , Alumni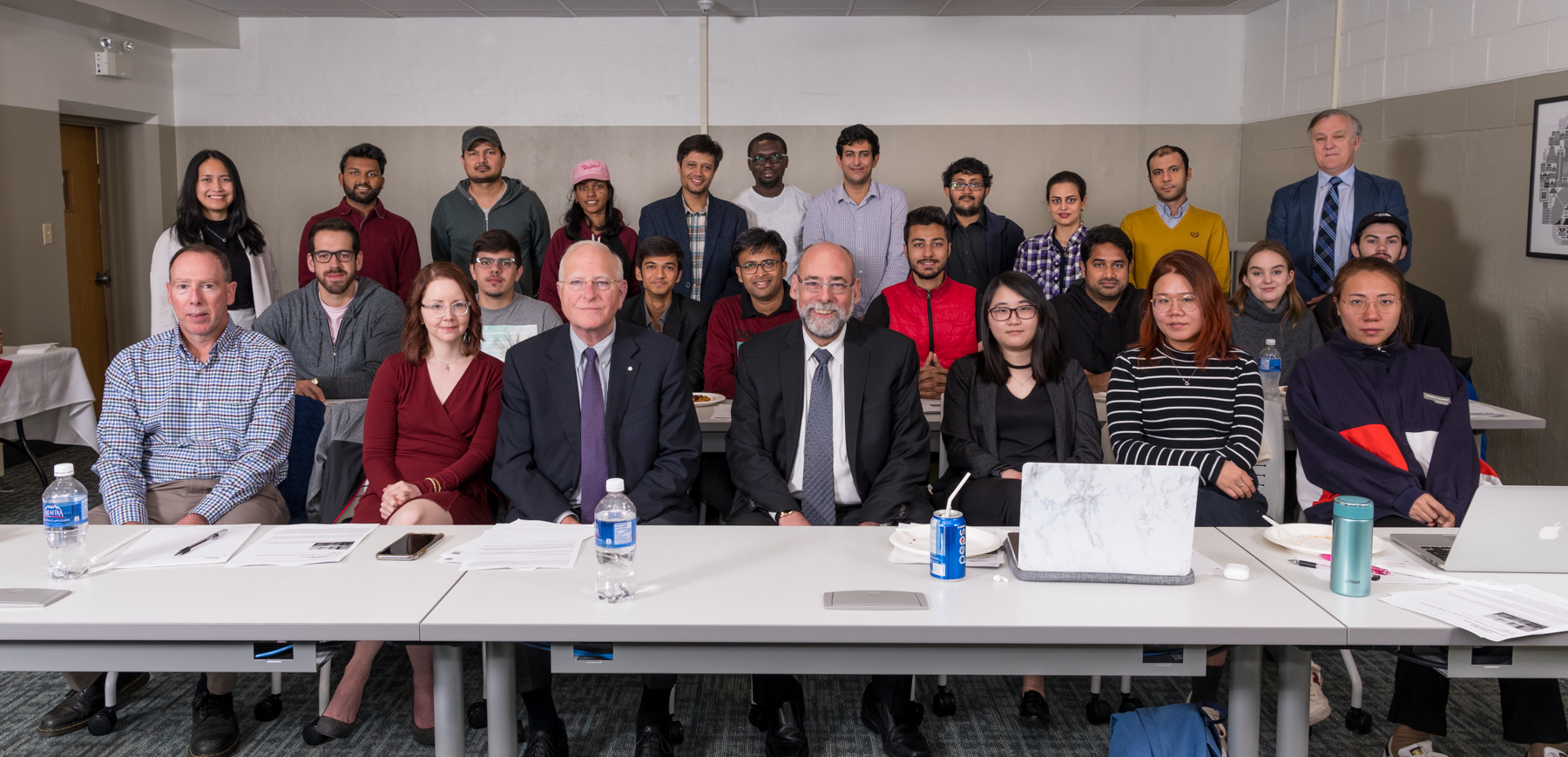 ---
When they graduate with business degrees, students bring specialized knowledge and technical skills to the workplace. For those starting careers in the finance and investment industry, one of the biggest challenges they will face is finding new clients and keeping them. This week, finance students got advice from an expert on how to identify who their clients were and how to communicate effectively with them. Paul Owens (BBA '72), Deputy Superintendent of Pensions for the Government of Alberta, visited the faculty of management as Executive-in-Residence and spent time with students in the
Master in Quantitative Investment Management
(MQIM) program and the
Student Investment Fund
.
The highlight of Owens' visit was a lunch and learn session he delivered on the topic "Investment Management and Client Relationships" as part of the MQIM professional development class.
Students graduate from the MQIM program with highly specialized skills in using data analytics and computer coding to manage investment portfolios. In many cases, advised Owens, they will be working with boards comprising lay members from different disciplines; being able to appreciate their clients' interests and communicate with them at a level they can understand is going to be critical to their success.  
Jain Harsh, one of the MQIM students in the audience, said Owens' practical advice on the "dos and don'ts while dealing with a variety of clients in order to retain them and gain their trust was very helpful."
In Canada, pension funds are a large employer for people with expertise in quantitative investing. There is a good chance that some of the MQIM students listening to Owens will one day be managing a pension fund. "Paul gave us a glimpse of the Pension Fund Investment sector in Canada and New Brunswick," said Jain. "It was helpful to see how our learning will fit into that environment and to get advice that will help us be successful."
The faculty of management is introducing more experiential learning into its programs and courses. Bringing experienced business leaders like Owens to UNB through the Executive-in-Residence program gives students the opportunity to get first-hand, candid advice on how to manage business challenges in the real world. It also helps them to start building their professional networks.
"I'm proud to be a graduate of this faculty," Owens told the students, "and I am excited with the direction it's taking by adding more experiential learning to the programs. Businesses need people who understand how their knowledge applies to the real world."
Photo:
Paul Owens (front row, centre), Deputy Superintendent of Pensions for the Government of Alberta, talked to UNB's Master in Quantitative Investment Management students on Investment Management and Client Relationships.
Learn more about our
business programs
.
For more information, contact
Liz Lemon-Mitchell
.