UNB Student Youngest Intern on the Private Equity Funds Team
Author: Liz Lemon-Mitchell
Posted on Sep 6, 2019
Category: Alumni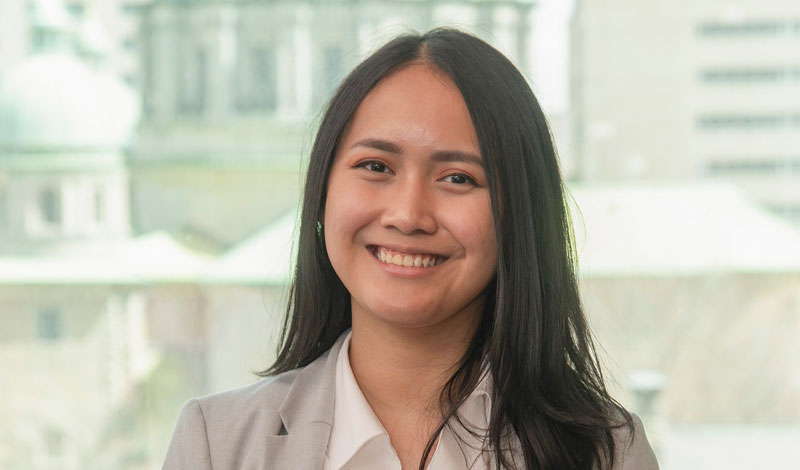 ---
Just a few years ago, Ruthfi Azzahra moved to Fredericton from Jakarta, Indonesia, with the goal of going to university and finding a career in investments. After this summer, she is pretty close to reaching that goal.
For the past four months, she has been immersed in the industry through a Co-op placement with PSP Investments. Based in Montreal, Quebec, PSP Investments is one of Canada's largest pension investment managers with over $160 billion of net assets under management. Azzahra worked as an Intern Analyst in the Private Equity Funds team.
Azzahra was introduced to PSP Investments through Bridge to Capital Markets, a volunteer organization that strives to help top finance students in Canadian universities obtain coveted positions in capital markets and asset management.
Ruthfi's day to day work at PSP Investments included conducting research and financial analyses; at 21, she was the youngest intern on the team. She often put in long hours but says was well worth it. "PSP Investments treats their Co-op students like real analysts, so I got to experience the industry and its real challenges and rewards."
Being part of the Private Equity Funds team put her close to many of the big investments taking place.  "It was exciting to know that what I was doing actually had an impact on some of PSP's multi-million-dollar investments."
Another aspect of the job she enjoyed was the connections she made with industry leaders. "I often found myself sitting in the room with senior executives from Wall Street, who treated me like I was a real member of the team. I came back to UNB with a stack of business cards."
Azzahra is completing the final year of the BBA program with UNB Fredericton's faculty of management and will be furthering her investment training as a member of the Student Investment Fund course. In this class she and her fellow classmates will be managing a fund worth over $8.0 million. She is also serving as President of the Business Administration Undergraduate Society.
Among the many benefits the Co-op program offers students is the chance for them to experience what life is really like in a particular industry. Some students discover they would be happier somewhere else. In Azzahra's case, she is more excited than ever to start a career in investing when she graduates next May.
Learn more about our BBA co-op programs.