New First-Year Business Planning and Entrepreneurship Course Brings Real-Life to the Classroom
Author: Kelly Anderson
Posted on Aug 21, 2019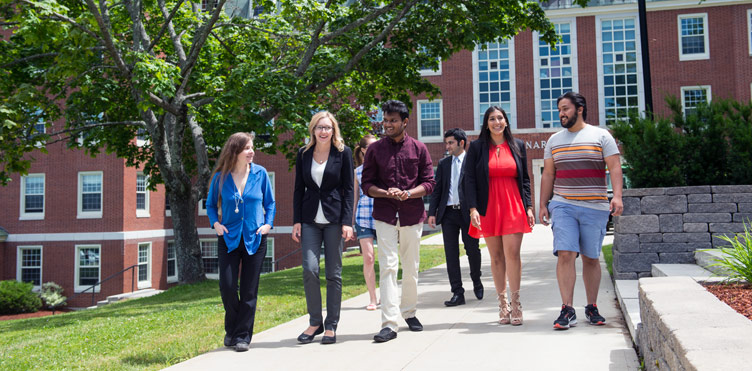 ---
It's a year of firsts for the Faculty of Management and BBA students on the Fredericton campus.
The Faculty is rolling out its first year of required courses in experiential learning for BBA students – who are in their first year in the program. It's also the first time for some alumni of the Faculty to step up to become mentors to this new generation of students.
Bright-eyed and eager young students are taking ADM 1192 Business Planning & Entrepreneurship this fall as they enter UNB. As the first course in the experience component of the BBA curriculum, it's a project-based (not lecture-based) course in which teams of students will create new value propositions and ventures to bring to market.
The class is organized around the active learning process of testing assumptions about user needs, creating and validating ideas and forming a business model that will make it viable. While the focus of the course is on the entrepreneurial and design thinking process and methods, students will, at the end of the course, put it all together in a business plan to pitch for funds from potential investors.
That's where business mentors and judges come in – many of them UNB alumni. 
Students will benefit from mentors from the business community who will share their knowledge throughout the course and give feedback on student projects. Teams will compete in class to sharpen their pitches and "practice" with mentors. Top teams will then be invited to compete at the BMO APEX Business Planning Competition – a large pitch event that is dedicating a new stream to first-year students.
While UNB has other courses across campus that encourage entrepreneurial efforts and result in students making pitches, this is the first time that all first-year BBA students will be required to take and pass the course.
Martin Wielemaker, Associate Professor in the Faculty, was a driving force behind the course and is deeply involved in the Faculty's vision to become the experiential business school of Canada. He's passionate about bringing the classroom and the boardroom closer together, and says that as Faculty rolls out its plans to build an applied component right into the core curriculum of every year of the undergraduate program, "we'll be a unique option in Canada for students looking for this kind of learning."
"The relevance and integration of functional areas of business (why they matter) are introduced by having students write a business plan for an entrepreneurial project. The writing of a business plan becomes a skill that all business students learn. The entrepreneurial project ensures students see their roles not just as administrators, but as creators of value."
The course also introduces students to essential project management skills. They'll improve their creative, design and critical thinking, develop an entrepreneurial mindset, and gain confidence as a future manager.
This year there are 3 ADM1192 classes in the fall and 2 more in the winter term, with approximately 150 students registered in all. There are 18 business mentors working with the student teams this fall term, and more will be tapped for the winter.
"This is a really exciting year and I'm looking forward to seeing the progress of these first-year students," Wielemaker states.
Follow student progress updates and other news from the Faculty on our LinkedIn page. And if you're interested in becoming a business mentor, please reach out to Darcy Crowe, Experiential Learning Coordinator at darcy.crowe@unb.ca.