Management is the new name; more experience is the game
Author: Liz Lemon-Mitchell
Posted on Jun 20, 2019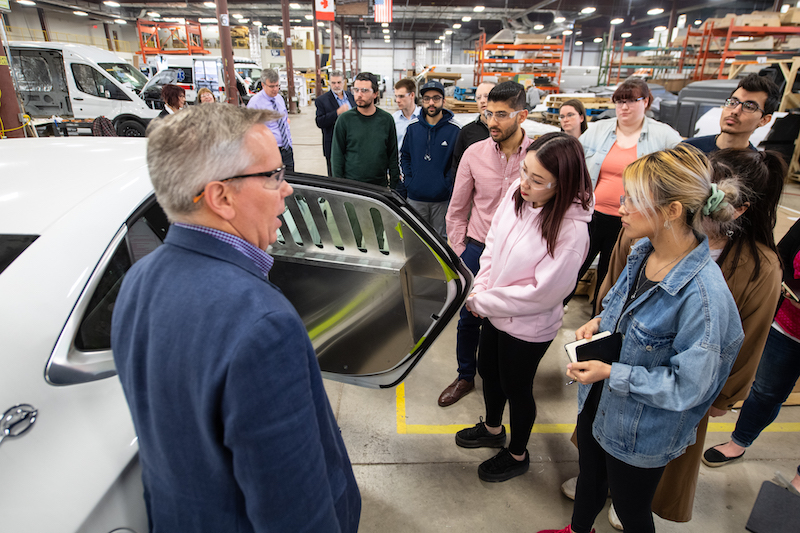 ---
What are you doing with your business degree? We're always asking that question of our alumni.
Here are just some of the answers: our alumni are managing accounts, investment portfolios and technologies; leading start-ups, projects and teams; and running training facilities, schools and other non-profits.
In a recent vision and strategic planning exercise members of the Faculty of Business Administration spent time reflecting on these answers and thinking about how UNB's programs prepare students for their future responsibilities.
One of the outcomes of this exercise is a name change for the school: beginning July 1, 2019, UNB Fredericton's business school will be the Faculty of Management.
When they learn about the faculty's name change, one of the first questions people ask is whether the degrees will remain the same. The answer to this is "Yes," says Dr. Devashis Mitra, Dean of the Faculty.
"We will continue to offer the BBA, MBA and Master in Quantitative Investment Management programs. In the BBA programs, students will be able to pursue the same array of honours and concentrations and in the MBA programs they will be able to pursue the same specializations."
"People often associate the old name, 'business administration,' with programs that focus on just business (for profit) and administrative roles within such organizations", says Mitra. "The reality is that our students learn more than just business theory in our programs, and they gain skills that are much larger than administrative."
Dr. Martin Wielemaker, who championed the faculty's vision exercise, says "Communities in New Brunswick, across Canada and around the world are not just looking for business administrators, they're looking for value creators, people who are comfortable with holding different levels of responsibility and are able to manage complex problems and projects, as well as people."
"We're using the word management to reflect the reality of what graduates do when they enter the business world: they are increasingly called upon to create new opportunities for new businesses and endeavours, for existing businesses, and for community (non-profit) organizations. This is something much broader than just managing people," Wielemaker states.
The faculty's name change is being introduced in parallel with plans to add more experiential learning into its business programs.
Beginning in September, for example, all first-year students will take a new project-based course in Business Planning and Entrepreneurship that will require them to work in teams to create new value propositions and bring new ventures to market. The course will involve mentors from the business community and senior level business students to coach teams throughout the term.
Additionally, beginning next year, students taking the Venture Assessment course as part of the entrepreneurship concentration will be able to make investment recommendations for start-ups through the newly established Fraser Student Venture Fund.
The faculty has plans to introduce more project-based courses in the BBA curriculum and is also launching a review of the MBA over the coming months that will likely see more experiential learning introduced into the program, as well as more specialized offerings.
This builds on the strong experiential programs we have already been offering, such as the BBA Co-op Program, Student Investment Fund, Entrepreneurship Concentration and Export Partnering Program.
"Students completing these programs learn business theory, then get to test it and experiment with it in the real world. They discover for themselves how things really work. In this way they truly own their knowledge," says Mitra, "and we want all our students to experience learning this way."
To help facilitate these program enhancements, the faculty has hired an Experiential Learning Coordinator, Darcy Crowe, who is working with faculty members to identify more opportunities to bring real world business challenges into the classroom, and engaging members of the business community and UNB alumni to mentor students in their projects.
Anyone interested in being involved with experiential learning in the Faculty of Management can contact Ms. Crowe by telephone at (506) 453-5190 or by email at darcy.crowe@unb.ca.
If you're a graduate of one of UNB Fredericton's business programs, tell us what you're doing with your degree – we'd love to hear your feedback and we welcome your participation as student mentors or through in-class industry projects.
Contact us at ideas.fom@unb.ca
For more information about the faculty's name change, contact Liz Lemon-Mitchell.
Photo: Recently, BBA students in the strategic management course worked with Malley Industries Inc. to find new markets for one of their ambulance lines. Here they are touring the manufacturing facility in Moncton, NB. If you look carefully you can see Terry Malley (President and CEO) in the background.  UNB Fredericton students will have the chance to apply their classroom learning to more real-world challenges in their business program.