UNB Alumnus Building a Bridge to Asia for N.B. Company
Author: Kelly Anderson
Posted on May 20, 2019
Category: Alumni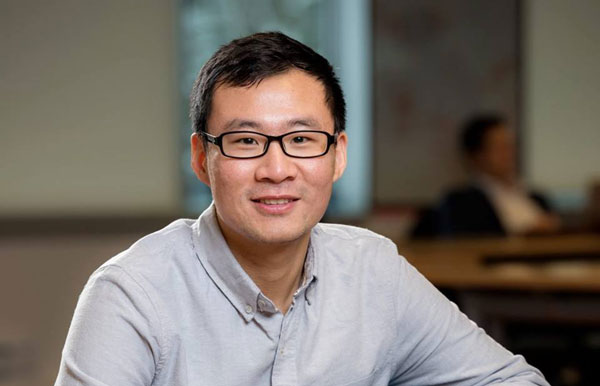 ---
Jay Yang (BBA'16, MBA'18) is a prime example of why recruiting international students is a good growth strategy for New Brunswick.
After working in a plywood export company in China, Jay decided to study in Shanghai, where he ran into a teacher from Montreal who had spent time in Oromocto. He encouraged Jay to apply to UNB for a business degree program, and Jay ended up traveling around the world to little-known New Brunswick.
While studying for his BBA on the Fredericton campus, he made good friends, practiced his English and learned about Canadian culture. He says he loved it because the city and campus is "a relaxing, small-town environment with friendly people."
He enjoyed UNB and Fredericton so much that he stuck around to complete an MBA after graduation. "Because of the advanced standing credits I could get from UNB and the good reputation of the MBA program, I decided to go for it. I'd always wanted to do an MBA degree."
Jay says the program was outstanding and classes were filled with students from around the globe, so it was a fantastic global learning experience. "The classes helped prepare me and get me to a level of comfort to do presentations, which is part of my everyday work now," he states. "The strategy, communications and professional development courses and opportunities were really helpful."
Jay took advantage of opportunities to become involved on campus by volunteering for the International Student Mentor Program, working as a Student Peer Advisor and as an MBA Teaching Assistant. As part of the MBA program, he also did an internship with C-Therm Technologies, a growing startup in Fredericton that needed sales and marketing help. "Learning on the job was a great complement to what I was learning in class and really helped me develop my skills."
Near the end of his studies, Corey Nutrition Company hired Jay as their International Sales Manager and Export Strategist focused on the Asia Pacific market. The pet food company, founded and run by another UNB alumnus, Lee Corey (BSc'77), has been growing significantly in the past years and was eyeing the Asian market as one of its next big moves.
In an interview with Huddle, Corey stated, "I thought, what if we hired a genuine guy from Beijing to handle our negotiations with China. Because he's culturally sensitive to what's going on over there. Of course, his language knowledge is firsthand. And that worked really well."
The move has already paid off. Less than a year into his position, Jay was key in negotiating a five-year partnership between Corey and publicly-traded Chinese company Dogness International Corporation that could effectively double Corey's business. The deal will see Dogness distribute the high-end Corey North Paw throughout China, starting with Beijing, Shanghai and Guangzhou.
 Jay says they're exploring opportunities in Taiwan, Korea and Japan as well. "Our company's export business is growing because the pet industry is ballooning in developing countries as middle-class couples are opting for few kids but more cats and dogs."
While many of his international classmates from UNB have either returned to their home countries or moved to Toronto or Vancouver, Jay says he plans on staying in Fredericton for the foreseeable future. "My family is still in Beijing, but Fredericton is a great town with no traffic, an excellent trail system and kind friends who invite me over for holiday meals." With a grin, he adds, "My cat and I are happy here."