Biting Into Experiential Learning
Author: Kelly Anderson
Posted on May 15, 2019
Category: Students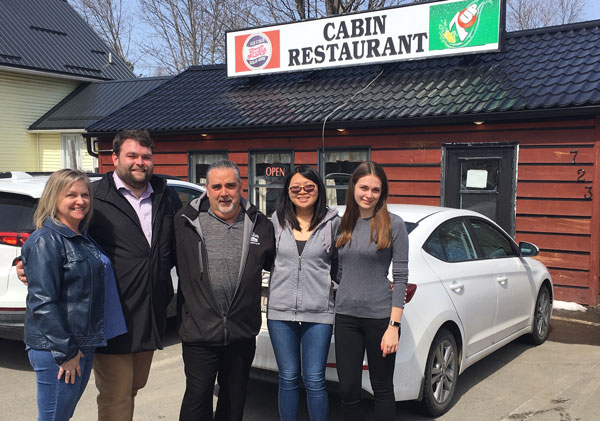 ---
Four MBA students at UNB Fredericton had a tasty learning experience during their Buyer Behaviour marketing course over the 2019 winter term. Their assignment was to work with a real-life business to complete a survey on customer behaviour and bring the business recommendations based on the findings. The team chose to work with the iconic Fredericton diner, The Cabin. Owner Dave Halfyard was more than happy to help them out and receive great advice in return.
Ryan Dobbelsteyn, Richelle Corey, Melanie Schwabenthan and Tingyi Li spent time at the restaurant and online surveying customers and interviewing Dave (along with checking out the menu for themselves). After gathering data, the team worked together to determine target markets, the consumer decision-making process and build a competitive analysis. Then they began making their recommendations, which included a heavy emphasis on using online advertising using social media.
They took their suggestions to Dave, and he began testing them on Facebook and Twitter. "The recommendations for social media were smack on," he says. "We've been having phenomenal results with advertising weekday specials on Facebook to boost sales, as the team suggested. We've had up to 43,000 hits on one post! And it's driving traffic into the restaurant. Social media is definitely the way to go. I'm really impressed with the work they provided me; it was professional and well-thought out."
The Business Administration Faculty has put an emphasis in recent years on experiential learning as part of both the MBA and Bachelor of Business Administration programs. In fact, over the next few years, the Faculty is implementing required experiential learning curriculum into every year of every program offered. From Day 1 a business student will be building skills doing real-life projects along with classroom learning for a better overall outcome.
That means that businesses like The Cabin, along with large corporations and non-profit organizations, will have the opportunity to work with students on projects that they might not otherwise have the capacity to tackle.
It's a win-win.
To learn more about how you might be able to work with UNB business students for consulting projects or other experiential learning needs, contact the Experiential Learning Coordinator.