Celebrating prof's contribution to business education
Author: Jenna Evans
Posted on Feb 28, 2019
Category: Faculty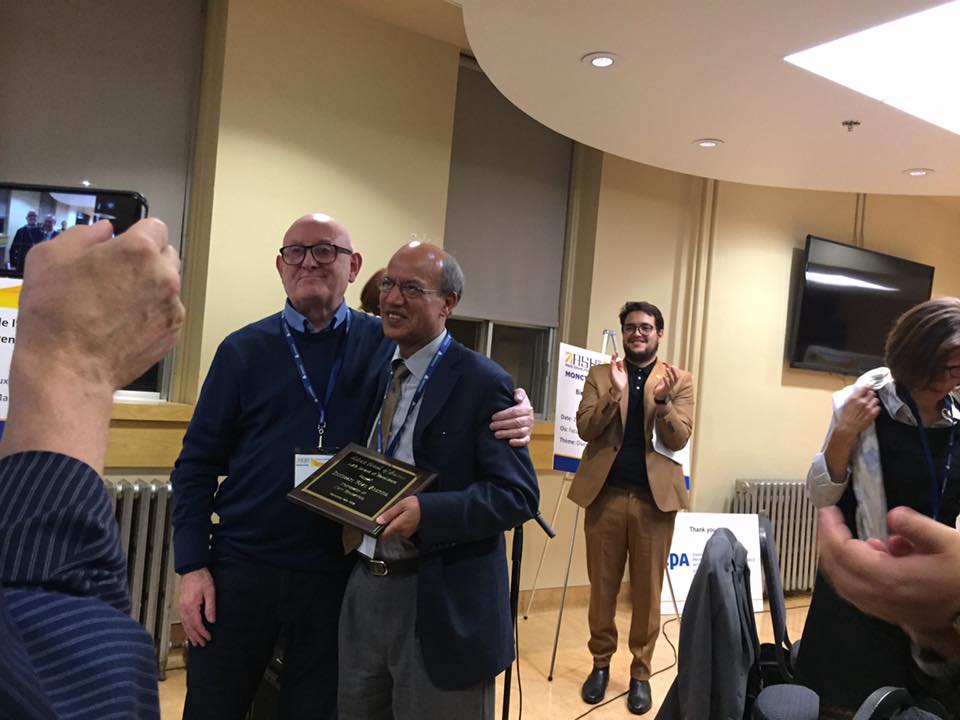 ---
During the annual Atlantic Schools of Business (ASB) Conference last September, the ASB Executive recognized one of their longest serving members for his many contributions to business education in the region. Dr. Basu Sharma received the 2018 Award of Excellence for outstanding service to business scholarship. Sharma has been with the University of New Brunswick Fredericton in the business administration faculty since 1985, teaching courses in human resources management, industrial relations, and business negotiations. Throughout his years at UNB, his love for discovery and teaching has never slowed. Being a research professor is not only his job but his passion, he says.

"When I was in my undergraduate years, I was always attracted to the teaching profession. It became a passion from that time on. I knew teaching was what I wanted to do. This is my 34th year, and I still enjoy teaching and doing research."

Sharma's research interests focus on comparative-international employment relations; international human resource management; compensation systems; business negotiation; e-business issues; and foreign remittances. He has published books and several peer-reviewed journal articles; presented at several academic conferences; and served on the editorial boards of several academic journals. He is also the founding editor and editor-in-chief of the Journal of Comparative International Management. UNB has recognized his service to the university community three times with the UNB Merit Award, in 1990, 1998, and 2008; and in 2006 the Faculty of Business Administration recognized his outstanding research performance with the Excellence in Research Award.

The Atlantic Schools of Business conference brings together individuals from all different stages of academic life, including master and Ph. D. students, and early career and established scholars. The conference provides a venue for scholars to discuss and test new concepts and ideas. Each year, the Executive selects and presents the ASB Award of Excellence to honour individuals who have demonstrated "outstanding service to business scholarship," in particular, by playing a leading role in building, developing and/or maintaining the Atlantic Schools of Business. This is the first time a UNB professor has received this award.

Sharma served as the ASB conference chair in 1997, 2005, and 2015 and as President in 2006 and 2016. Additionally, he reviewed submissions and presented during the 1991, 1993, 2001, and 2011 conferences. This level of involvement demands a lot of responsibility and commitment, but because scholarship is his passion, Sharma says that volunteering his time to the organization has always been an easy decision.

"I experienced joy and fulfillment at being honoured with this award. I am at the tail end of my career, so it is a really gratifying and satisfying feeling to be recognized by my peers for my contribution."

Photo: Professor Albert J. Mills (Saint Mary's University), Past President of ASB, presentinh the 2018 Award of Excellence for outstanding service to business scholarship to Dr. Basu Sharma.
For more information, contact Liz Lemon-Mitchell.

Learn more about our business programs.