Dr. Daniel Coleman awarded Professor Emeritus Rank
Author: Faculty of Management
Posted on May 31, 2022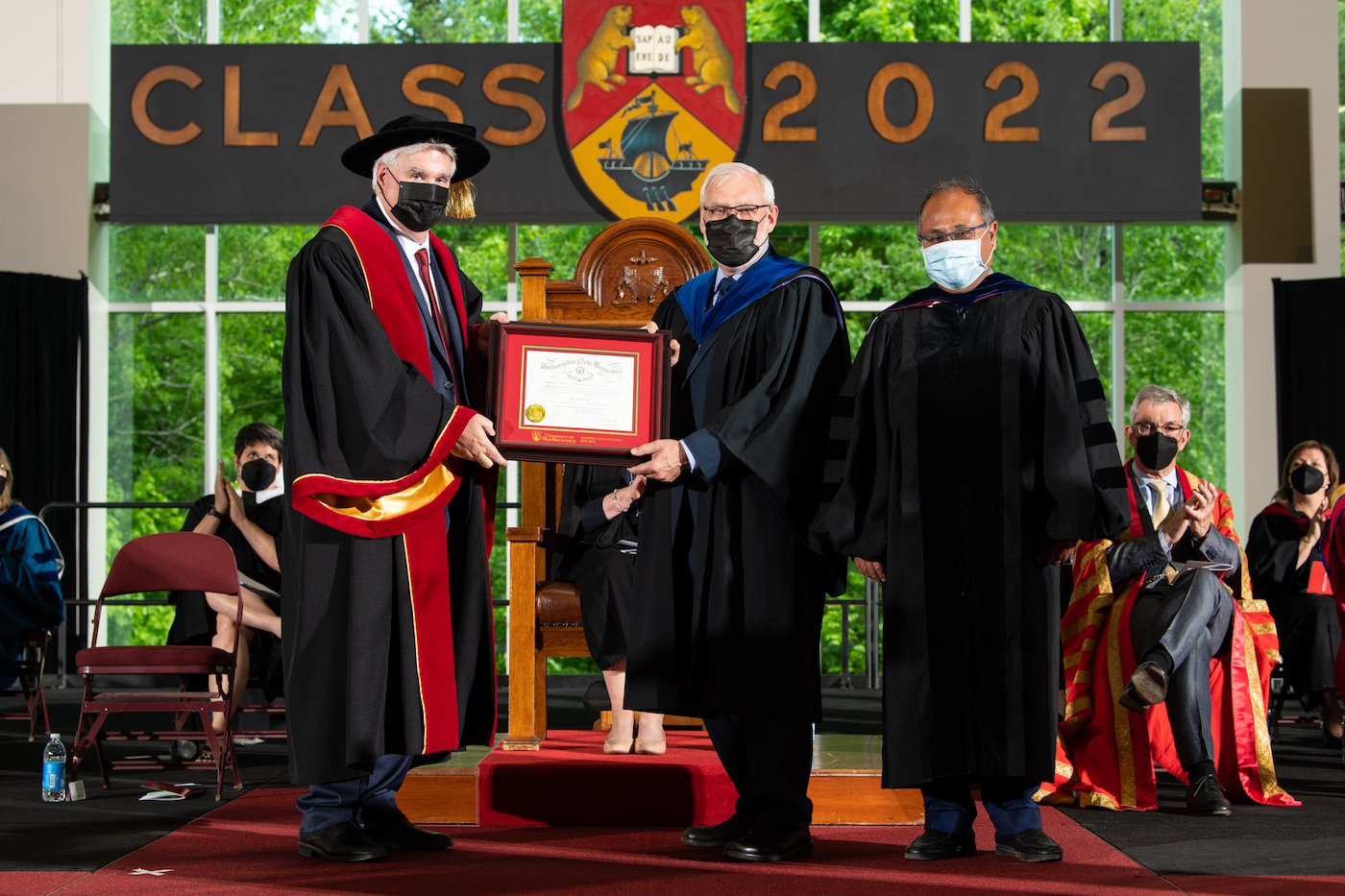 ---
At its 193rd Encaenia ceremony in May 2022, the University of New Brunswick honoured its longest serving business Dean, Dr. Daniel Coleman, by awarding him the rank of Professor Emeritus. 
The rank of Professor Emeritus is awarded to professors who have served the university with distinction throughout their careers. The title is awarded upon after retirement from their academic duties. 
Coleman received a BA in Psychology and PhD in Management from the University at Buffalo-State University of New York. He joined UNB's faculty of management (then the faculty of administration) in 1986 and was a member of the business administration area until he retired in 2020. 
He taught courses in organizational behavior, work motivation, leadership and applied integrated studies. In 1996 he received the Faculty of Administration Excellence in Teaching Award. In 2004 and in 2011 he received the MBA Society's Professor Recognition Award.
He has authored or co-authored nearly 70 books, book chapters, cases, conference proceedings, papers at professional conferences, and high-quality journal articles, as well as receiving four Best Paper Awards.
Coleman has an extensive service record with the faculty and University. He was assistant Dean (Undergraduate Programs) from 1989 to 1992; Associate Dean from 1992 to 1995, and Dean of the faculty from 1999 to 2011. He served as Assistant Vice President (Academic) on the Fredericton campus from 2012-2018, where he oversaw UNB's external partnership programs.
PHOTO: Dr. Daniel Coleman was named Professor Emeritus at UNB's 193 Encaenia ceremony, May 2022. L-R Dr. Paul Mazerolle (UNB President and Vice Chancellor), Dr. Daniel Coleman (Professor Emeritus) and Dr. Devashis Mitra (Dean, faculty of management).
Learn more about Dr. Daniel Coleman's teaching and service. 
Learn more about UNB's faculty of management.