From first co-op student to growing business development in New Brunswick
Author: Faculty of Management
Posted on Mar 23, 2022
Category: Alumni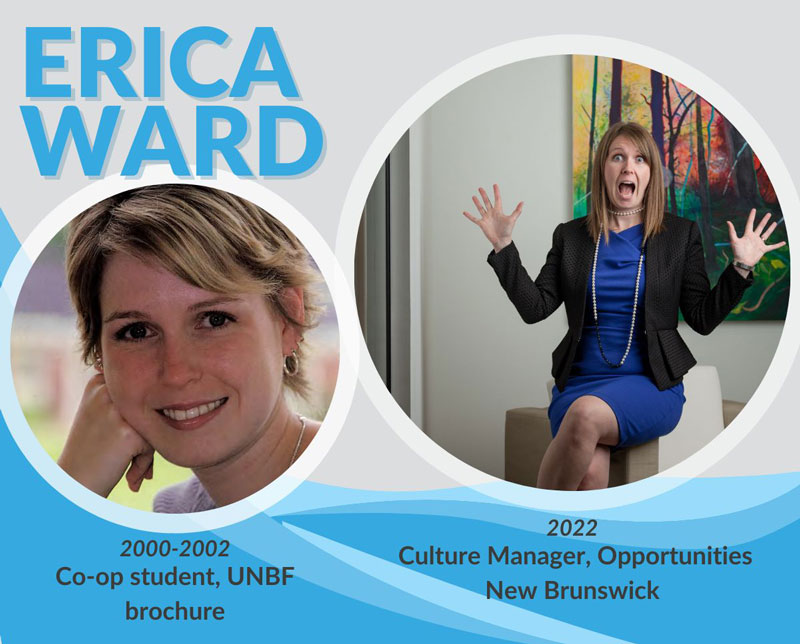 ---
Erica Ward (BBA'06) was the first of two co-op students in the Faculty of Management's co-op program. She's now Culture Manager at Opportunities New Brunswick, and her story below was originally written and published by Co-Operative Education and Work-Integrated Learning (CEWIL) Canada. 
Erica smiled as she told me the story about how she became one of the first two co-op students at the University of New Brunswick's Fredericton campus. She had returned to Fredericton after completing her second year at UNB's Saint John campus, where she had the opportunity to join the co-op program. Val Whyte was starting up the co-program in Fredericton and Erica's enthusiastic return to campus was the perfect catalyst to launch the program. Erica still has a copy of the new program's first brochure that features her and the other student.
Erica's first co-op work term was with the purchasing department at JD Irving in Saint John. She worked on a project with three other co-op students to amalgamate the parts inventory for three JD Irving mills that were operating separate warehouses. The four students shared a cubicle while working on the project.
Erica's next work term was an 8-month work term with icGlobal, a small startup where she was hired to work on their marketing plan and document administrative processes including the company's HR manual. The company was working in online learning, which was new in the early 2000s, but was quickly gaining traction.
During the second half of her work term, icGlobal was acquired by SmartForce. Part of the acquisition agreement required that all staff transition to the new company. Once the company was fully transitioned, the marketing role that Erica was hired to do, disappeared because the marketing function was being done in SmartForce's Silicon Valley office, so the question remained, "What do we do with Erica?"
In an instant, Erica's job description changed and she was assigned to do voiceovers for the e-learning projects that the company was creating. With no experience and a willingness to learn, Erica became the voice for several e-learning courses that the company was producing.
Experiencing so many changes in such a short period of time helped Erica see firsthand, how change affects employees. "Large or small changes, they all have an impact on the workforce and their people."  She also learned the importance of having an open mind to the tasks that were asked of her and the opportunity that these tasks provided to learn something new. " Always have an open mind to all the tasks you will be asked to do.  You can learn something from each thing.  Things you like, pique your interest, and what you'd maybe not like to do again.  All these experiences will help you on your career path.  Rarely say no…keep saying yes as no career is a straight line!"
Erica brought this approach to her full-time position with the Economic Development Agency of New Brunswick, now called Opportunities New Brunswick. By being open to new tasks and saying yes to opportunities, over the past 15 years, she worked in several roles including working directly with clients, accounting, finance, account monitoring, human resources and culture.
Through these career transitions, Erica started formulating her leadership principles about what good company culture looked like. The pillars included creating a happy and healthy environment, building trust and building relationships. "This is where culture begins. There needs to be an atmosphere where you want to come to work."
Erica's co-op experience has come full circle in her role as Culture Manager, where she leads the student program for Opportunities New Brunswick. Students are a big part of the culture; they are given real work and finish their work terms with practical skills and experience. Students meet weekly to talk about their experiences, network with other employees, discuss career topics and always have access to Erica.
Prioritizing employee culture has resulted in Opportunities New Brunswick receiving Canada's Most Admired Corporate Culture award for the second time and being named one of Atlantic Canada's Top Employers for the 6th year in a row. Co-op students at Opportunities New Brunswick benefit from the importance that the organization puts on employee culture and will experience it under the leadership of the University of New Brunswick's Fredericton's campus' first co-op student.