UNB research team confirms positive impact of executive education in Sub Saharan Africa
Author: Ideas with Impact
Posted on Dec 12, 2017
Category: Faculty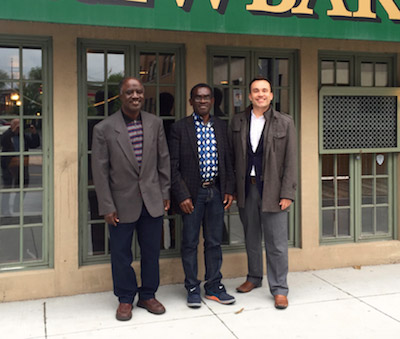 ---
A group of business professors with the University of New Brunswick Fredericton's faculty of business administration recently collaborated with the Canadian Bureau for International Education (CBIE) to research the impact of executive education on the financial sector of Sub-Saharan Africa. With a growing middle class, reforms in policy and increased banking regulations, the financial sector in this region has seen significant growth. Despite this, the industry is still facing challenges and executive education programs were introduced into the region to help overcome these. The Financial Sector Deepening Africa (FSDA) commissioned CBIE and the group of UNB professors to find out what kind of impact these programs were actually having.
The project started in 2015 when CBIE approached UNB about participating in the project. Four business faculty members submitted a proposal, which was accepted. This group included Dr. Jeffrey McNally (professor of human resources management) who was the lead investigator of the project, along with Dr. Joseph Abekah (professor of accounting), Dr. Eben Otuteye (professor of finance) and Dr. Gopalan Srinivasan (professor of finance). The office of UNB's Assistant Vice President (Academic) handled the administrative details of the collaboration between UNB and CBIE.
"A lot of executive education programs had been popping up everywhere in these countries," said McNally, "Most of them are delivered by universities, and the employees who enrolled in them almost all have undergraduate degrees. We set out to answer the questions, 'Is executive education having a significant impact on the financial sector in Sub-Saharan African countries? If yes, what is that impact?'"
To find their answers they interviewed three groups within the financial sector, employees, managers and officials with universities who were delivering the programs. In May 2016 McNally travelled to Ghana for seven days where he met with the group's FSDA colleagues and held training workshops with academics from each of the targeted countries on how to conduct the interviews and collect the data. Using people on the ground to collect data actually played a key role in the UNB group's proposal being accepted, because it reduced costs significantly by not having to send researchers.
After analyzing the data, the UNB group were able to confirm that the executive education programs were, indeed, having a strong positive impact on the financial sector in the targeted region. Overall, graduates of executive education programs perceive themselves to be mobile, although they tend to be dissatisfied with their salary rate after completing their training. The latter is particularly true among those who had to pay for their training themselves. The managers who participated in the research noted higher levels of professionalism among employees who completed executive education training. Having employees who were graduates of such programs improved the image of their organizations and made them more prestigious. They also noted an improvement of customer service and relations, as a result of employees gaining more skills.
At the end of the project, the UNB group produced a report which included recommendations to three groups, the FSDA, financial services firms and education providers. To the FSCA they recommended support for a business school in the Sub-Saharan African region that would be a centre of specialized research and training for the financial services sector. They also recommended that they do more research to study the impact of executive education on the financial sector in the long term and find out if it helps to increase access to services by market segments that are currently underserved. To financial services firms, the group recommended they improve their employee performance measures to see if they can draw a direct link between executive education and performance, pay and mobility. They also suggested firms set up incentive and mentorship programs to encourage employees to participate more in executive education. Finally, to the institutions that provide executive education programs the group recommended they enhance their programs by developing curriculum that is more practical. This recommendation came directly from the group of employees who were interviewed.
They also recommended that programs focus more on the African business context. Dr. George Frempong, the research lead in South Africa commented, "I strongly believe that financial institutions can play a key role in alleviating poverty through a better understanding of how policies and theories translate into practical financial solutions. Executive Education offers a platform for developing this understanding through better training models. In Sub-Sahara Africa, we surely need more research to inform effective Exec-Ed models that would help us achieve this goal".
"All in all, our clients with FSDA are happy with the work," said McNally. "The work clearly suggests executive education is having a positive impact and can be improved to contribute even more. They have published the report and will be using it to influence policies, encourage universities to develop more executive education programs, and encourage government to subsidize these types of programs." In November, Dr. Abekah travelled to Kampala, the capital city of Uganda, to participate in the launch of the Executive Education Report, hosted by FSDA. Reflecting on his experience with the project, Abekah noted, "Learning about the current state of the financial services and banking sector in Sub-Saharan Africa greatly enlightened me about how, in very innovative ways, providers and users are doing much with little."
For more information, contact Liz Lemon-Mitchell with UNB's faculty of business administration.
Learn more about our faculty members.
Photo: Left to right - Dr. Joseph Abekah (UNB); Dr. George Frempong (South African Research Lead); Dr. Jeff McNally (UNB).