A lasting legacy for all MBA students
Author: Ideas with Impact
Posted on May 11, 2017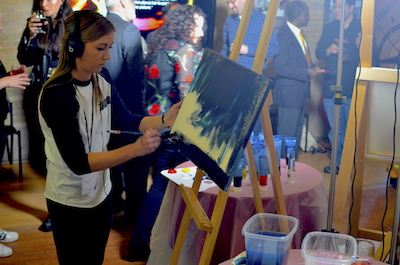 Starting next year, a new scholarship will be awarded annually to an MBA student on the University of New Brunswick Fredericton campus who embodies the values that the MBA program has come to represent: diversity, community involvement, social entrepreneurship and leadership. The "MBA Community Leadership Award" was established this year by students in the Professional Development (PD) class as a social entrepreneurship project involving all members of the class. The project started in the fall term when students worked in groups to plan and propose a fundraising event for a local non-profit that they could execute in the winter term. At the end of the term, the groups pitched their ideas to the class, and students selected a proposal to establish a scholarship for future MBA students. The group that proposed the idea were inspired by UNB's "It Begins Here" capital campaign, which was launched last November. In early January the class started working with UNB's Development and Donor Relations team to establish the scholarship and plan fundraising strategies. The class worked with the Annual Giving department to promote the award to potential donors and together they organized a fundraising event that, in addition to raising funds for the scholarship, promoted local artists and craft brewers. An Evening of Art and Cheer – a live paint off and craft tasting was held at the Station on York Street, Fredericton, on March 31 and featured four rounds of live art competitions involving nine local artists. In each round, artists had 20 minutes to produce a painting with guests voting for their favourite at the end of each round. "It was amazing to watch the artists work," said MBA student Richelle Corey who was part of the team in charge of the event logistics. "In just 20 minutes they were able to take a blank canvas and create something beautiful. I've never seen anything like this before." The winners of the first three rounds went on to compete in the final round. All of the paintings were sold to patrons in a silent auction with proceeds split between the artists and the scholarship. As the artists competed, guests cheered them on as they sampled varieties of craft beer from
Off Grid Ales
and cider from
Red Rover Craft Cider.
The students' goal was to raise $10,000. By working with UNB's Annual Giving department they raised over $12,500 in gifts and pledges, and their Evening of Art and Cheer contributed an additional $5,100 to the fund. Their success will insure an annual award of at least $500 is given out in perpetuity. Sunil Pathak and Sara Irshad were among the students who first pitched the idea of creating an MBA scholarship. "An Evening of Art and Cheer is a story I will remember and brag about in the future," said Pathak who helped with raising sponsors and monitoring finances. "Working with everyone in the class, connecting with different people in the community, and getting the message out about the event – it gives me such a great feeling to know we succeeded in raising funds for future MBA students." Irshad worked on the team in charge of marketing and promoting the event. "Working on the marketing team I learned something every day. I believe our class has created a legacy for future MBA students at UNB, and I am very thrilled and proud to have been a part of it." Professional Development was introduced to the MBA program in 2008 to help prepare MBA grads for business leadership positions through programming that helps them develop critical skills such as public speaking, networking, community involvement and more. Each year the PD class selects a non-profit and plans, develops and implements a fundraising initiative on its behalf. Past clients have included the Fredericton Culture Centre, Fredericton Community Kitchen, Fredericton Legal Advice Clinic, the Canadian National Institute for the Blind, Big Brothers Big Sisters and Muscular Dystrophy Canada. For more information, contact
Liz Lemon-Mitchell
. Donate to the
MBA Community Scholarship Award
.