A Life to Celebrate
Author: Ideas with Impact
Posted on Mar 6, 2017
Category: Faculty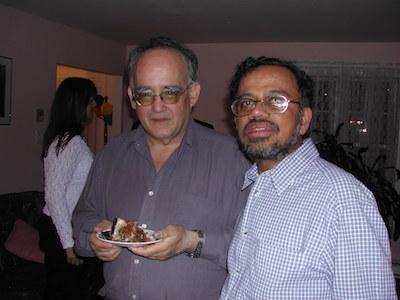 November 27, 2016, was a sad day for the University of New Brunswick community as people learned about the passing of friend and colleague Dr. Francisco Arcelus. His death came without warning and while he is greatly missed, his friends and family remember his zest for life and mischievous, infectious sense of humour. His passion for discovery and academic scholarship had a tremendous impact on his colleagues and students. Arcelus was born on April 5, 1945, in Pamplona, Spain. He joined the Faculty in 1976 and was a member of the quantitative methods area. When he retired in 2003 he was named an Honourary Research Professor and the following year he attained the rank of Professor Emeritus in Business Administration in recognition, among other accomplishments, of his outstanding scholarship and his strong influence on the development of the Faculty's MBA program and the quantitative methods area.  Since his retirement, Arcelus also served as Research Professor at Universidad Publica de Navarra Pamplona in Spain. Dr. Devashis Mitra, dean of the faculty, noted, "Francisco's passion for research and his inter-disciplinary interests were legendary." Indeed, he published well over 100 refereed articles, including many in the very top-tier in different business disciplines, and presented papers at conferences around the world. "Importantly," said Mitra, "he collaborated with numerous colleagues and students and nurtured their scholarly pursuits. He went out of his way to mentor aspiring scholars and to help international students adjust to life at UNB. Since I joined Faculty, I have learnt greatly from his mentorship and collaborations on several research projects." Arcelus was a dedicated teacher and taught graduate and undergraduate courses in Spanish and English, in areas such as industrial economics, management controls, data analysis, operations management, management science, research methodology and information systems. Arcelus is survived by his daughter Amaya Arcelus Feltham, son-in-law, Andrew Feltham, and grandsons, Seniko Arcelus Feltham and Mateo Arcelus Feltham. Dr. Gopalan Srinivasan, a member of the finance area who collaborated with Arcelus on many research projects for over thirty years, remembers him as "a great friend, a wonderful father, a dedicated researcher and a man with great sense of humour." Everyone who knew Arcelus benefited from his generous spirit and his own brand of humour that gave a cheerful and quirky perspective to everything. Here at UNB his life is being celebrated with a scholarship that has been established in his name. The Francisco Arcelus Scholarship will be awarded to an International student in the MBA program with a preference to students registered for a thesis or a project course For more information,
contact Liz Lemon-Mitchell
Read the
obituary
for Dr. Arcelus.
Donate now
to the Francisco Arcelus Scholarship or contact UNB's
Development Office
for more information.