Much depends on supply chains: two case studies involving the Internet-of-Things
Author: Ideas with Impact
Posted on Jan 4, 2017
Category: Faculty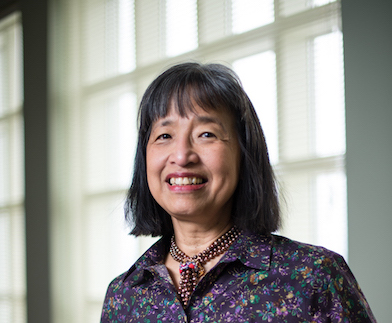 ---
People and organizations all over the world are connected through the Internet. Now, increasingly, our things are connected to other things all over the world. The Internet-of-Things (IoT) is a hot topic among information technology experts because of the unlimited ways it can have an impact on every aspect of our lives.
Dr. Rebecca Angeles
, a business professor with UNB's Faculty of Business Administration, is researching companies that are using this kind of technology to improve their business practices and supply chain management and, in the end, to make their customers happier and healthier.
Forbes magazine defined the Internet-of-Things as, "the concept of basically connecting any device with an on and off switch to the Internet (and/or to each other)." It includes things like cellphones, thermostats, lights, ovens, surgical implants (like pacemakers). It also includes machine parts, "for example a jet engine of an airplane or the drill of an oil rig." (May 13, 2014) Here in New Brunswick companies like Irving Oil and McCain Foods are using it. Things can be connected to the internet and to each other and then monitored and controlled remotely by embedding sensors, software and other technologies to create a whole new world of personal security and convenience and highly efficient business processes.
Here's to just-in-time deliveries
One of the companies Angeles is investigating is SteadyServ Technologies based in Carmel, Indiana, which is using IoT-enabled technology to provide inventory and order management services for the beer industry. Up until recently there has been no precise instrumentation in place to monitor how much beer is available in a keg. Vendors have had to either wait till the keg was empty or guess at how much was left.
Traditionally it is difficult to monitor the amount of beer left in kegs and it's only when the keg is empty that the inventory can be determined for sure, which, in the beer industry, is too late. Vendors have to place orders and then wait for new inventory to arrive. This doesn't make for happy customers who come for their favourite brew only to learn it's out of stock.
By attaching sensors that are digitally connected to the inventory monitoring systems to the bottom of the kegs, SteadyServ is able to determine the amount of beer remaining by the weight of the keg. With real time updates about inventory at their fingertips, they're able to advise vendors when they can expect to run out so that they can order new inventory at the right time. This means vendors don't have to worry about running out of their popular brews; instead they are able to keep the taps flowing and make their customers happy.
The challenges of pharmaceutical supply chains
Another IoT success story Angeles is writing about is how global shipping companies like Kuehe & Nagel (Switzerland) are able to serve the pharmaceutical industry in ways that were not possible only a few years ago. Managing the supply chain of pharmaceuticals is wrought with challenges. Typical pharmaceutical shipments can be worth up to $5.0 million. Changes in temperatures during shipment can compromise many types of drugs, which means they have to be destroyed. Not only do insurance costs increase, leading to increased pricing of the end product, but lives can be lost and patients may have to wait to get the medication they need to get well.
Radio frequency identification (RFID) and IoT-enabled technology are now being used by shipping companies to track the exact location of pharmaceutical shipments, monitor the environment, and adjust temperatures and other critical storage ambient conditions, if necessary. The result is a more efficient supply chain, and ultimately happier and healthier customers and patients.
"The goal of supply chains is to transport products from the manufacturers to the consumer at the right time, right place, and in the right conditions," said Angeles. "The success of supply chain depends on and is measured by its ability to deliver products that can serve their ultimate purpose with the end user. In pharmaceutical supply chains, this means a product must arrive unadulterated and with its efficacy fully intact."
Dr. Angeles teaches courses in management of information systems and supply chain management. Her research on radio frequency identification (RFID), green supply chains, collaborative commerce, e-logistics and green supply chains has been published in such journals as Information & Management, Decision Support Systems, Information Resources Management Journal and International Journal of Physical Distribution & Logistics Management. She is interested in writing case studies on companies like SteadyServe and Kuehe & Nagel to increase appreciation around the world for how technology can be used to improve business processes and to help society. She has three conference papers on the topic of IoT which will be published in their respective proceedings for 2016. She shared her insights on IoT-enabled technologies at the Annual Decision Sciences Institute Conference 2016, Austin, Texas, in November 2016.
For more information, contact Liz Lemon-Mitchell.
Learn more about our business programs.