Celebrating entrepreneurship with stories from the trenches
Author: Ideas with Impact
Posted on Jan 13, 2017
Category: Programs
Networking with experienced entrepreneurs is a great way for business students to understand how the entrepreneurial theories they've learned about play out in the real world. Many students admit to feeling shy and awkward about attending networking events, however; they're not sure what to say sometimes and are afraid of looking unprofessional. This year, UNB's International Business and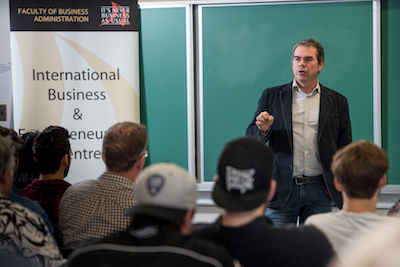 Entrepreneurship Centre (IBEC) started its entrepreneurship speaker series to give students an opportunity to meet entrepreneurs in an informal setting, hear their stories, and be comfortable about asking questions.
The speaker series was organized by Andrew Lockhart, a 2016 graduate of the MBA program in Fredericton who joined the Faculty of Business Administration last summer as IBEC's Program Officer. As an MBA student, Andrew participated in the Activator Program, and worked with two entrepreneurs to help write their business plan.
"One of the things I really took away from the Activator program is the opportunity it gave me to meet all kinds of entrepreneurs who are part of the ecosystem both locally and across the country," said Lockhart. "Hearing their stories about how they launched their startups and overcame incredible obstacles really helped me to learn about entrepreneurship."
Faculty and staff had talked about starting a speaker series sponsored by IBEC and when Lockhart was hired to be the Program Officer he thought it would be a great idea to start a speaker series focused on the entrepreneurial community in New Brunswick.
"The series has been a tremendous success," said Dr. Devashis Mitra, Dean of the Faculty of Business Administration and professor of both finance and entrepreneurship. "We've been fortunate to have a good variety of new and seasoned entrepreneurs, as well as experts who work with entrepreneurs across New Brunswick, who are willing to speak to students and be open and candid about their experiences. The series has been very popular among our students."
Speakers who participated in the series last fall include Alex Kall, CEO ReadyPass, a startup he helped launch; Adam Peabody, Investment Attraction & Growth Specialist with Ignite Fredericton; Sean Dunbar, owner of Northampton Brewery (Picaroons); Rivers Corbett, Startup Canada Podcast Host and owner of Relish Gourmet Burgers; David Alston, Entrepreneur in Residence for the Province of New Brunswick; and Laura O'Blenis, Founder and Chief Strategist at Stiletto Consulting.
Dr. Derrick Hassay, a graduate of UNB's BBA program, is the RBC Teaching Professor of Entrepreneurial Thinking at the Haskayne School of Business. He is himself an entrepreneur who recently joined forces with a team of advisors to launch a startup known as the Management Advisory Group (MAG).
When he learned that IBEC was planning to start a speaker series focused on entrepreneurship, Hassay stepped forward to provide some financial assistance.
"My connection to entrepreneurship is decades long, and was likely first sparked at UNB," said Hassay. "Not because of courses I took (entrepreneurship courses were not really available when I attended in the 1980s), but because of the students and professors I met there and who had an influence on me. One of the signature elements of our outreach programming at the Haskayne Hunter Centre for Entrepreneurship, is our WHESS speaker series that allows us to unite faculty, students and alumni in a celebration of entrepreneurship. As an alumnus of UNB, I am proud and happy to assist UNB in its efforts to offer a similar opportunity to its students and faculty."
UNB and IBEC will continue its own celebration of entrepreneurship during the next term with speakers like Calvin Milbury, President and CEO of the New Brunswick Innovation Foundation; David Ganong, Executive Vice Chair for Ganong Bros.; Peter Goggin, VP of Operations at Resson Aerospace; Shawn Smith, Founder of Don't dis-my-ability; and Kumaran Thillainadarajah, CTO of Smart Skin Technologies.
The speaker series usually takes place on Wednesdays, and offers up free pizza and soft drinks to audience members. Admission is free and all events are promoted on the Faculty's Facebook page.
Learn more about IBEC.
For more information, contact Liz Lemon-Mitchell.