Celebrating business professor's discovery journey
Author: Ideas with Impact
Posted on Jan 4, 2017
Category: Faculty
When he was a child growing up in the Netherlands, Dr. Martin Wielemaker was always making things at home. He was intrigued by new technologies and products, he says, which probably explains why he studied Industrial Design Engineering when he grew up, and then later completed a PhD in Strategic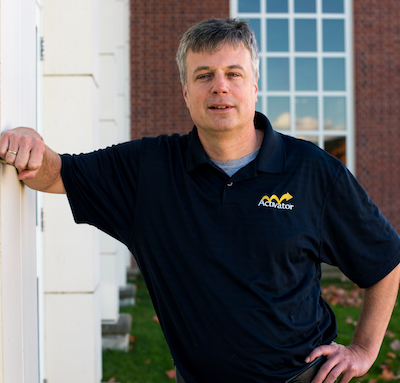 Initiatives. Wielemaker now teaches courses in strategy, entrepreneurship, managing innovation and data visualization in the faculty of business administration at the University of New Brunswick Fredericton campus. Just recently he was awarded UNB's Teaching Innovation Award.
"What attracts me to academia and to teaching in particular, is that I love discovery." And the kinds of courses he teaches, he explains, are all about the discovery of new products, new markets, new insights and new strategies. "Curiosity is in all of us, almost everyone is fascinated by new things. What we as instructors enjoy about teaching is that we get to partake and facilitate the students' discovery journeys."
Wielemaker follows a design approach to teaching by facilitating problem based learning, which takes students out of the building to solve real problems for actual stakeholders like local businesses and startups. "Understanding the challenges faced by businesses, figuring out how to integrate and apply their theoretical knowledge, overcoming hurdles and coming up with a solution provides students with a sense of accomplishment. Yet, all the while they have been on a discovery journey, a trajectory of learning that results in great things."
To make this type of learning possible, Wielemaker flips his classrooms. He posts his assigned readings and video lectures on the course website for students to read and watch before they come to class; then during class time they focus on applying the knowledge to solve real problems. In addition to problem solving, the students work in teams. Drawing from his experience as an industrial designer, however, Wielemaker has his students work individually first before they can share their insights with their team. "This way, we avoid group think; everyone has an opinion, and each person's opinion is of value and worthy of sharing. In the design world it is important to tap into everyone's viewpoints."
Another technique he uses that is inspired by his design background, is rather than having teams present solutions to the class, they are split up and grouped with members of other teams. "The students share and obtain feedback on their team's idea and then when they get back into their own teams, they all have valuable information to contribute. Often they learn more in this way, than when I as an instructor would just hold a plenary session."
Wielemaker has been innovating in UNB's classrooms since he started teaching here in 2002, and there are tangible artifacts of his innovations across the campus and city of Fredericton. Pitch competitions and business plan competitions were built into the first entrepreneurship classes he taught. Today, several faculties and departments across campus hold regular pitch competitions for students to promote their great ideas. The business plan competition has grown to become the largest competition of its kind in Eastern Canada and has attracted support from one of Canada's oldest financial institutions. The BMO Financial Group Business Plan competition is now coordinated by the faculty's International Business and Entrepreneurship Centre (IBEC), and attracts students from across Canada.
Last spring, Wielemaker introduced a new course, Infographics and Data Visualization, that ended with a Data Vis Competition, during which students analyzed open data provided by the City of Fredericton to create insightful data visualizations. This competition was replicated in November 2016 with the Open Data Visualization Challenge, a component of the 2016 GovMaker Conference hosted by the New Brunswick Social Policy Research Network. The competition was open to all students at UNB, and once again the City of Fredericton along with other NB cities provided open data for the contestants to work with.
UNB established the Teaching Innovation Award in 2015 to celebrate and recognize up to two educators each year for their innovative approaches that promote student-centred teaching and learning.
"Martin Wielemaker is certainly an innovator in the classroom," said Dr. Devashis Mitra, Dean of the faculty of business administration. "He has had a real impact on UNB's learning community and is truly deserving of this recognition."
For more information, contact Liz Lemon-Mitchell.
Learn more about our business programs.