Business student's hunch yields generous returns
Author: Ideas with Impact
Posted on Jan 12, 2017
November is the time of year when university students start focusing on their final term papers and getting ready for final exams. This past November, BBA students at the University of New Brunswick Fredericton campus devoted a lot of their time and energy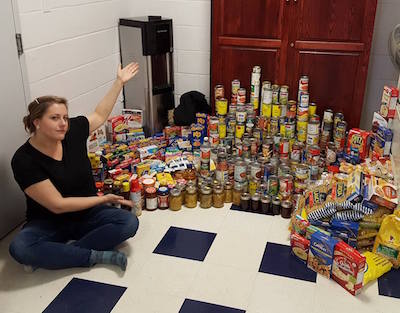 orchestrating a food drive for Greener Village Food bank, a collective that operates on the north side of Fredericton. The project was spearheaded by Meghan Harper, a 4th year BBA student who worked with members of the Business Administration Undergraduate Society (BAUS) and Engineering Undergraduate Society to make the food drive happen.
Harper thought of the idea of getting students involved in a food drive when she was taking the business communications class at UNB. When she had to prepare and deliver a persuasive presentation she decided to convince her classmates to volunteer and donate locally. Through her research, she discovered that donations have a bigger impact at the local level.
"On average, 1% of donations go to families when you donate to national nonprofits," said Harper. "When you donate locally, a bigger percentage stays in the community."
Harper had previously volunteered for the Greener Village, so knew first hand about the real impact their services have in the Fredericton community. She had a hunch other students would appreciate the opportunity to see what kind of impact they could have on the community if they worked together on something.
"Not many of our business classes focus on non-profits," said Harper. "Life is about making an impact, making a difference, not just about making a profit."
When she shared her idea about getting students to organize a food drive for the month of November, leading into the Christmas and winter season, staff in the Faculty's Programs Office and students involved with the business and engineering societies were quick to get involved.
"Because I used to volunteer for the food bank, I knew that the winter months are especially lean times for food banks, so it made sense to do this in November before students got busy with exams in early December."
Brittany Herkert, the undergraduate program assistant who heads the Faculty's first year experience program, said "A few years ago when we started organizing events for first year students to enhance their experience at UNB, we wanted to make volunteering and community involvement part of the program. This year we were finally able to make that happen. Meghan's passion for the food drive really inspired people to get involved."
Their energy paid off. Throughout November, business and engineering students canvassed neighborhoods throughout the Fredericton area and set up food donation bins in strategic spots around the city and on campus. Their efforts yielded over 682 food and household items valued over $1,850.
Learn more about our business program.
For more information, contact Liz Lemon-Mitchell.