A study adventure in Berlin
Author: Ideas with Impact
Posted on Jan 4, 2017
September at the University of New Brunswick brings the arrival of new students and return of former students and one of the most common questions you hear around campus is, "What did you do for the summer?" This year, third BBA student Natasha Youssef has a very interesting reply to that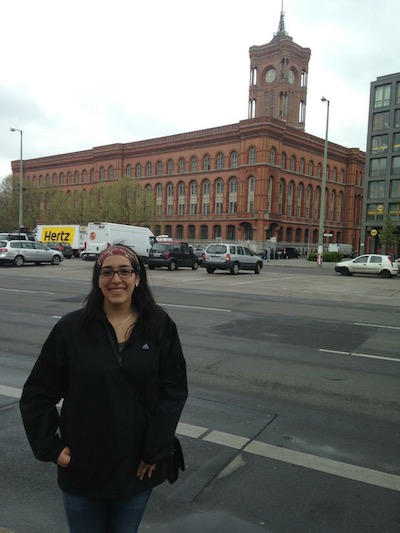 question, because she started her summer off with an adventure in Berlin. She travelled there with 25 other students, along with a couple of professors to participate in UNB's travel study program.
Participants spent three weeks in Berlin; in addition to touring the city, they each completed two courses, earning a total six credit hours that will count towards their degree requirements. Youssef, who is completing a BBA with a major in finance and minor in economics, completed a course in German, taught by Dr. Megan Hepburn, and one in economics, taught by Dr. Constantine Pssaris.
"It was pretty easy to learn German," said Youssef, "because we got to use it immediately." The students stayed in a hostel in the centre of downtown Berlin in Alexander Platz, and after attending their classes during the mornings, they spent the afternoons and evenings visiting museums, galleries, restaurants, and seeing other sites around the city to gain an appreciation of the culture and history.
The economics course focused on Canada and the new global economy. "Because we were in Germany, we compared Canada's policies to Germany's, and we also looked at the differences between each country's multicultural and immigration policies." This approach was especially interesting to the students, since they were able to study these issues in Berlin. "Berlin's multiculturalism is very visible," noted Youssef, "there are so many non-Germans. It was so exciting to learn about these issues while we were immersed in another culture."
When asked about her most memorable take-aways from her time in Germany, Youssef mentioned two tours her group experienced. One was an underground tour of Berlin. "Beneath the subway, you can visit the tunnels where Berliners went for safety during the World War II bombings." Vestiges of their experiences are still there, she explained, including the three levels of candles they used to monitor the air. Candles were placed at ankle level, hip level and shoulder level. As the availability of air diminished, the candles would go out beginning at the lowest level. "When the candles at hip level went out, people knew they would have to start standing in order to breathe, and they'd have to move children to higher levels. It was a very emotional experience for us to stand in those tunnels and realize what everyday people like us experienced during that time."
The second memory Youssef will keep with her for the rest of her life, was the tour she took through Berlin's sidewalks that featured gold plates marking the homes of Jewish people who were taken away to concentration camps. These plates marked the place where they lived and, in addition to sharing their names, they included the dates of their births and deaths, as well as the names of the concentration camps they were sent to. "There were so many of them. A few of them mentioned if people survived. We saw one of these, and it was very moving to see that and realize that this person actually survived."
This was an experience of a lifetime for Youssef who encourages others to take advantage of the opportunity. "It was a great learning experience. Being immersed in the German culture made everything we learned in our classes more real. It gave us completely new and unique perspective."
For more information, contact
Liz Lemon-Mitchell
Learn more about UNB's
Travel Study program
.
Learn more about UNB Fredericton's
BBA program
.