From Dubai to UNB Honour Society: BBA student recognized with Sir Howard Douglas Award
Author: Faculty of Management
Posted on Apr 13, 2023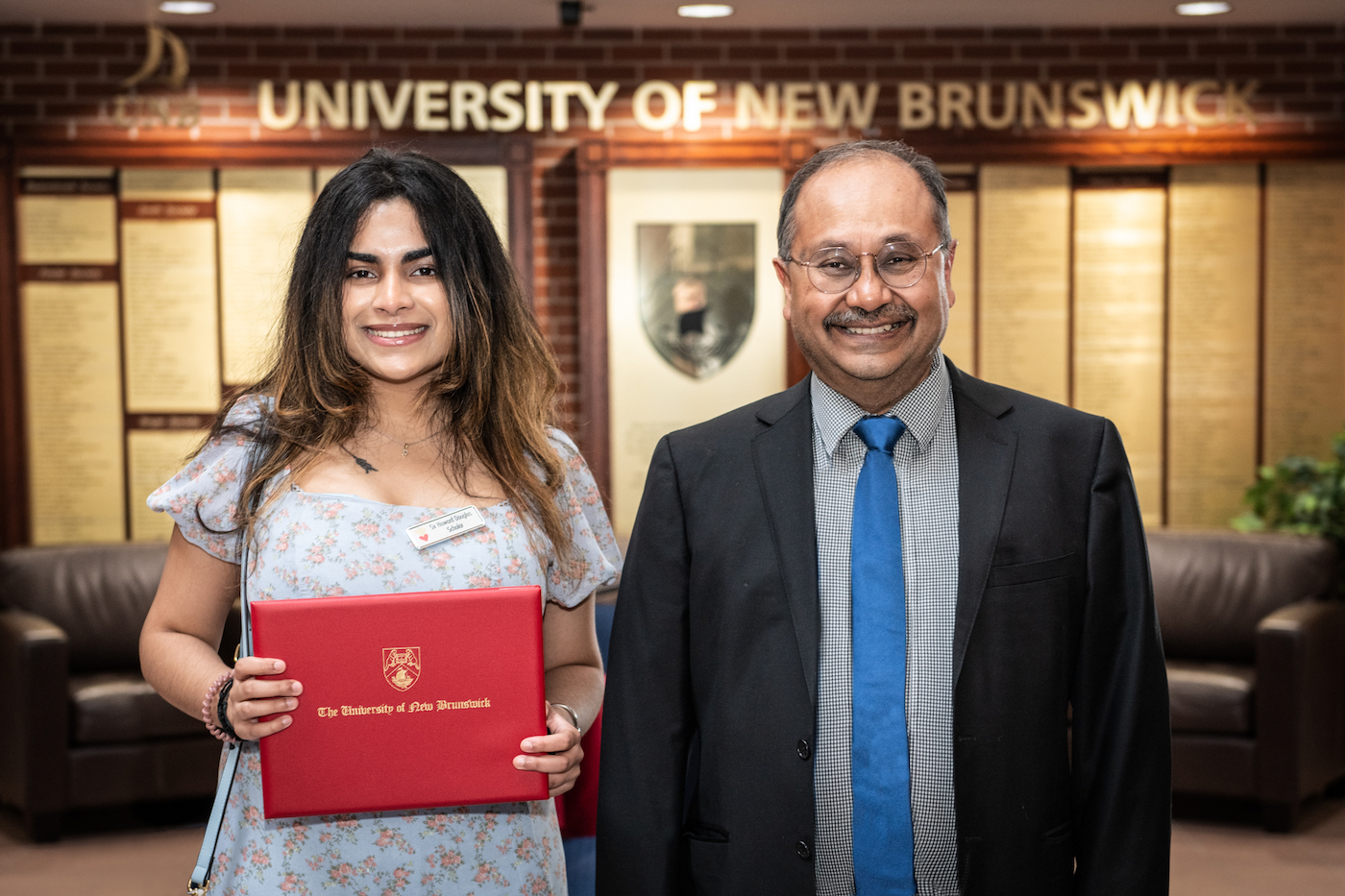 ---
Sometimes you start down the path with a clear direction in mind, only to find yourself someplace unexpected and exciting. That is what happened to Bhaanvi Rai when she came to UNB to pursue studies in accounting and finance but discovered her passion for human resources management and found herself inducted into one of the university's most honoured societies.
 
Rai grew up in India, then Dubai, and after high school enrolled in business studies at the Canadian University of Dubai (CUD). She was attracted to this school because of its international program which provided pathways for students to transfer to universities around the world.
 
UNB has a partnership with CUD that allows undergraduate students to transfer into the second year of the BBA program. Students complete their first year at home in Dubai, and then finish the rest of the degree at UNB.
 
Rai says she heard about UNB from her friends and was attracted to the experiential learning offered by the faculty of management and to the quality of life in the city of Fredericton.
 
After taking her first course in human resources management, Rai says she discovered how much she enjoyed working with people and decided to focus her studies in the HR discipline. She jumped at the chance to complete a Co-op work term with Opportunities New Brunswick (ONB) and later an internship as anti-racism coordinator with the government of New Brunswick's Future GNB program.
 
During her four-month work term with ONB she worked full-time doing project management and sales support. She also cross trained with their talent acquisition team and even helped hire the next cohort of Co-op students coming into ONB on their work terms.
 
Rai says her academic work prepared her for her roles at Future GNB and ONB and is looking forward to going to Toronto in May where she will begin an eight-month work term in the HR department of Deloitte.
 
In March this year, Rai was one of eight students to be recognized with the Sir Howard Douglas Award, given to undergraduate students who have achieved academic excellence while being active in extracurricular activities, especially volunteer work. Each year students chosen for this award are inducted into the Sir Howard Douglas honour society where they become part of a network of outstanding students. Scholars selected for the award exemplify the society's motto, Non Nobis Solum: Not for Ourselves Alone. 
 
Rai says, "I am deeply humbled to be recognized as one of the Sir Howard Douglas Scholars this year. Receiving this award has made me realize the importance of the impact I can make on society and the people around me as an individual. The opportunities and support that the faculty of management offers has shaped me into who I am today." 
 
Photo: (L-R) BBA student Bhaanvi Rai and Faculty of Management Dean, Dr. Devashis Mitra. Bhaanvi Rai is one of eight UNB students recognized in 2023 with the Sir Howard Douglas Award.
Learn more about UNB's faculty of management.
For more information contact Liz Lemon-Mitchell.