UNB student entrepreneur wins Frank H. Sobey Award for Excellence in Business Studies
Author: Faculty of Management
Posted on Apr 12, 2023
Category: Students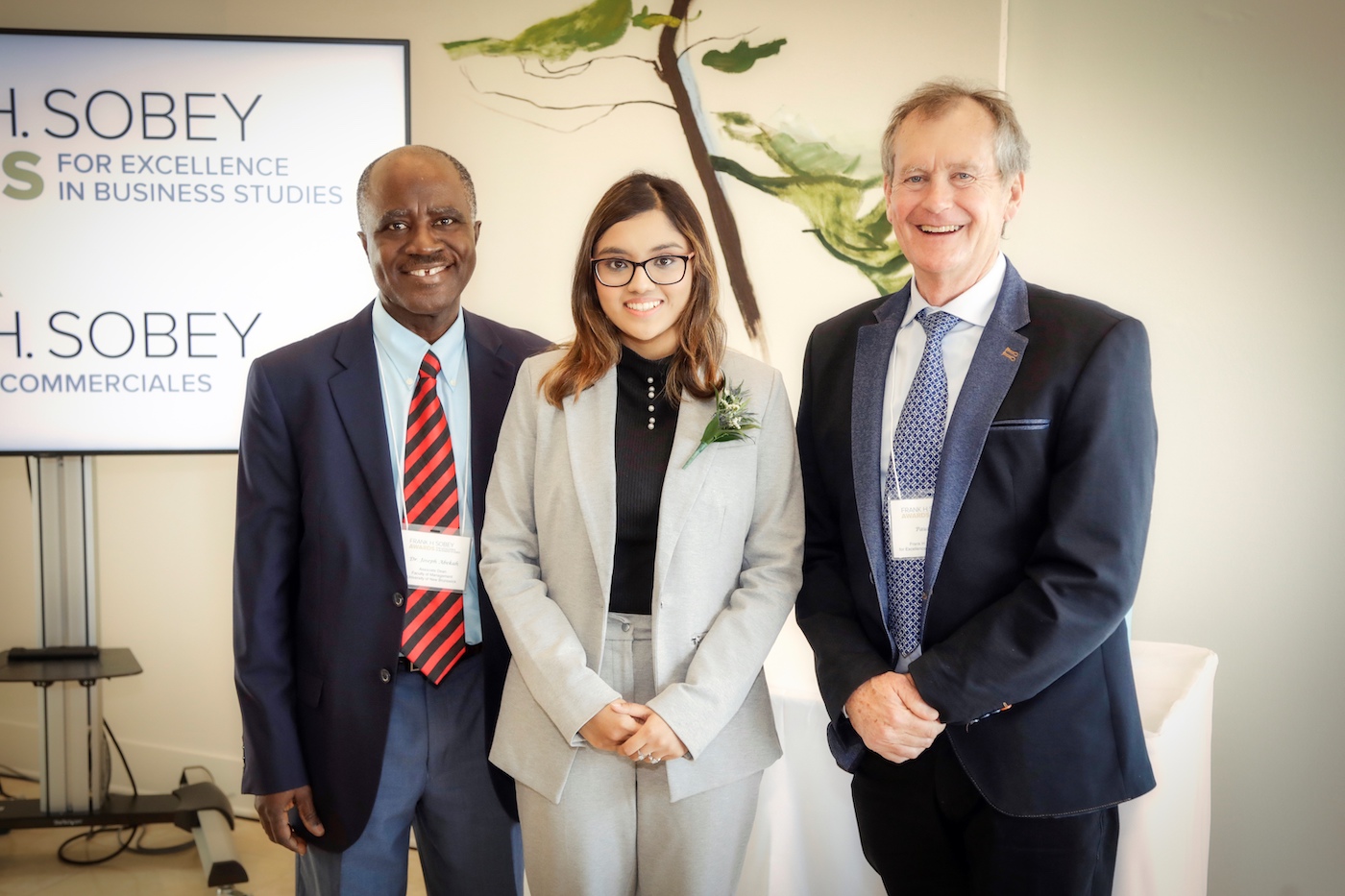 ---
Originally from Bangladesh, Tasneem Bint Abdul Majid grew up in Dubai and came to UNB's faculty of management in 2021 to pursue her dream of becoming an established business professional and entrepreneur. She has pursued this goal with great zeal. In addition to completing the BBA with a major in marketing and concentration in international business, on the side she has been involved with a wide range of community and entrepreneurial endeavours. This year she was recognized for her achievements in these areas with the prestigious Frank H. Sobey Award for Excellence in Business Studies. Valued at $45,000 this year, the award is given to eight students enrolled in Atlantic Canadian Business schools who demonstrate entrepreneurship, in addition to academic success and a passion for supporting the communities in which they live and work.
 
Majid came to UNB because it is recognized as one of Canada's most entrepreneurial universities. "I learned that UNB provides students access to a wide variety of resources," she says; "whether it is connecting them with accelerators or providing them with opportunities to work with real businesses. I wanted to be a part of this innovative community, wherein I could extend my own contributions to create an impact."
 
In addition to her coursework, Majid has served as Vice President Internal with EnactusUNB and as Co-Chair of New Brunswick Women in Business where she supports young women interested in business careers.
 
She has also been involved in entrepreneurial activities at UNB and has won multiple awards, including the UNB Entrepreneurship Internship Award at the Newcomer Breakthru Competition hosted by the New Brunswick Innovation Foundation (NBIF), the Entrepreneurship Award sponsored by the Business Administration Undergraduate Society (BAUS), and the third-place award at the Apex Business Plan Competition.
 
Majid says the experiential learning in her business courses has been a great career booster. In summer 2022 she had a Co-op placement with the Business Development Bank of Canada (BDC) where she was able to use her knowledge to solve challenging problems and expand her professional network. This turned into part-time work for her during the last school year, and a full-time job this summer.
 
"Winning the Frank H. Sobey award means the world to me. It has made me more confident and visionary, and it has also provided me with the financing to invest in my business," says Majid who is now Co-Founder and CEO of InvestoMaze, a startup which aims to revolutionize entrepreneurs' early-stage fundraising and networking journey by digitally connecting the entrepreneurial ecosystem and making it accessible to all.
 
Majid attended a reception in Stellarton, Nova Scotia, in April where she met the seven other 2023 recipients of the Frank H. Sobey Award, as well as the members of the board of directors. In her recorded acceptance speech she said, "I am extremely grateful to the Sobey Foundation for this recognition as I have always been a dreamer and this award inspires me to be the change maker I dream to be."
 
Photo: BBA student Tasneem Majid is one of eight business students in Atlantic Canada to receive the distinguished 2023 Frank H. Sobey Award for Excellence in Business Studies. L-R: Dr. Joseph Abekah, Associate Dean Undergraduate, Faculty of Management, UNB; Tasneem Majid; and Paul D. Sobey, Chair of the Board of Trustees.
Learn more about UNB's faculty of managment.
For more information contact Liz Lemon-Mitchell.