Risk and portfolio management: experiential learning in times of COVID-19
Author: Liz Lemon-Mitchell
Posted on May 5, 2020
Category: Students , Faculty Highlights , Programs , Student Highlights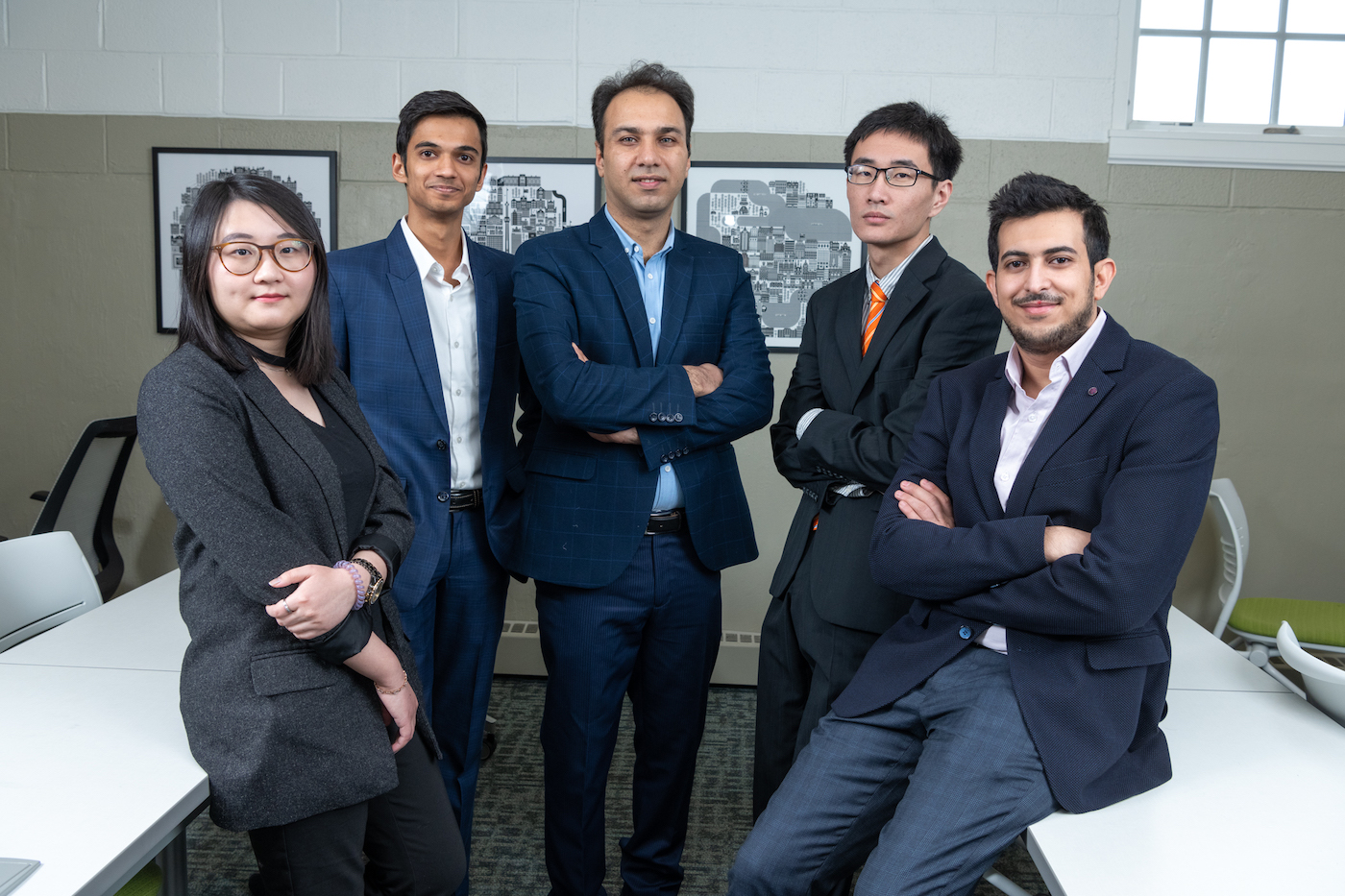 ---
It may have been one of the strangest and most challenging semesters at UNB because of the COVID-19 pandemic, but the winter 2020 term ended with some good news for students in the Master in Quantitative Investment Management (MQIM) program. Just as exams were ending, they learned two of their teams placed high in two global competitions. One team tied with another at Rutgers for third place out of 58 universities in the MATLAB competition, hosted by the Professional Risk Managers' International Association. The other team placed 8th among 35 universities in the Chicago Quantitative Alliance (CQA) Challenge and, oddly enough, they tied with another team from Rutgers.
MATLAB is a programming language owned by MathWorks, and is used in the industry for risk analytics, model management, and automated reporting. This is the first time a UNB team participated in the competition which gives students from across Canada, the U.S. and the E.U., an opportunity to use the language and prepare for careers in risk management.

Analyzing the case for this competition was a great learning tool. "It really broadened my knowledge of financial risk analysis and management," said Ngozi Babs-Adewumi, one of the team members. Another student, Xingyu Li, said she liked how the competition helped her improve her teamwork, collaboration and presentation skills.

In the CQA Challenge, students apply their stock selection and portfolio management skills in a simulated, real life hedge fund experience.  It helps them understand first hand the real challenges portfolio managers face in delivering returns. This year, with the destabilizing effects of COVID-19 on the markets, students experienced a new level of complexity. "In a time when we are facing high volatilities in the market, the competition helped us realize the need to combine portfolio management techniques with risk management in the most effective manner," said Harsh Jain, a student in the team.

This is the second year in a row UNB's MQIM students placed first in Canada in this
competition, and in the very top percentile globally; last year the team placed 6th.

UNB's MQIM program combines course work in finance, analytics and computer programming to prepare students for careers in quantitative investment management. Its curriculum is designed so students can apply the theory learned in class to solve practical problems.

"Competitions like CQA and MATLAB provide opportunities not only to put our students' academic training in a pilot test but also offer them a taste of the challenges they will be facing in their careers," said Dr. Donglei Du, Associate Dean of Research and Graduate Programs with UNB's faculty management.

"I am so proud of their achievements and believe this experience has helped prepare them both academically and mentally to take on challenges as investment professionals when they step out of the school."

Two MQIM instructors, Ying Wu and Bradley Crossman, Risk Manager and Portfolio Manager, respectively with industry partner Vestcor, coached students in the MATLAB team, which included Dennis Effah, Ngozi Babs-Adewumi and Xingyu Li.

Students in the CQA team were Harsh Jain, Hojat Eslaminosratabadi, Xingmei Zhen, Xinkai Zhou and Pezhman Ramezani; they were coached by MQIM instructors, Dr. Chunhua Lan, a member of the faculty of management, and Jon Spinney, Chief Investment Officer and VP Quantitative Investing at Vestcor.

Photo: A team of UNB MQIM students, (L-R) Xingmei Zhen, Harsh Jain, Pezhman Ramezani, Xinkai Zhou, and Hojat Eslaminosratabadi, placed 8th out of 35 teams from universities around the world in the CQA Challenge.

Learn more about UNB's MQIM program.
For more information, contact Liz Lemon-Mitchell.