COVID-19 didn't postpone this student's career
Author: Liz Lemon-Mitchell
Posted on May 26, 2020
Category: Students , Student Highlights , Programs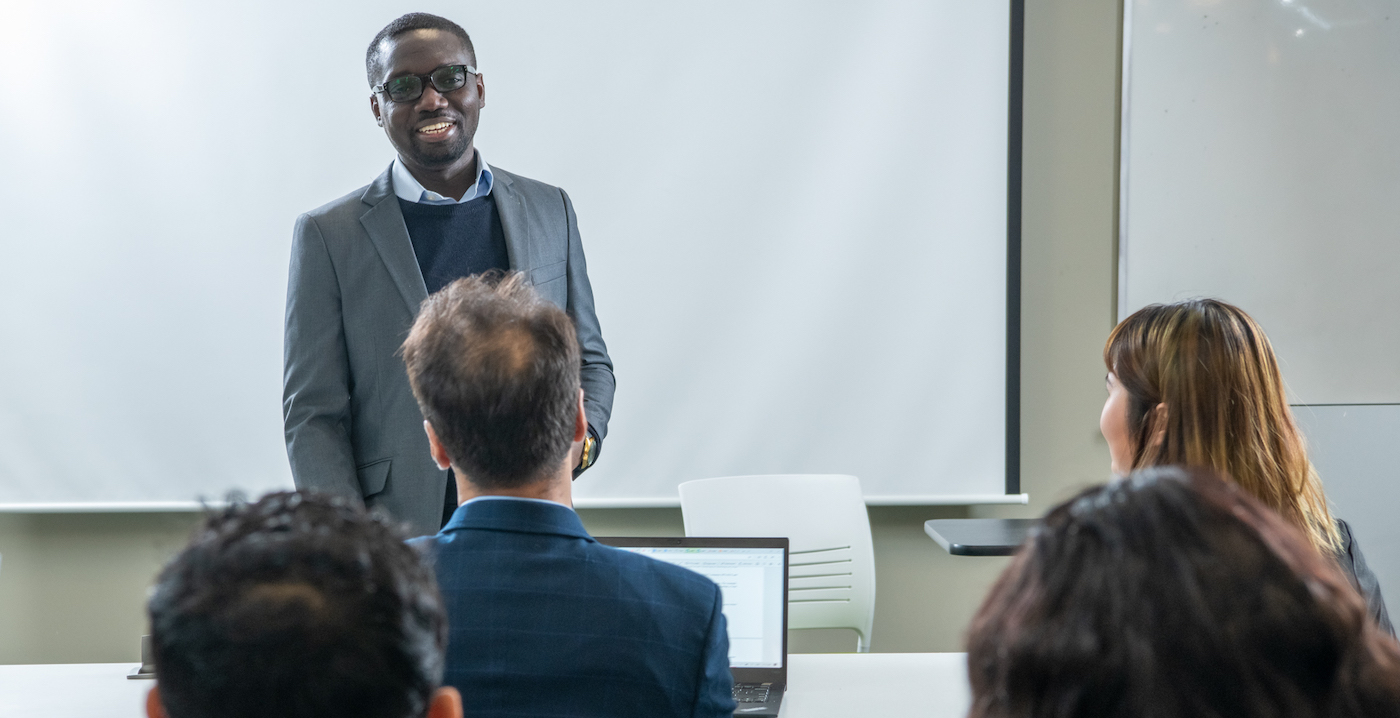 ---
Unlike many graduating students who have had to postpone their career plans because of the COVID-19 pandemic, Dennis Effah, a student in UNB's Master in Quantitative Investment Management (MQIM) program, has just landed a full-time position with Vestcor. In addition to having well-trained investors, successful investment firms like Vestcor require employees who also have a strong understanding of accounting principles and regulations. Thanks to his former education, work experience and the specialized skills in quantitative investing gained through the MQIM program, Effah was the right fit for the position of Investment Accountant with Vestcor.
Born and raised in Accra, Ghana, Effah completed a diploma in marketing with Accra Technical University and a Bachelor of Science in Applied Accounting with Oxford Brookes University, Oxford, England. After working in the banking and investment industries in Ghana, he started looking at graduate programs in finance. His search led him to UNB's MQIM program which intrigued him because it trains students to apply machine learning and artificial intelligence to investment management. He was also impressed that investment industry partners helped to design the program which suggested that "… graduates from the program would be almost ready for the market right after the program."
Since completing all of the required course work for the MQIM program in April, Effah has been completing a research project to fulfill the final capstone requirements of the program in time to graduate in October 2020. When he learned about the position of Investment Accountant with Vestcor, he saw an opportunity to share his unique combination of skills and training, so he applied. The COVID-19 pandemic has forced many graduating students to postpone their careers, but this was not the case for Effah. His job offer from Vestcor was exciting for him, and it was inspiring for his friends and colleagues in the MQIM program.
Vestcor is an independent private not-for-profit holding company under the Vestcor Act of the New Brunswick Legislature and is owned by the New Brunswick Public Service Plan and the New Brunswick Teachers Pension Plan. It provides innovative, cost-effective investment management and pension and employee benefits for approximately 90,000 individual pension plans and benefit program members and more than 130 employer groups. The organization has been a partner with the faculty of management's finance programs since 1998 when it established the Student Investment Fund course which provides students with hands-on investment learning by allowing them to manage a pension fund now worth approximately $10 million. It also helped to champion the MQIM program which UNB launched in 2018.
In his new position with Vestcor, Effah works with an accounting team responsible for preparing daily asset mix reports, as well as recording and reporting information to ensure the safe keeping of investments.
UNB's MQIM program prepares students for specialized careers in quantitative investment management by combining coursework in finance, quantitative investing, computer coding and data analysis with professional development and applied learning.
In addition to the specialized knowledge and skills he gained in his course work, Effah says the program helped prepare him for this recent opportunity by providing professional development and networking opportunities, as well as applied learning through competitions. (Effah was one of three students who placed third among universities around the world in the MATLAB Challenge earlier in the year.) He also says the way the courses are taught is helpful: "Most of the assignments are practical so students would not have difficulties when given the opportunity to work in the industry after the program."
Learn more about UNB's Master in Quantitative Investment Management (MQIM) program. For more information, contact Liz Lemon-Mitchell with the faculty of management.
Photo: MQIM student, Dennis Effah, has just started a career with Vestcor as an Investment Accountant. Here he is presenting to his classmates.