What have UNB's MBA Professional Development Students Been Up To?
Author: Ideas with Impact
Posted on May 1, 2015
The University of New Brunswick Fredericton's MBA Professional Development class meets every Friday. Students work with a different industry leader every week to learn about important business issues and to develop important professional skills. They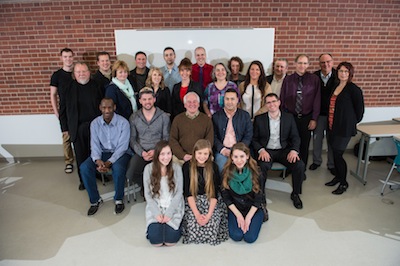 also meet with community leaders and social innovators who are helping to solve some of the problems in our community.
Every year the class works with a different non-profit organization to share their business knowledge and entrepreneurial skills to help raise awareness of the important work the non-profit is doing in the community and/or to raise funds to support their efforts. Working with others and pooling their knowledge and creative resources helps students discover their potential and learn first hand how they can make a difference in the world.
This year the MBA Professional Development students worked with the Fredericton Community Kitchen to help with their Student Hunger Program which supports students in the community by eliminating hunger as an obstacle to learning.
The Fredericton Community Kitchen is a non-profit organization with a proven track record of feeding hungry citizens within the greater Fredericton area. Together with local partnerships, generous individual donations and a group of dedicated volunteers they initiated the Student Hunger Program and began packing 60 lunches one day a week at Leo Hayes High School.
Less than a year later, the program has grown to providing 210 lunches and supporting eight schools five days a week. The program keeps growing as discussions with a ninth school are near completion.
In early January, the students met with Bart Myers, President of the Fredericton Community Kitchen, and other board members. Based on their conversation with him, they pinpointed six challenges the Fredericton Community Kitchen was facing and decided to work in six groups, each of which would target one of those challenges.
Eric Feunekes, one of the students in the MBA class, said that working with Bart was inspiring. "They took an idea that they wanted to feed kids who wouldn't get fed otherwise and they put it into action. They have some amazing plans to continue growing and expanding the program. This may not be high tech innovation, but it is innovation nonetheless. They took an idea that many have likely thought about and applied a creative model in a way that didn't just create sustainability, but sustainable growth."
 
On April 24 the class invited faculty members, staff, MBA students and members of Fredericton Community Kitchen board of directors, as well as volunteers and other supporters to join them for a celebration to share the results of their projects.
These are the projects they've been working on:
FredRock Music Festival 2015: raising funds and awareness
- Brody Hanson, Eddie Kiiru, Jennifer Randall, Leah Cain
This summer the likes of Joel Plaskett Emergency and Blue Rodeo will be entertaining thousands of fans at the FredRock Festival. Every one who buys a ticket or pass will have the option to donate $2 or $5 to the Student Hunger Program. The FredRock Festival website will feature the Student Hunger Program to help create awareness of how important this program is, and to inform visitors of the opportunity to support it.  During the two day festival (July 17-18) the students and members of the FCK will be hosting an information booth about the Student Hunger Program and selling 50/50 tickets. The potential of this project to raise extra funds for the program and create more awareness of the impact it is having on the lives of students in Fredericton is significant.
Fixing Student Hunger: the magic of community
- Nicole McGee, Robert Ogilvie, Suzanne Guignion
 
Hunger doesn't end at school, so the FCK has developed a Backpack Program, to complement their Luncheon Program, to send food home with school children over the weekends. This year during National Hunger Awareness Week (May 5-9) the FCK will be promoting both programs and this group of MBA students produced video to help them.  The video highlights the FCK's Lunch and Backpack Programs and is the first online media asset created as part of the FCK's new online social media marketing campaign. You can view the video on the FCK's YouTube here.
Hunger Awareness Week: raising funds and awareness
- Chenchen Yu, Greg McCann, Mallory Flowers
 
To help raise funds and awareness about the Student Hunger and Backpack programs, this group developed a one-page proposal and pitch to target local grocery stores to give shoppers the option to donate to the FCK with each purchase during Hunger Awareness Week (May 5-9).
Deals for Wheels: finding support for vehicle maintenance
- Ali Munawar, Mohammad Almasri
The FCK owns one vehicle, a 2008 Dodge Ram Pickup, which they use for all their food pick-ups and deliveries. The annual cost of running and maintaining this vehicle is approximately $8,000. To help the FCK save money on this expense, a group of students met with several auto service providers in the area to see if they could find someone willing to provide discounts towards the maintenance of the vehicle. They were in luck! They found several who willing to provide discounts, and one in particular who offered free oil changes, oil filters and checks for the life of the vehicle.
Staying Cool: finding support for refrigeration maintenance
- Alex Kall, Robert Moss
When you're in the food industry, refrigeration means everything! The refrigeration unit owned by the FCK is a few years old and in need of regular maintenance and repair. The costs for this type of work can add up significantly. The FCK will be moving to a new location in a few years, and will need to purchase new refrigeration units when they do. Until then, this group of students contacted every refrigeration company and contractor in town until they found a perfect fit with someone who was willing to maintain the current unit and keep it running at a discount.  
A Fresh Face: creating a new website and strategy
- David Barr, Doga Tav, Eric Feunekes
This group worked with the FCK to create a new web presence. Along with creating a fresh new look, the team moved all the content onto the new site, and integrated all of the organization's social media accounts into the site so that they could be managed from one platform – Facebook, Twitter, and a brand new Youtube channel. Additionally, they are providing training and guidance to FCK staff, so that the switch will be as seamless as possible. Check out the new Fredericton Community Kitchen website here.
For more information contact Liz Lemon-Mitchell.