What Exactly is HR Learning from practitioners?
Author: Ideas with Impact
Posted on May 22, 2015
Designing jobs that align with a company's strategic mission, recruiting the right people to fill them, and then training and retaining them are just a few critical aspects of the human resources management profession. Business students at the University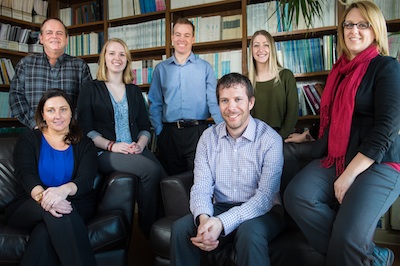 of New Brunswick Fredericton who are interested in careers in HR management have the opportunity to learn from practitioners about the finer details of the profession thanks to the Human Resources Student Association (HRSA) housed within the faculty of business administration.
Professor Lynn Haley and a former HR colleague originally established the HRSA when they recognized the need to connect HR students with the professional community.  According to Haley, " Over and over we were hearing the same message that students wanted opportunities to network with HR professionals and be more informed about HR employment options upon graduation."   
In its early days, says Haley, the HRSA required a lot of hands on involvement for both her and her colleague. But that has changed throughout the years with Haley now serving in a mentorship role which she shares with Wendy Donovan, an HR practitioner and former HR student.  "Given the aims of the HRSA, it just made sense to add a professional mentor to support the group to ensure a balanced perspective between academic and practical matters," says Haley.  
Now managed entirely by business students, the HRSA has been running for seven years and provides opportunities throughout the school year for students to meet and consult with practicing HR managers. Through a variety of networking events, students are able to learn about the different functions within the HR profession and the different types of career paths that HR professionals can follow. Most importantly, says Emily Burns, a BBA student in her final year at UNB, "you get to learn about HR positions that are available. So many positions are never advertised and you don't often hear about them at the career fairs. But through networking with professionals, we're able to learn more about where the job opportunities in this profession are."
Emily is graduating in May with a BBA Honours in HR and a minor in French. She also completed the Co-op program and spent a term studying in France through UNB's Study Abroad program. During her final year she served as president of the HRSA, and in this position held a seat on the executive committee of the Human Resources Association of New Brunswick (HRANB), which has partnered with the student organization.
The partnership with HRANB brings several opportunities for UNB's students involved with the HRSA. In addition to having a voice on the HRANB executive, all student members are able to participate in their monthly seminars, which brings in professionals to speak on current issues important to HR practitioners. Students also get cheaper membership rates and can get involved with mentorship programs.  
This year the HRSA hosted several events to inform students about important HR topics, such as employee engagement, employee health and welfare, and how to prepare for certification with the Certified Human Resources Professional (CHRP) designation. The final event this year was a round table discussion with five local HR experts. The evening featured ten-minute "speed dating" sessions with each expert and was  like a crash course in HR; students learned about recruiting from Lori Orchard, who works with the HR department at St. Thomas University; labour relations from Jason Scarboro, HR Director at St. Thomas University; compensation and classification from Amy Beswarick, who is with the federal government; health and safety from Hubert Picard, a safety training consultant; and employee engagement from Mike Burgess with Explorenet.
"We always hear about how important networking is," says Emily Burns, "but the idea of talking to strangers seems too intimidating. Being involved with the HRSA really helped me to see how easy it is to talk to professionals. Everyone is always made to feel welcome. You just have to join to see how easy it is."