UNB BBA Student one of three in Canada to receive 7 K Award
Author: Ideas with Impact
Posted on May 4, 2015
Category: Students
The school year ended on a high note for third year business student Tuan Anh Bui. In late March he received his Canadian citizenship and in April he got the news that he was awarded the Queen Elizabeth II Silver Jubilee Award for Study in a Second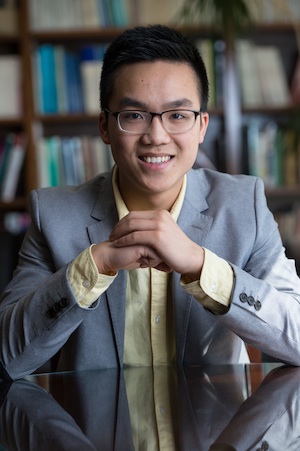 Official Language, an award worth $7,000.
Tuan and his family moved from Vietnam to Fredericton, five years ago. He has been enrolled in the BBA with honours in finance and accounting, and will be a member of the Student Investment Fund (SIF) program at the UNB's faculty of business administration next year.
The objective of the Queen Elizabeth II Silver Jubilee Award for Study in a Second Official Language is to encourage young Canadians and permanent residents who wish to improve their proficiency in their second official language to pursue full-time studies at a university that operates in the other official language and in a milieu in which that language operates. Only one candidate per Association of Universities and Colleges of Canada (AUCC) institution could be nominated for this award, and Tuan represented UNB. He is one of three students in Canada who received the award this year. In addition to the monetary award, the scholarship recipient will also receive a letter of congratulations from the Minister of Canadian Heritage and Official Languages.
 
During his time at UNB, Tuan has immersed himself in the community and has had a meaningful impact on other students' experiences. He was a volunteer with the International Student Advisory office, which awarded him an "Excellent Volunteer Certificate" in 2011. In 2014-2015, Tuan was elected as the vice president of finance for the Business Administration Undergraduate Society (BAUS). He also worked for Bloomberg Institute as the UNB's Bloomberg ambassador and reached out to his fellow students by organizing test sessions for the Bloomberg Aptitude Test. Furthermore, Tuan has been an active student participating in several business competitions and conferences.
Dr. Jeffrey McNally, Professor Human Resources Management with the faculty of business administration, provided a reference for Tuan when he applied for the award last September. He has known Tuan for a year as a member of the board of directors for the BAUS group, on which Tuan served as vice-president of finance.
"I have formed a very positive opinion of Tuan as a strong student and an active volunteer in the UNB community," said Dr. McNally, "Not only is he a Dean's list student, he has also served as a student representative on the Faculty of Business Administration Council, volunteered as an income tax filer for students, and organized events for the international students' council. I knew he received an "Excellent Volunteer Certificate" from UNB's International Student Services office. These are the reasons why I strongly encouraged Tuan to apply for this award when he first approached me about it - I knew he was a very strong candidate."
When Tuan graduates from UNB next year, he hopes to begin a career in finance and investment. He is looking forward to being part of the SIF program next year and is confident the experience will help prepare him for his career.
Tuan said, "The business program at UNB has helped me considerably in discovering what career goal I want to pursue and the various paths to get there. I am very excited about my journey with the SIF program and happy that the Queen Elizabeth Award will finance a large portion of my tuition next year."
For more information contact Liz Lemon-Mitchell.