Tooling Up with some Entrepreneurial Basics
Author: Ideas with Impact
Posted on Mar 25, 2015
Twenty-five retiring or newly retired military personnel transitioning from military careers to civilian life took part in a day of workshops last November facilitated by students with UNB Fredericton's International Business and Entrepreneurship Centre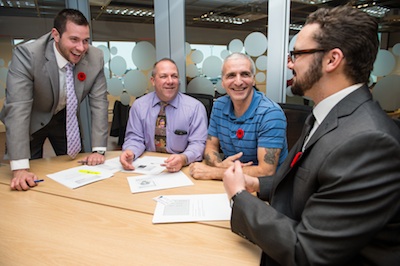 (IBEC). This kind of transition can be challenging, but gaining some business basics and learning about the current challenges and opportunities in the business world can be a big help to those who are interested in launching entrepreneurial ventures when they leave the military.

IBEC partnered with the Prince Charities Canada program to provide a full day of business training to retiring military personnel on November 6 at Planet Hatch, based in Fredericton's Knowledge Park.

During the afternoon two MBA students completing UNB's Activator™ Program - Elliot Thompson and Zachary Robson – gave presentations on writing business and marketing plans, pitching business ideas to potential partners and investors and obtaining financing. In-between their presentations they worked one on one with the participants to focus on their plans and offer advice.

"This was a fantastic experience," said Zachary Robson, a second year MBA student who is completing the Activator. " It was a diverse group of individuals, at various stages of starting their own small business, and their ideas included everything including a bakery to graphic design services. "

Housed within the faculty of business administration, the International Business and Entrepreneurship Centre (IBEC) coordinates a variety of programs to help students gain the knowledge and skills to take their business ideas to the market successfully. Their flagship program, the Activator™, pairs students with entrepreneurs and inventors to research market opportunities, prepare business plans, pitch to investors and start a business. At least one venture has been live launched each year since the program began in 2007.
In addition to working with entrepreneurs to launch a business, students are also encouraged to lead presentations and workshops with community groups, to help refine their leadership skills.
Karen Murdock, Director of the International Business and Entrepreneurship, said the Centre is looking forward to hosting similar workshops with retiring military personnel in the future.
For more information contact Liz Lemon-Mitchell.