CEO for a Day
Author: Ideas with Impact
Posted on Mar 25, 2015
Fourth year BBA students at UNB Fredericton got to experience a day in the life of a CEO this term. Competitive Strategy is the capstone course of the BBA program, which most students complete in their final year, and this term students participated in a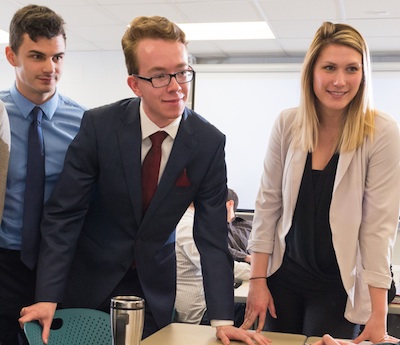 half-day long assessment session that put them into leadership positions with a hypothetical organization where they had to make critical decisions and take action. All along they were being observed and their behavior judged.

Essentially, the session simulated a day in the life of a high level executive. At the beginning of the day, they were given a basket of files, which they had to sort through and prioritize. Their assignments consisted of typical managerial tasks, including two staff meetings they had facilitate, one presentation they had to deliver, and writing various types of correspondence such as memos, letters and emails. One of the crucial elements of the exercise was that there was not going to be enough time to complete everything being asked of them. This forced students to manage their time, decide which tasks were critical to meet organizational goals and which could be delegated or left for another time.

The faculty of business administration engaged a professional academic assessment centre to facilitate the entire exercise. Students were videotaped as they completed their tasks so that their behavioral skills could be evaluated. Each student who participated received a feedback report, providing them with a personal profile of their strengths and weaknesses as potential business leaders.

"These students will be graduating in a few months and then entering a competitive job market," said Dr. Martin Wielemaker, who teaches competitive strategy, "and this exercise will help them to increase their self awareness. They can pinpoint areas of weaknesses and take steps to overcome them, and identify strengths that they can promote to potential employers. They will be able to speak more intelligently about the contributions they will be able to make to an organization."

Beginning next year, all business students at UNB Fredericton will participate in this type of assessment centre during their first semester in the BBA program and during their final year. This will benefit the students in a couple of ways, suggests Dr. Wielemaker. First, for students in their first semester, especially those straight out of high school, it is expected that they will perform badly.   But they will receive a feedback report that identifies their strengths and weakness and then use this to prepare their own personal development plans to help them improve and build on their strengths. Ultimately, this will provide more purpose to their BBA program and their time at UNB.

Secondly, suggests Dr. Wielemaker, in their final year they when they complete the assessment for the second time, they will be able to determine whether their knowledge and skill set has improved since when they first entered the program. "This post test will demonstrate their major gains."

Dr. Glenn Leonard, who teaches accounting at UNB Fredericton, conducted a debriefing session with the students to get their reaction to the exercise and said, " I think the students genuinely appreciated, if not enjoyed, the exercise. They were a bit nervous at the outset but once they got into the process, they seemed to get actively engaged."

While many students said that especially in the beginning they found it stressful and somewhat uncomfortable, they appreciated the practical and experiential aspect of the session. There was no time to think about things, so they were forced to make decisions and take action. After awhile, they admitted, they liked having to think on the spot.

The faculty of business administration offers a variety of experiential learning opportunities to business students to help them apply their knowledge and discover their potential; "adding this activity as a core element of our program will benefit the students", says Dr. Leonard.
For more information, contact Liz Lemon-Mitchell.