UNB Investment Program Continues Stellar Performance
Author: Liz Lemon-Mitchell
Posted on Jul 16, 2010
Category: CFS
Writing a six-hour exam knowing the global pass rate has never exceeded 50% can be quite unnerving for some, but students in UNB's Student Investment Fund (SIF) program had no problem demonstrating their skills and knowledge.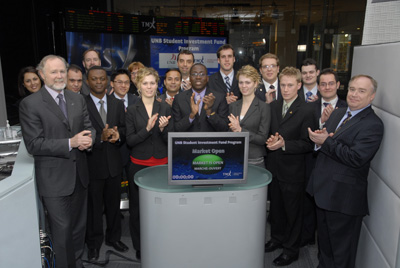 SIF students  completed the rigorous Chartered Financial Analyst (CFA) Level I exam  in June 2010 and recorded an 83% pass rate,  almost double the global industry pass rate of 42%. 
The Chartered Financial Analyst designation represents the best of the best. It is the gold standard for the investment industry worldwide. The CFA designation can only be obtained by passing all three levels (three six-hour exams)  and gaining four years of qualified, professional work experience.
This isn't the first time that SIF students have outperformed the industry. Since inception SIF students have recorded a 62% pass rate versus 44% for the industry average. They have also outperformed professional investors many times in the stock market. The fund was approximately $2.4 million dollars at the end of June, well ahead of the $1 million that it started with in 1998. 
With global pass rates so low for all three exams, it just goes to show how difficult the charter is to earn. But if SIF students continue on their current path to success, they will have nothing to worry about. The pressure is  now on the in-coming group of SIF students to maintain or better the CFA pass rates and SIF program performance.