Real Business Real Learning Real Growth
Author: Liz Lemon-Mitchell
Posted on Jul 14, 2010
Category: Student Highlights
Did you ever have the chance to compete against students from other universities and win money in your classes? Not many people can say they have, but that is starting to change.
Students were excited to take part in the new IT and Supply Chain Management course offered this year. It is the first time the fourth-year course has been offered in Fredericton.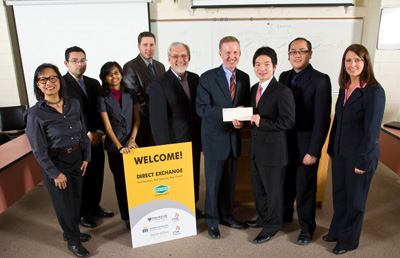 The course teaches students the ins and outs of supply chain management and combines classroom theory with practical application. It is the only course of its kind that requires students to tackle a complex real-life business supply chain problem by participating in the J.D. Irving Direct Exchange Case Competition. It may seem challenging but then again, the possibility of winning $2,500 cash (top prize) while earning a course credit doesn't sound too bad.
There are not many classes that have competitions as part of their criteria, and even less that offer cash prizes. Dr. Angeles taught the IT and Supply Chain Management course this year and admits having a case competition is a very unique and beneficial learning opportunity for students.
The slogan, Real Business, Real Learning, Real Growth is a perfect description of the competition.  Student teams are given all of the details of a real-life supply chain problem and have two months to analyse the data and put together a solution. Teams then present their case in front of a panel of judges, consisting mainly of JDI executives.
This year's competition was held at the University of New Brunswick, in Singer Hall on April 22, 2010. Two teams from UNB competed against 262 other students from five Maritime universities. While neither UNB team clinched the top spot, they still came out winners, gaining valuable experience and first-hand insight into real business decisions.
 "We are very proud to have been able to partner with UNB Fredericton for this inaugural competition," said Jim Jordan, Vice President, J.D. Irving, Limited. "We hope to expand our partnership for the next semester."
Now that the first class is over and students have an idea of what it is like, it seems fair to say more students will be looking to represent UNB  in the competition next year and take their shot at the top prize.